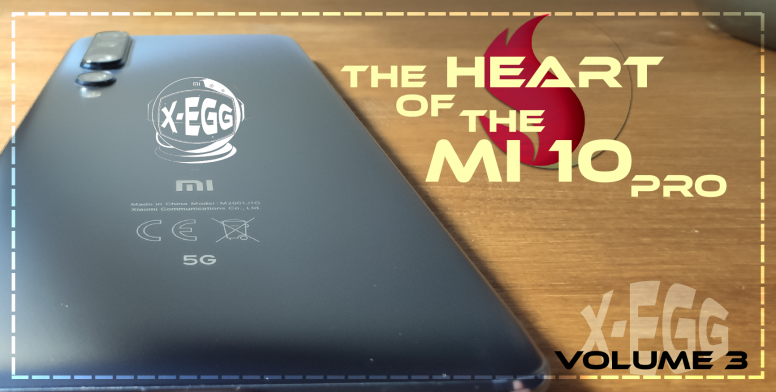 Hello Mi Fans,
Being a Mi Explorer is such an blessing, I'm testing the Mi 10 Pro for a over a week now and I'm really impressed with its performance. The smartphone industry enters a new generation and I'm overly happy to witness it with my bare eyes and hands!

The first mission Is to write about the heart of the Mi 10 Pro which is Qualcomm's latest high end SoC: the Snapdragon 865. Here I will show how it performs by comparing the Mi 10 pro with the SD855 (Mi9) with a couple of Benchmark tests.
.
**The Mi 10 Pro i'm trying out is a prototype;Unfinished product. Performance may change in the short future.
Before we go test the SoC let me explain a bit more about Qualcomm,
why they named their processer a Snapdragon and the relationship with Xiaomi.
Qualcomm x Xiaomi:
Xiaomi Mi 1 (2011):
There is a strong relationship between the 'American Chipmaker' and Chinese 'Internet company' eversince Xiaomi made their first phone.

This was the legendary Mi1, launched in 2011 and came with a Qualcomm Snapdragon S3 processor.

Investments
The relationship between both parties grew to greater heights.When Xiaomi seeked for investors to expand its business, Qualcomm ventures stepped in and bought some shares.


Snapdragon

Qualcomm named its processor line 'snapdragon'. The Snapdragon comes in different types of series , from low end to high class flagship SoC's




According to a Qualcomm senior executive, they named it like that because 'Snap' & 'Dragon' sounded 'fast' & 'Fierce'.





This plant is actually a snapdragon and you can see its unique presence inside Qualcomm's logo.
Inside the Mi 10 Pro
Snapdragon 865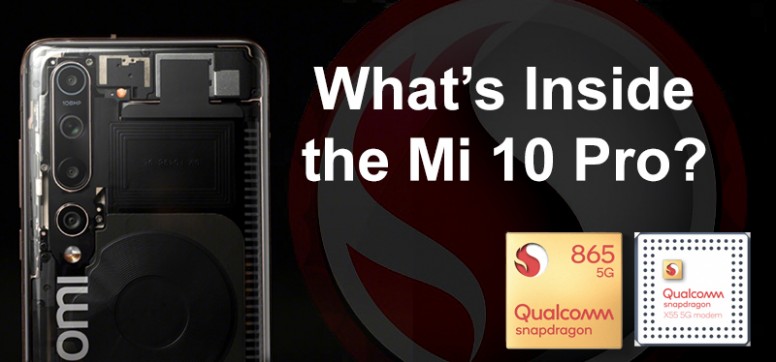 Qualcomm launched the SD865 in december 2019. This 'System on Chip' will follow up its predecessor which was installed in Flagship phones like the Xiaomi Mi 9 & Mi Mix 3 (5G Edition). The Chipset comes with a lot of improvements which should be noticeable when using the Mi 10 Pro.
Key features:
5G:
The Mi 10 Pro is advertised as being a 5G phone. Inside the phone you can find the latest X55 modem. This is the 2nd Generation 5G modem manufactured by Qualcomm and improved a lot in terms of performance when it comes to connectivity and speed. It should be smoother to switch between mobile networks and gain higher results when it comes to datatransfer (Downloading & Uploading). Since it is not integrated inside the SD865 both benefit from this as it would limited the space which result in cutting off perfomance. With this Modem you are future proof as 5G is slowly taking over.



Artificial Intelligence (AI):
Sporting the latest 5th generation Hexagon Chip, the Mi 10 Pro, will become twice as smart compared to the phones that are equipped with the 4th Generation. Together with the New Qualcomm Sensing Hub the Mi 10 Pro can do 15 trillion tasks per second and will for example help in making Images or Videos more brighter. The Digital Signal Processor also improves the Speech recognition and can translate different languages in real time! The Hexagon 698 can do all tasks more efficient than its predecessor and saves more battery.

Photography & Video:
Recording Video's in 8K, Slow-Motion, processing 108 megapixels click after click really needs a strong Image Signal processor.The new Qualcomm spectra 480 ISP has a big share in Xiaomi's High score on DxO Mark. The Mi 10 pro can identify Humans, Objects and backgrounds very easily in order to manipulate your pictures and change the sky or background to your preferences. No worries about processing all this as it can take up to 2 Gigapixels per second!

Gaming:
The SD865 will take mobile gaming to the next level. Combine the Kryo 585 (CPU) and the Adreno 650 (GPU) and you will have the best specs in today's smartphone Industry. The Mi 10 pro is able to bring high performance gaming that comes close to desktop computing. Gaming on a 90hrz screen with higher frames per second (FPS) assure you have an advantage when playing online against others using an older phone. Another great advantage is the fact you can update the drivers on Google's Play Store instead of waiting for a new Firmware update.


Overall performance:
With each new SoC the perfomance will gain more power and handle task more efficient. The Kryo 585 that's inside the SD865 will perform about 25% better compared to the SD855's Kryo 485. Even though both are manufactured on a 7nm node, there is a difference. The SD865 uses an improved version manufactured by TMSC which is also been installed on Apple's A13 Chipset.
Comparison specs Snapdragon 865 VS 855
To show you the differences you can check out the table below and see an actual comparison between the SoC's installed in the Mi 10 Pro & Mi 9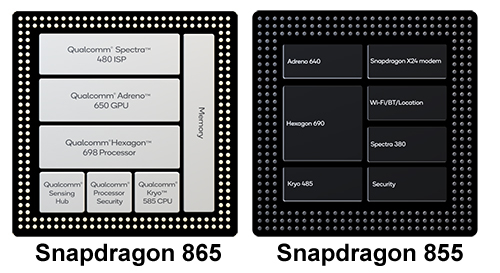 | | | | |
| --- | --- | --- | --- |
| | Snapdragon 865 | Snapdragon 855 | Improvement |
| CPU | Octa Core, Kryo 585 | Octa Core, Kryo 485 | Performance Boost 25% |
| GPU | Adreno 650, Vulkan 1.1 | Adreno 640, Vulkan 1.1 | Performance Boost 20% |
| Memory Type | LPDDR5, 2750 MHz | LPDDR4, 2133MHz | 1.5x faster in data transfer |
| Modem | X55 (5G, 4G LTE) | X50 (5G) + X24 (4G LTE) | Next Gen 5G, better connectivity |
| AI Engine | Hexagon 698 (5th Gen) | Hexagon 690 (4th Gen) | 2 times more powerful |
| ISP | Dual 14-Bit Spectra 480 ISP | Dual 14-Bit Spectra 380 ISP | Better camera processing |
| Charging | Quickcharge 4+ & AI | Quickcharge 4+ | Smarter battery optimization |
Performance:
For pure tech fans it is amazing to see the technology advance in such a fast pace.
For the normal users, most important is to experience the improvements when using a new device.
To get a good overview of what the SD865 is capable of I will perform a few Benchmark tests.
To get an idea how much you will benefit from using the lastest SoC by Quallcom I will do a straight battle agains his older brother.
Benchmark Battle: Mi 10 Pro vs Mi 9
Antutu Benchmark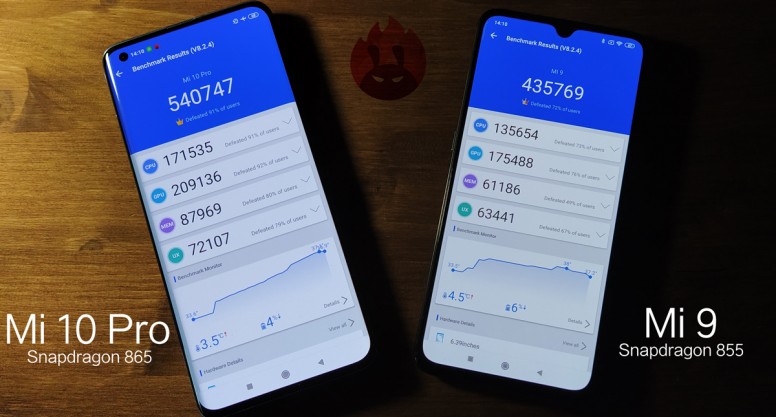 Mi 10 Pro (score: 540747) vs Mi 9 (Score :435769)
Antutu is one of the most used Benchmark Apps to check the phones performance.
You can see the Mi 10 Pro performs much better on all tests and the phone while consuming less battery. According to the test the Mi 10 Pro kept it a bit cooler (temperature)

Aitutu Benchmark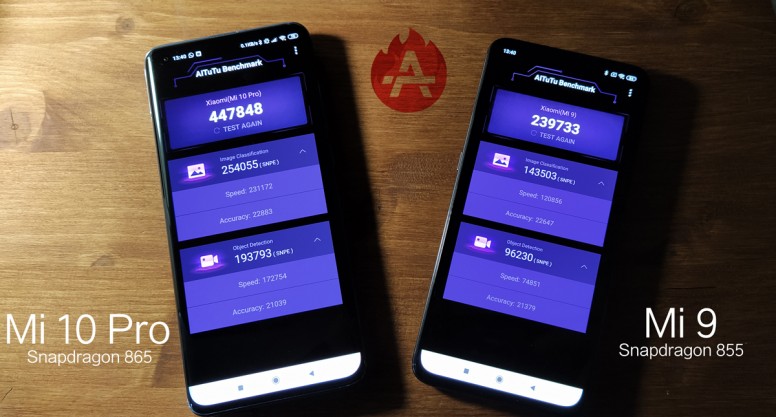 Mi 10 Pro (score: 447848) vs Mi 9 (Score :239733)
Aitutu Benchmark will test your phones speed and accuracy on Image classification and Object detection.
It is a good test to show how much smarter your device is.
the scores show you the Mi 10 pro almost doubled on the Mi 9 AI capabilities!
Still you can see there is room for improvement when it comes to object detection.
AI Benchmark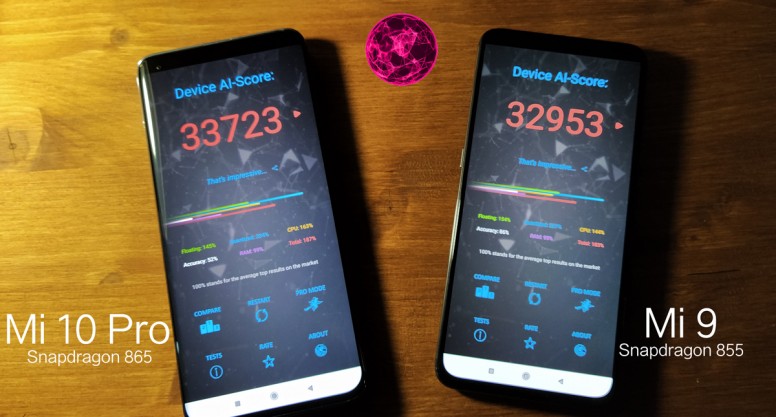 Mi 10 Pro (score: 33723) vs Mi 9 (Score :32953)
Another AI benchmark test. This time the differences are really small. Not sure what happened here..
The Mi10pro is clearly faster but again, testing its accuracy shows us it needs to 'learn' a bit more.
GeekBench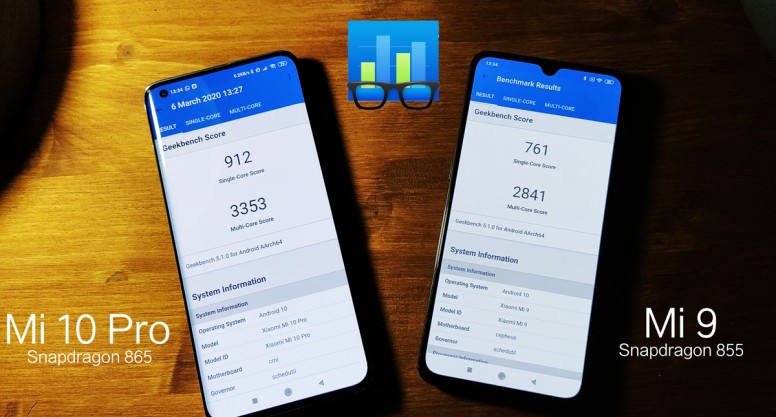 Mi 10 Pro (score: 912 + 3353) vs Mi 9 (Score :761 + 2841)
Geekbench is another tool to test the CPU based on user experience.From opening emails to listen to music.
Geekbench performs the test twice, one time using just a single core and one time on multi cores.
As expected the Mi10pro performance improved +20%.
RealPie Benchmark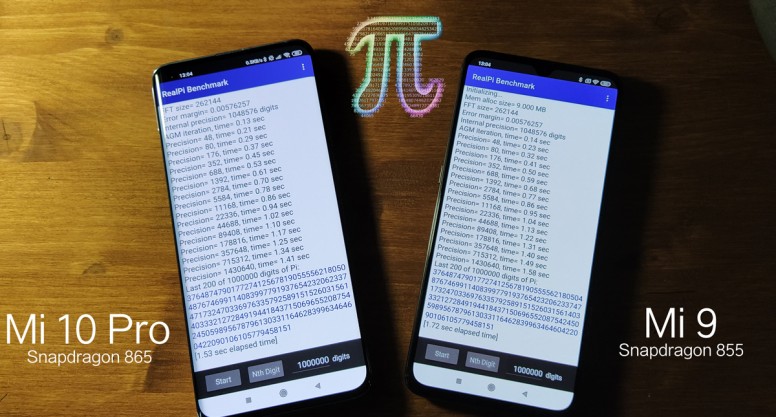 Mi 10 Pro (score: 33723) vs Mi 9 (Score :32953)
This app is a Benchmark which tests the device's CPU and memory performance by calculating the value of PI to the number of decimal places you specify. I did the normal test which will calculate the last 200 of 1,000,000 digitis.
The Mi 9 managed to do this with 1,72 seconds while the Mi 10 Pro was a bit faster:1,53 seconds.
Mi 10 outshines the Mi9 in performance:
The Mi 9 still show great results in the benchmarks and if you would buy it today it still scores better than many other phones.
But as soon as you put the newer Mi 10 Pro aside...It will be NO MATCH at all.
The SD865 scores much higher on all assets except for the accuracy in doing AI tasks.
I do believe this will be optimized very soon as the model i'm testing is still a prototype.
Wifi Speedtest Mi 10 Pro vs Mi 9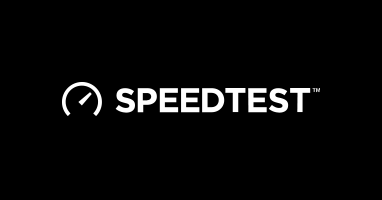 To test if the Mi10 pro does benefit from the new modem I did a speedtest battle with the Mi9.
I did a run of 12 tests, one after eachother, on the same network.
Out of all tests the Mi 10 pro clearly got a better download speed.
The upload wasn't that exciting with little diffrences.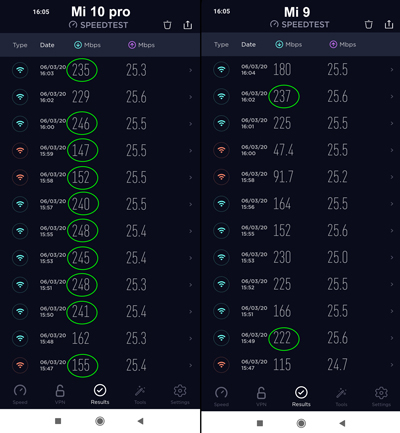 Any type of user will benefit from the power of the SD865:
I'm a type of person that uses his phone for almost everything.
It's my source to information, my guide for navigation.
It's my gate to home automation, music entertainment and worldwide communication.
I write content and compose videos as a hobby on my phone.
The only tasks i use my desktop for is editing pictures in photoshop and moderate, publish articles on Xiaomi's Mi Community.
As soon as the Mi 10 Pro arrived i took the simcard out of my daily driver and switched to this BEAST!
I notice the power inside this phone as everything works so smooth and fast.
Especially when using the video editor tool PowerDirector: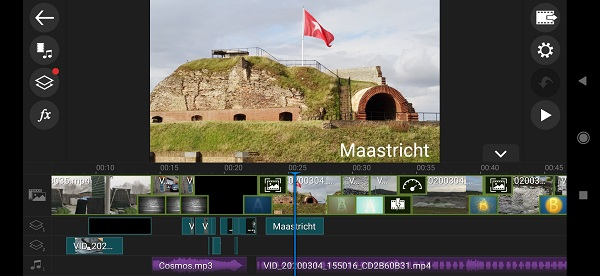 Adding large files goes much faster compared to the Mi9 (Who does a great job too, don't get me wrong).
Producing a video and export it saves quit some time.
Give the sd865 a task, it will handle it without a problem
I'm really impressed with its capabilities.
Do you like to play games, edit videos, checking out all kinds of (social) mediachannels...
No matter what's your purpose, you will notice improvements and clearly benefit from its performance!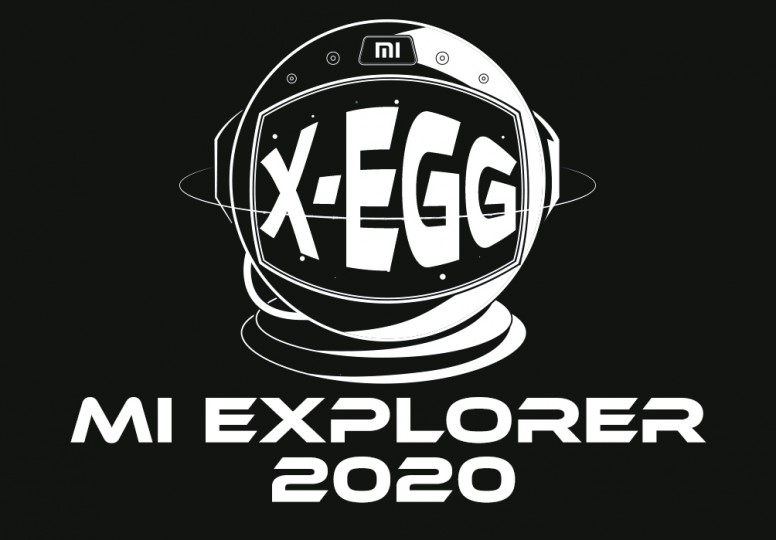 Vol.3 The Heart of the Mi 10 Pro [SD865]