Hello MIUIers,
Action games are probably one of the most fun games that one can play. There are many action games that you can try in playstore. Today I bring you an action packed game that is simple yet addictive and fun. It is fully action packed and you would surely enjoy playing the game. The game has lot of features as well. So without talking further lets further dive into Shadow Fight 2.
R E V I E W
FIRST LOOK
The loading of Shadow Fight 2 itself is fascinating. It is quite cinematic and exciting. At the beginning you are guided by a basic tutorial that shows how to move and attack. The main aim is to defeat the bosses and in the process get better weapons and armors to defeat the bosses.

The tutorial gives you basic idea of how to play the game. Basically you move around and attack the opponents. You should defeat your opponents to advance further.
GAMEPLAY

The gameplay is fairly simple as the main goal is to defeat the opponents. When you open the menu section you see 5 options.


The first icon is dojo where you can go and train your moves. I recommend going to the 4th option above setting at first where you can access your skills, moves available and achievements. You can see all combinations of moves that you can make. In a fight it is recommnded you make different types of moves to gain victory.
There are a total of 20 combinations of moves for attack and movement. You can learn these moves in practicing in the dojo and then applying in the fight.
After learning the moves you should choose the best weapon, armor and helmet for the fight. Access the 3rd option from the menu to open shop.
Weapons need certain level criteria and you also need gold and gems to unlock weapons. Get better gears to fight through your way. You need better equipments as you go along the journey to defeat your enemies. If you do not have better gear then you may lose.
GAME MODES
There are basically 4 game modes available. Tournament, Survival, Duel and the Boss. The boss fight is the main goal where you have to beat 5 bodyguards to reach the boss and each bodyguards get tougher so you need to gain experience and gold to beat the bodyguards.
Tournament is a 24 stage fight where you fight to reach new stage. Survival is probably the best way to get gold as the goal is to survive as long as possible and defeat the opponents to gain gold. Duel is an online mode where you fight with other players with random equipment. Duel is available once in 2 hours so it is recommended to duel every 2 hours.
I like survival mode the best as you can easily gain income in survival mode to upgrade the weapons and armors while in other modes it is a bit difficult. So if you want to gain coins go survival mode
.
The best part about the game that I enjoy is that it shows the difficulty for tournament and boss fight. As you can see it is in normal difficulty for tournament mode so it is doable. As you progress the difficulty increases to hard and sometimes even impossible so you need to upgrade your weapons and armors to ensure you win the fight.
You can even upgrade your weapon and armor so cool. It is expensive to buy new weapon and armor and further you need certain level requirement to unlock new weapon and armor so upgrading your current armor and weapon can be good alternative if you do not have the gold or the level required to strengthen yourself.
Here is a gif to show the fight in shadow fight 2: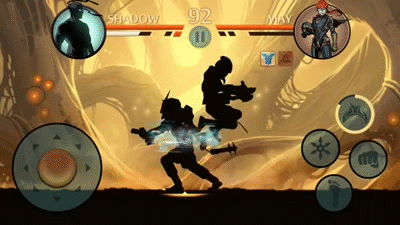 CONCLUSION
Shadow Fight 2 is a cool action game where you have to defeat your enemies. As you progress further the enemies get stronger and you have to upgrade your equipments to defeat them. There are a lot of combination moves that you can make in Shadow Fight 2 and if you learn most of them then you can easily defeat your opponents.
Pros & Cons
Pros
Simple gameplay.
Can be played in offline mode.
Equipments can be upgraded.
Cool background music.

Cons
The only con I found is that sometime it can get confusing which your character is when in fight.

If you are looking for an action game then Shadow Fight 2 is your choice. You can easily play the game in offline mode. You can buy or upgrade weapons and the variety in the game modes also provides you flexibility to choose different game modes to earn gold and level up. The sound is cool while it could have been better with a better graphics still it is a cool action game that you should definitely try.
My Rating: 4.5/5
Additonal Information
Rate