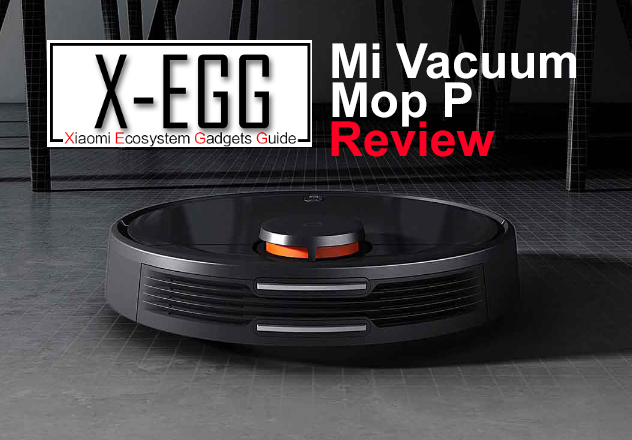 Welcome to another XEGG.R….Today I'll introduce you the Mi Robot Vacuum Mop P.




VIOMI & Xiaomi collaborated to release a new Mijia branded 2 in 1 Robovac that can vacuum and mop separately or at the same time. The Mop P , model name STYJ02YM, recently launched (August) in China, and is currently only available in the Mi Home APP connected to the China server.




In this Exclusive review I'll unbox, install and operate the Vacuum.

Many people notice similarities between the Mop P and the Viomi V2, which will be discussed too.
Unboxing:
What's in the box: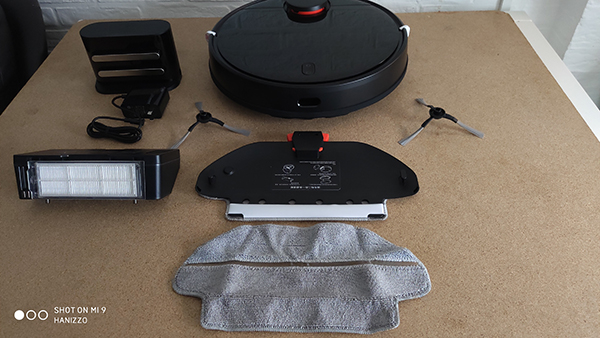 1 x Mi Vacuum Mop P
1 x Chinese Manual,
1 x Dustbin
1 x 2 in 1 Water Tank,
2 x Side Brush,
1 x Charging Dock ,
1 x Power Adapter (CN),
1 x Mop Bracket,
2 x cloths





Design:
Xiaomi continues to build on their success when it comes to the design of their iconic robotic vacuums.


The 2 in 1 robovac is round shaped(ø 35cm, Height 9.5cm),
comes with a glossy finish over the lid and is available in White or Black.
Mijia Logo sits on the tower which protects the red colored Laser Distance Sensor (LDS).
A physical power / home button is present in order to operate/reset the vacuum.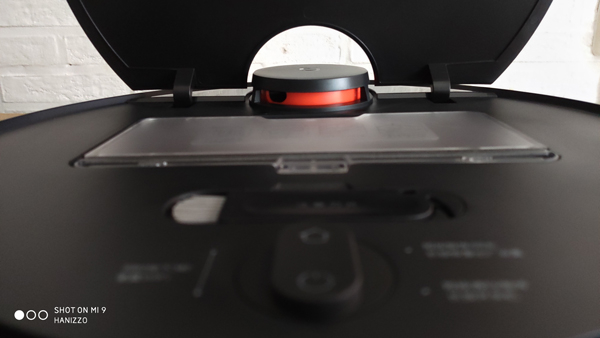 Underneath the lid you'll see the big 550 ml transparent dustbin and a cut n brush tool.
Turn the STYJ02YM upside down to spot the
2 big wheels on the sides and a smaller omnidirectional wheel at the front.
The spinning side brush pushes dirt towards the main brush
and picked with the help of a strong built-in brushless motor developed by Nidec.
In the strongest mode the suction power can reach up to 2100 pascal.
A decent improvement compared to its predecessors (Mi Robot 1800PA, Mijia 1S 2000PA)


Upgraded Laser:
This LDS distance sensor scans your room faster than previous models as it turns 360° around continuously with a range up to 8 meters (First Mi Robot's range was 6 m).
Together with the IF receiver on the front,the vacuum uses SLAM algorithm, which is a type of technology to do precise mapping and manoeuvring.








12 different Sensors:
Besides the LDS & IF sensor, 10 other different sensors are installed to make the STYJ02YM as 'smart' as possible. These add extra functionality such as preventing the vacuum from falling down stairs, collide against walls/obstacles/furniture, finding its way back to the dock or stop working as soon as it's blocked/stuck. The Mijia 2 in 1 Mop P can detect whether the dustbin,the watertank (sold separately) or the 2 in 1 bin is installed and if the included mop bracket is mounted or not. It will prompt an Chinese audio message whenever you change the bin or when you use the wrong operating mode.


2 in 1 Dustbin + mopping accessoires:
The Mi Vacuum Mop P comes with an extra dustbin. This Dustbin is a so called 2in1 cassette and besides having a 300ML bin to capture the dust/dirt it made room for adding 200ML water in order to vacuum AND Mop at the same time!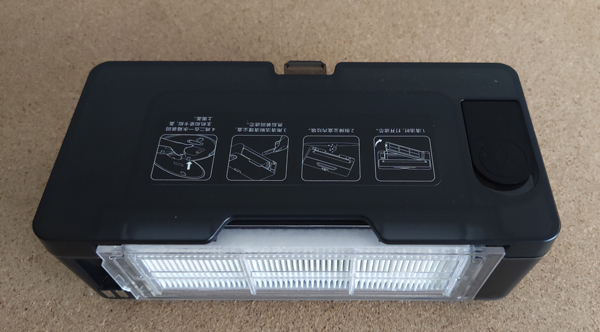 To wet the floor you need to mount the bracket that comes included and attach one of the included cloths.
Both cloths have a different purpose. The normal cloth just wet the floor while the other one will dry right after.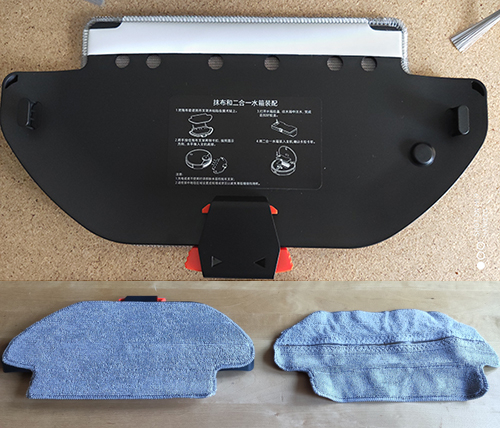 Specs + Features:
| | |
| --- | --- |
| Brand: Mijia | New SLAM Map Management 3.0 system |
| Model: STYJ02YM | 12 different sensors |
| Material : ABS,Metal | 2100 Pa suction power |
| Feature: Remote Control | 3,200mAh battery |
| Schedule Function: Yes | Working time: 2 hours |
| Self Recharging: Yes | 2-in-1 Sweeping & Mopping |
| Climb Capability: 2cm | Control and operation via MiHome app |
| Floor Types: Carpet,Ceramic Tile,Marble Floor,Shag Carpet,Tile Floor | Intelligent path planning |
| Power (W): 33W | Programmable for independent cleaning |
| Product weight: 3.6 kg | Large dirt collecting container (550ml) |
| Product size (L x W x H): 35 x 35 x 9.45 cm / 13.78 x 13.78 x 3.72 inches | Improved Laser distance sensor (LDS) |
| | |
APP Overview:
**The STYJ02YM is currently only available for the Chinese Mainland server

Installation:
Like 'almost any Xiaomi device' easy to do.
1. Just download the Xiaomi Home (Mi Home) App and set up an account.
2. Set server region to China Mainland.
3. Hold both physical buttons on the Mi Vacuum Mop P (STYJ02YM).
4. Wait for a pop-up message within Xiaomi Home app or add it manually.

Menu (User interface):


The main page is user-friendly as it got all the information you want to know about the vacuum.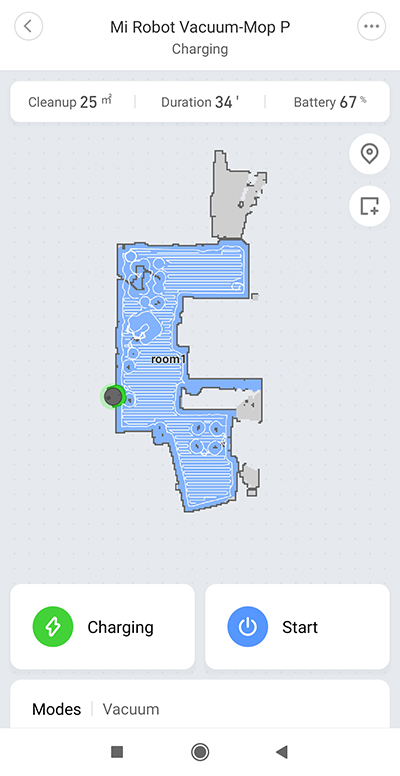 After you did your first run, the landing page will display your floor as a map.
It automatically detects different rooms and it result in a nice overview.
The application will show you:
Robots location
Location of the dock.
its last run,
Cleanup area xx m2
Duration XX in minutes
Battery status in %.

Spot Cleaning:
The 'location' button on the right side gives you the possibility to clean a specific area.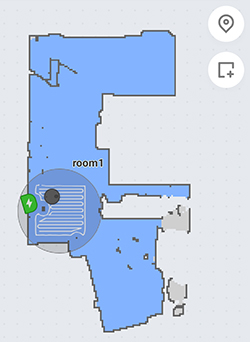 Zone Cleaning:
The 2nd button is a squarish icon with a + sign.
This is an advanced version of the spot cleaning.
You can draw a square/rectangle with the size of your own choice.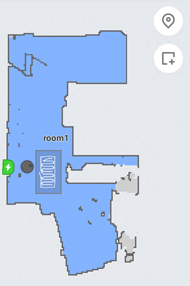 The Charge and the Start Button speaks for itself. Bring the Mijia Robot in operation or send it back to the dock.


Cleaning mode menu:
On the bottom of the main page you can see the state of current mode.
To check these settings 'tap' or 'scroll up' the tab.You can choose between 3 modes:
1.Vacuum (transparant dirt Bin)
2.Vacuum & Mop (2in1 Bin + Mop)
3.Mop (Watertank - Sold seperately + Mop)



Each Mode has its own Menu.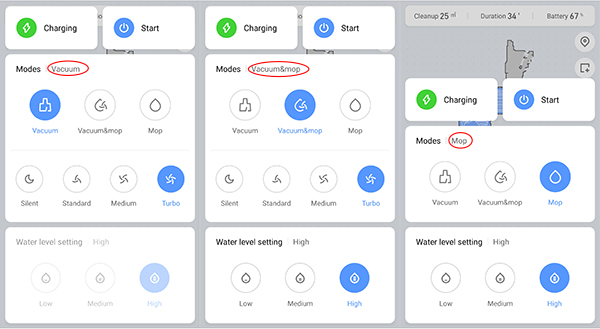 Area Editor & Virtual Walls:
The area editor along with the virtual wall/restricted area are useful features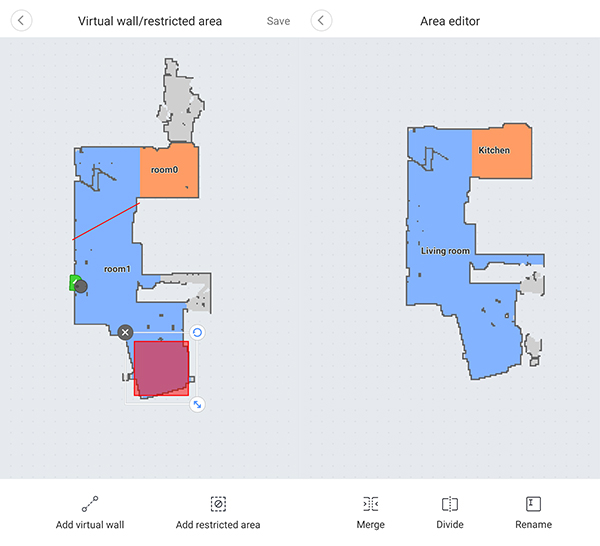 Divide rooms in 'sections/regions' and rename them.
The Mop P will handle each 'section/region' as if it was an individual room.
You can select one or more 'sections/regions' to clean while it will skip the others.
Use this feature when:
- Mop the Region(s) with tiles only
- Vacuum Region(s) where someone made a mess
- Exclude the region(s) you are located (Example: Skip cleaning Living room because you are watching TV, Skip the -part of the room your kid is playing with his trainset etc)

Add virtual walls or 'no go' zones to avoid the vacuum to cross that border or zone.
This is helpful for certain area's like a fireplace.

Other settings: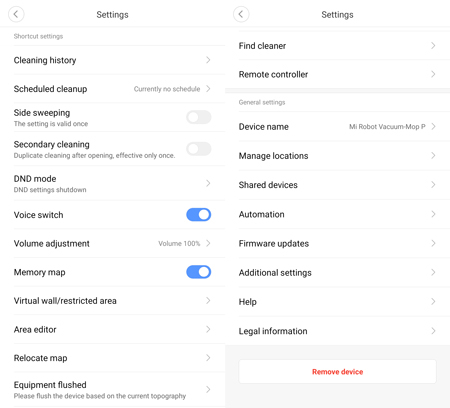 | | |
| --- | --- |
| Cleaning History | Check out the history of your cleaning records |
| Schedule Cleaning | Advanced schedule cleanup: Set days, Time, Type of cleaning, suction power / waterlevel , Range (full floor or particular room) |
| Side Sweeping | Only do the edges |
| Secondary Cleaning | Activate this setting to do a cleanup twice |
| DND Mode | Do Not Disturb |
| Voice Switch | Turn on/off audio messages |
| Volume Adjustment | Adjust audio volume |
| Memory Map | Activate to save the map |
| Virtual Wall/Restricted Area | Add virtual walls or 'no go' zones to avoid the vacuum to cross that border or zone. |
| Area Editor | Edit your map: Create virtual rooms |
| Relocation Map | Reset the map |
| Equipment Flushed | Calibrate the Gyroscope |
| Find Cleaner | Vacuum will prompt an audio message |
| Remote Controller | Control the vacuum like it is an RC |
| Device Name | Change the name of the device |
| Manage Locations | Assign which room vacuum is located at |
| Shared devices | Share device with others |
| Automation | Set up automations with other Xiaomi devices (Zigbee switches etc) |
| Firmware Updates | Check for latest updates |
| Additional settings | Check network info, Add a password, send feedback, Add app to Home screen |
| Help | Frequently ask Questions, Report an Issue |
| Legal information | User Agreement & Privacy policy |


Performance:
How well does the latest Xiaomi Robot vacuum perform? When looking at the specs it surely looks promising.

Manoeuvring:
Depending on which mode, the vacuum manoeuvres differently.
When Vacuuming, mopping or doing both it will do the edges first before it does the inner area.
When it comes to vacuuming it will drive straight ahead but when you attach the mop it activates the Y-shape scrubbing mode.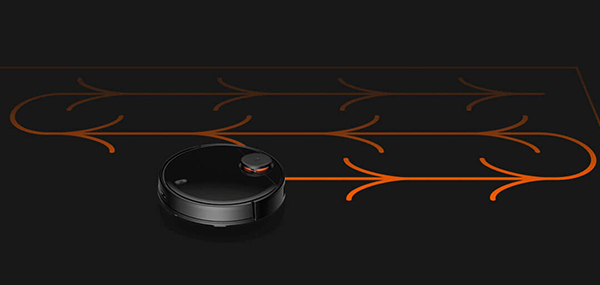 It recognize obstacles (tables, chairs etc) on the floor and goes around it smoothly.
As soon as you replace your furniture and you did a new cleaning it will ask you if you want to change your map.You can discard it if it was an occasional edit.

Demonstration:
Since the vacuum came with a dustbin and a 2 in 1 bin I will demonstrate both modes.
For this review I've chosen to film a 'room' cleanup in 2 rounds.
I've did a serious test and placed heaps of different spilled food on the floor.


Vacuuming:



Vacuum & Mopping (2in1 Bin)






Mi Vacuum Mop P (STYJ02YM) VS Viomi V2 V-RVCLM21B




We hear a lot of talk where Mi Fans mention the Mi vacuum mop p shows a lot of similarities with the V2 made by Viomi.




I can confirm, when it comes to hardware/specs it is the same device and yes, parts are interchangeable. As many of us know, Xiaomi invested in many companies, in return, these companies make products under Xiaomi's Mijia brand. The STYJ02YM is no exception.

While The first Mijia vacuums (Mi robot vacuum & 1S) are collaborations between Xiaomi & Roborock, the Mop P is made by VIOMI.




Still Mijia & Viomi models have a few differences.
Appearance:
The only visual differences are the top (lid) and the color accents.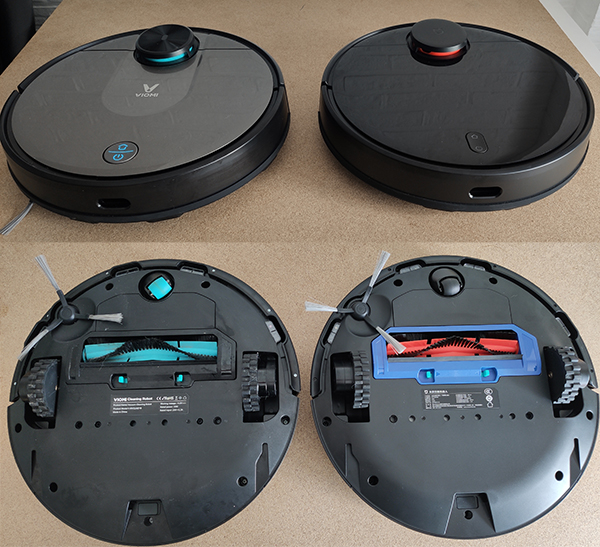 Software:
The software (user interface) to operate both machines is probably the biggest difference.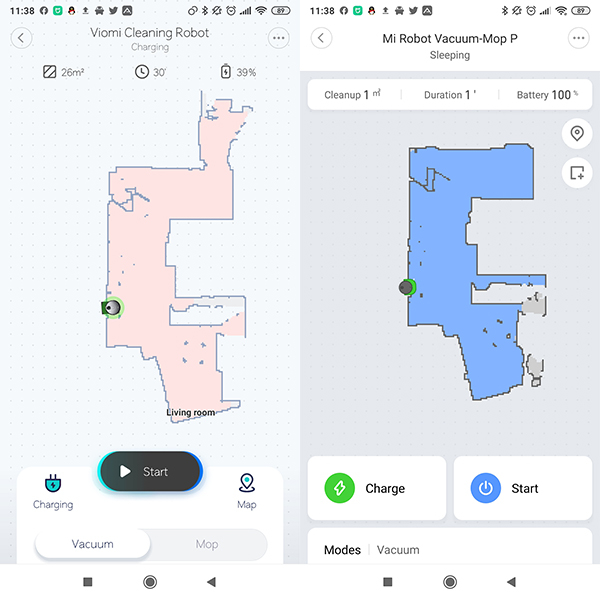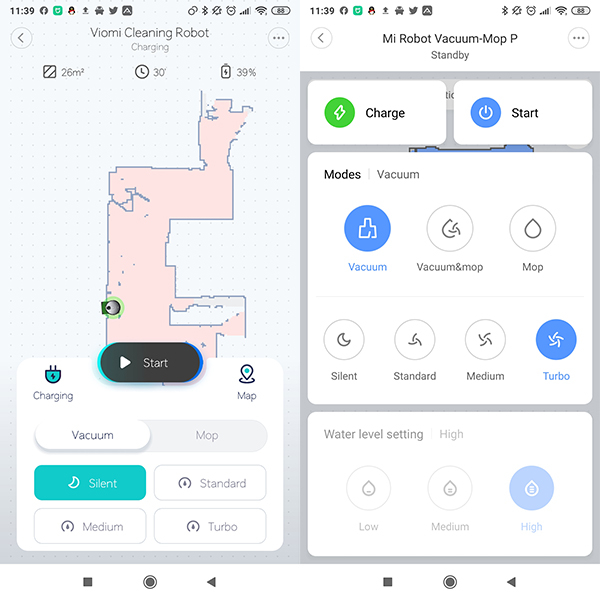 The Mijia robot prompts audio messages in Chinese, While Viomi V2 'speaks' English.





Accessories:

An important difference is the power adapter.

The Mijia branded vacuum is currently only released in China and comes with a Chinese plug.

The Viomi V2 is launched in different regions and according to where you live it comes with a corresponding plug that fits inside your power outlet.

A good thing to know you can buy a charger separately.

The first production batch of the V2 came with a dustbin and watertank.

This only concerns early adapters because with the new batch VIOMI decided to include the 2 in 1 bin instead of the watertank.






Verdict:
Since I've own the V2 I can pretty much say the same about the Mi Vacuum Mop p.
It's an excellent vacuum that's easy to operate with a lot of features to set up different modes and adjust the suctionpower and waterlevel.

It manoeuvres great around obstacles but compared to the Roborock s6 who got similar technology it can certainly improve a bit.
When it comes to mopping...there is no competition yet!
The Mop P together with the VIOMI V2 are far ahead of any other 'hybrid' robovac.



Would I consider the Mijia Robot over the VIOMI V2?

This is a matter of personal preference. At the end Both vacuums are identical except for a few differences.




Do you want a vacuum with Euro Plug, CE certificate (Insurance) that runs on the European/Singapore server and prompts english audio? I'll suggest the V2.




Do you own a lot of other xiaomi devices and you already have set up a Chinese server, go for the Mi Vacuum Mop P



| | |
| --- | --- |
| The good: | Cons: |
| Strong suction power | Chinese model (Plug, Voice audio, Mi home server) |
| Advanced Area editing | Batter could be bigger (For bigger houses) |
| The best mopping vacuum | |
| | |
Overall I can state the Mi Vacuum Mop P (STYJ02YM) is an awesome machine.
Price/quality one of the best in the industry.
Superb Mopping feature, compared with others, really cleans your floor and remove the stains!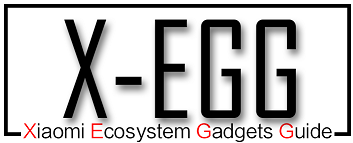 Thank you for reading this XEGG.Review.
Exclusively brought to you by the Mi Community
Don't want to miss out one of my articles?
Feel free to follow me:)
Youtube:
X-EGG
Special Thanks To Our Beloved Admin @Elaine2046 For her Continuous Support.
Rate