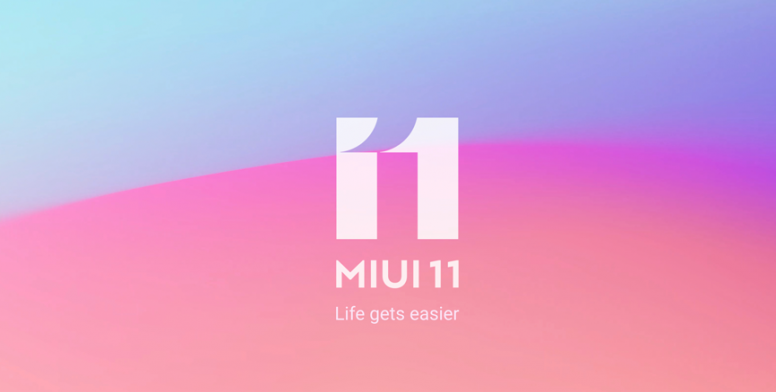 Hello Mi Fans,

Today we have announced the global launch of MIUI 11 with an evolved design and a key addition to functional features that will make your life simpler.. MIUI has come a long way since it's first version. Today we are really excited to share our eleventh edition of MIUI which our team has been working on over the past 1 year. Today in MIUI 11 we continue our strive to make MIUI even faster, even better.

MIUI 11 brings brand new optimized modern UI design focused on content viewing. It removes the visual clutter and comes with interactive controls designed for touch, and refine the use of color which allows us to create a system where nothing stands between you and content. It comes with features such as dynamic sound effects, completely refreshed Ambient Display and much more.



Introducing MIUI 11 - The Ultimate Full Screen Experience : Redesigned for the new era!





Highlights of MIUI 11:



New UI with dark mode
Always On Display
Wallpaper Carousel and Dynamic video wallpaper
Mi work - Docs Preview, Tasks, Floating Calculator
Mi Life- Steps Tracker, Period tracker, Quick Replies
Natural Sounds
Mi Share
Casting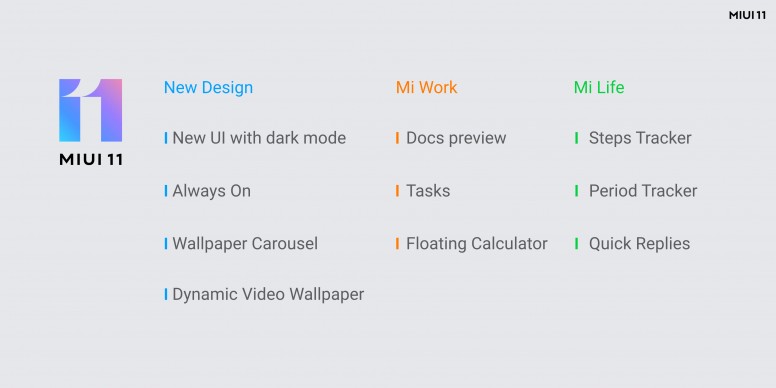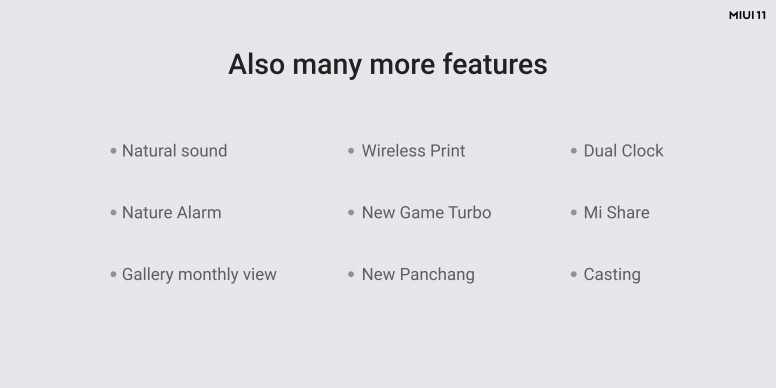 We belive, removing visual clutter, putting the focus on content and ehancing gesture controls make your interaction with a mobile device simple, intuitive and productive. In MIUI 11 we have tried to implement that. MIUI 11 removes redundant visual clutters and comes with interactive controls designed for touch, and refine the use of color which allows us to create the system where nothing stands between you and content. We've cleaned a lot of lines and boxes to keep the focus on the content. How neat is that?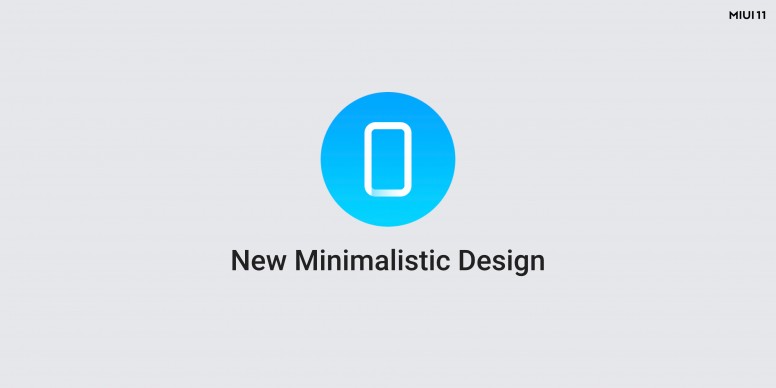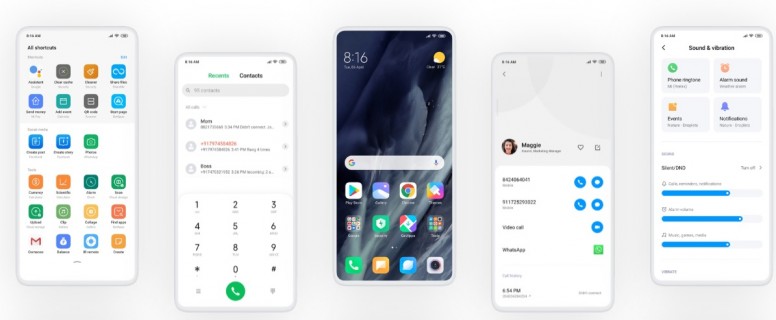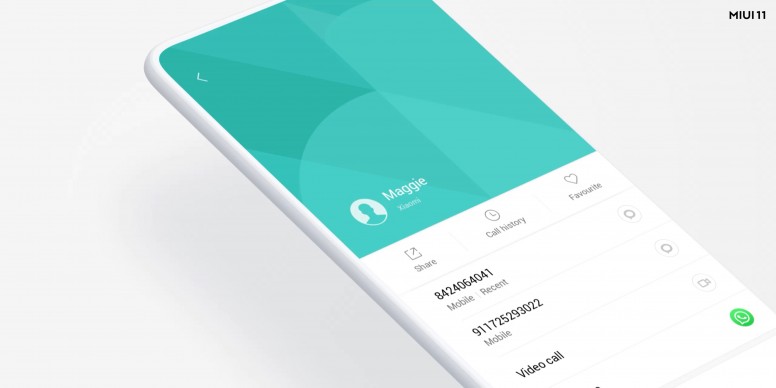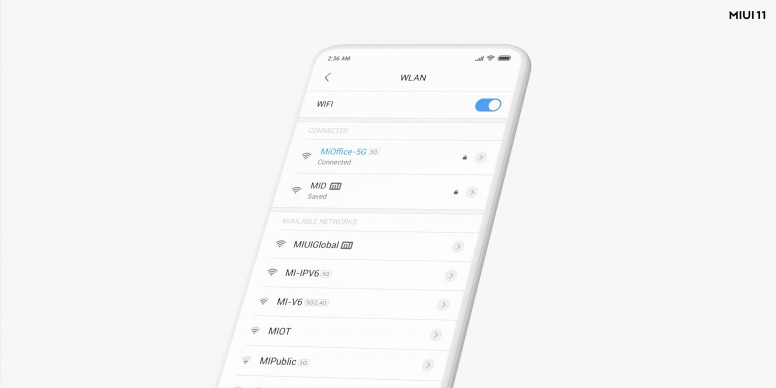 All in all, we have optimized MIUI 11 for the ultimate full-screen experience. Now, enjoy this experience in dark mode as well.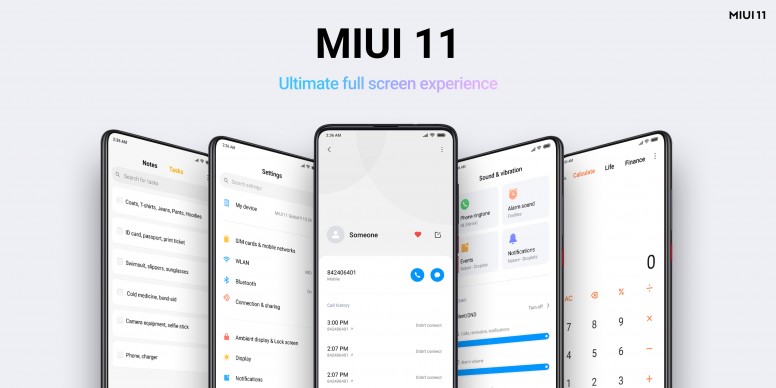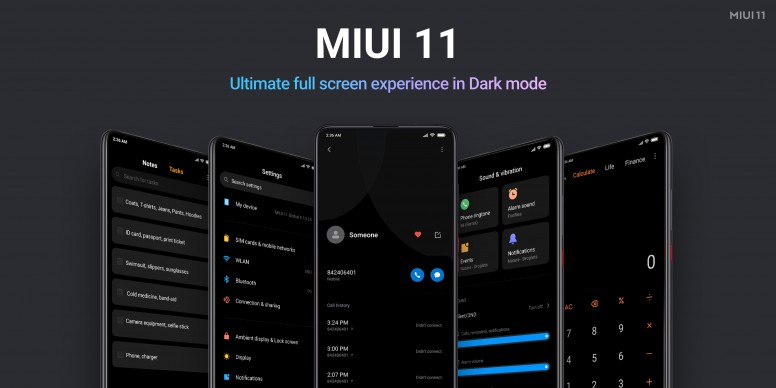 MIUI 11 introduces the always-on display that looks truly gorgeous. Ambient display now comes with gorgeous dynamic themes. Be it an ever-changing kaleidoscope or rhythmic wave dial, your screen will amaze you with every new glance. Also introducing Breathing light effect: Tasteful special effects will accompany incoming notifications, breathing life into your screen when it's locked.Notification can now be shown as an animation when the display is off.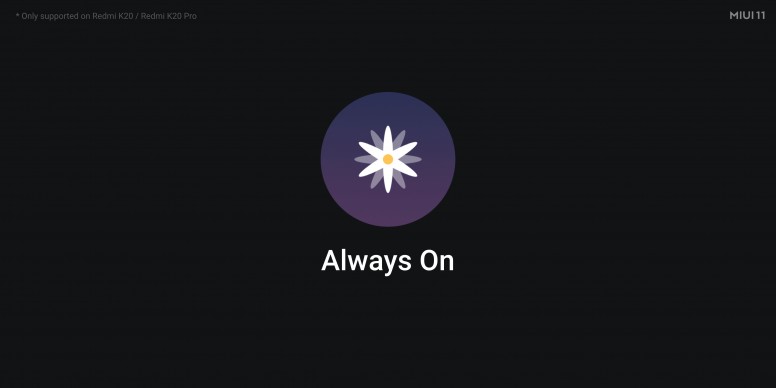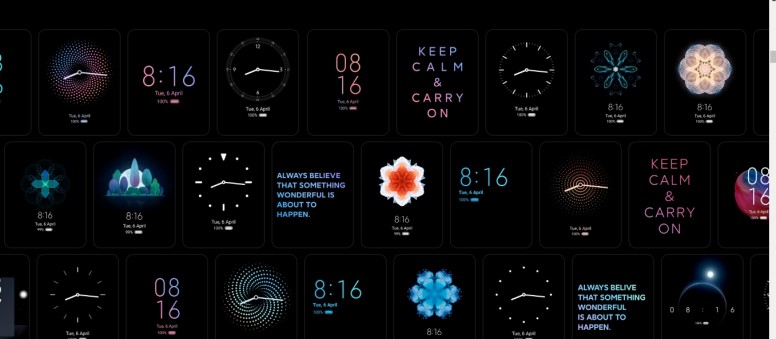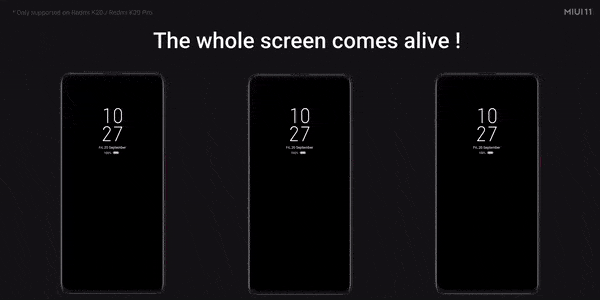 With the new AOD, you can even personalize the lock screen with your favorite solgans or any texts you want. The customizations includes the words, text color, alignment, text size etc. Add a customizable signature to your always-on display to make your device truly unique.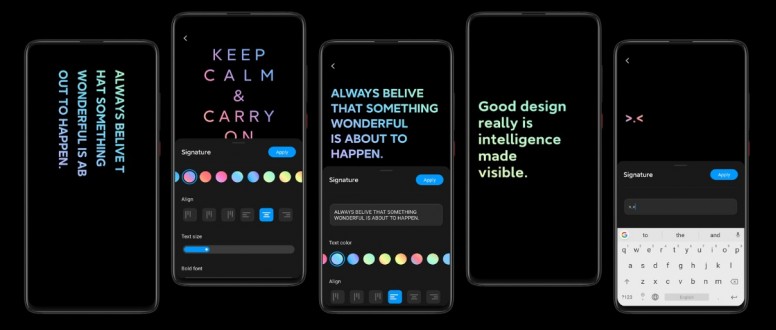 MIUI Dynamic Natural Sound System


MIUI 11 integrates new dynamic sounds effects that resemble ambient sounds from nature. It's a natural stunning "hearing feast". Soothing and ever-changing sounds that are always fresh. Nature alarm makes a great start to your day. Wake up to different sounds of nature every day and get your morning boost of energy and focus. Notification sounds in MIUI 11 are smart and diverse. They imitate water and birds and never sound the same throughout the day.It changes through out the day, perfectly integrated into the environment. These new visual design and sound effects have won two Red Dot design awards of 2019— a first ever design award, awarded in smartphone software industry.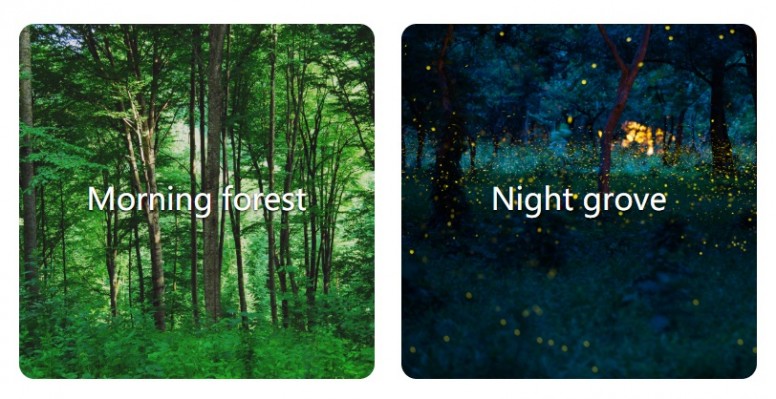 MIUI 11 brings a powerful and reliable tool for your work and life. With them Life gets easier. The Mi Work suite offers cross-platform file sharing, large document transfer between multiple devices, smart screen cast, and wireless printing. On the other hand, the Mi Life suite includes steps tracker, period tracker and Quick Replies. We will explore them now!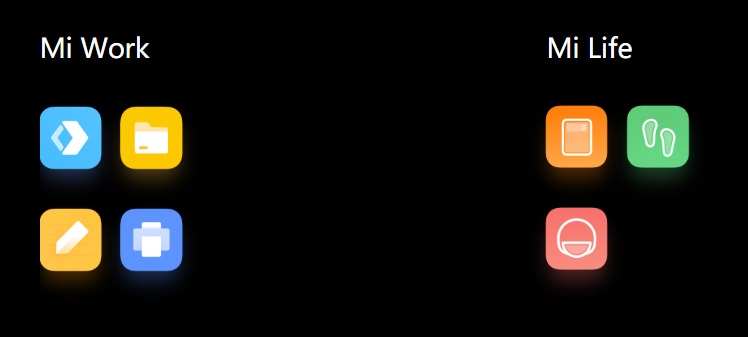 Cross-platform - High-speed file transfer


Share files across multiple platforms. It has now become faster and more convenient to transfer photos, files, and even applications between mobile phones. Share photos, files, and even apps to other mobile devices wirelessly.

* This feature is compatible with the devices running Android Pie or later versions (not including Redmi 6 Pro, Redmi 6, Redmi 6A, Redmi
7A, Redmi 7, Redmi S2).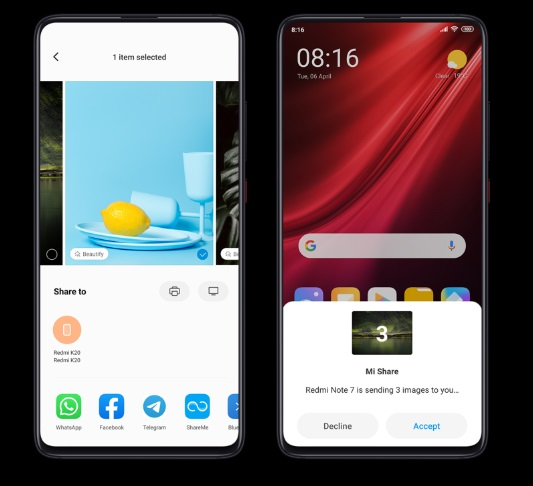 Enhanced Document Viewing Experience


Mi Doc Viewer works with any document stored on your phone. Instant previews make working with documents fast and effective. Our File manager app has seen an upgrade in MIUI 11. You can now view your files as thumbnails & also view them without any additional app support. You will also be able to perform essential actions on your documents with this addition. All the documents and files in your phone can be managed and viewed in one place. MIUI 11 also brings Professional Document Viewer. Android's first support for mainstream document thumbnails makes it as intuitive and efficient as browsing a file on your computer.

* To view the documents generated by third party apps, refresh the corresponding page in File Manager. Mi Doc Viewer is compatible with selected Android Oreo and all Android Pie devices. Currently supported formats include *.doc, *.docx, *.ppt, *.pptx, *.xls, *.xlsx, *.pdf, *.wps, and *.txt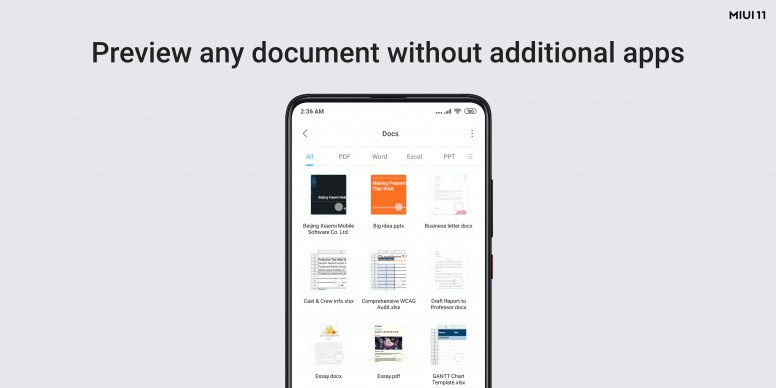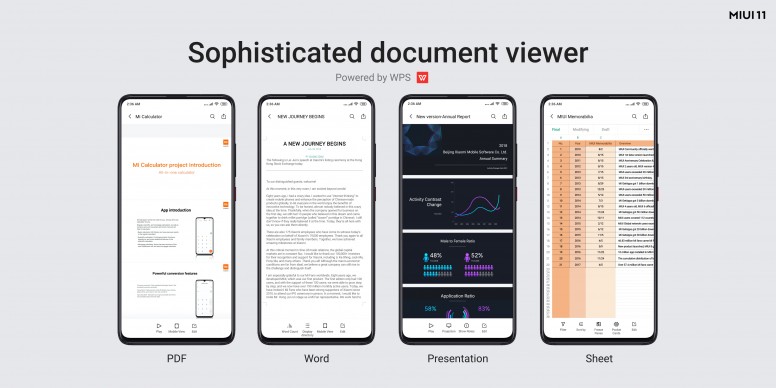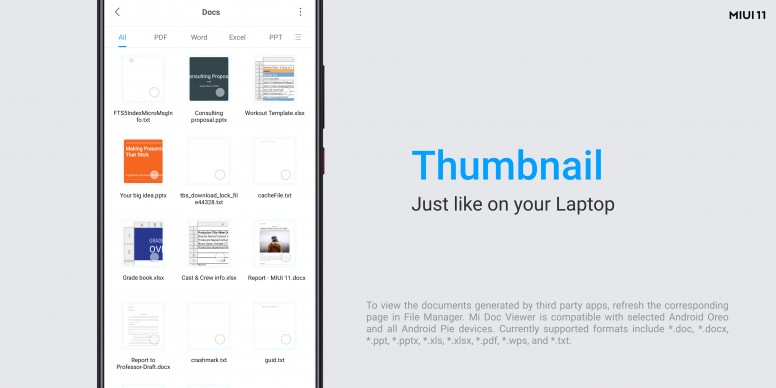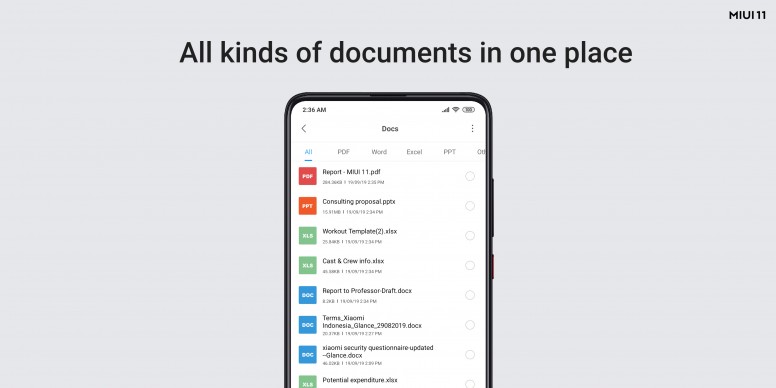 You don't need a computer to print out a document. MIUI 11 allows you to print photos and documents wirelessly without installing additional apps. Convenient settings and more than 2000 supported printer models make printing easier than ever before.
*Print images and PDF files on devices running Android Pie or laterversions.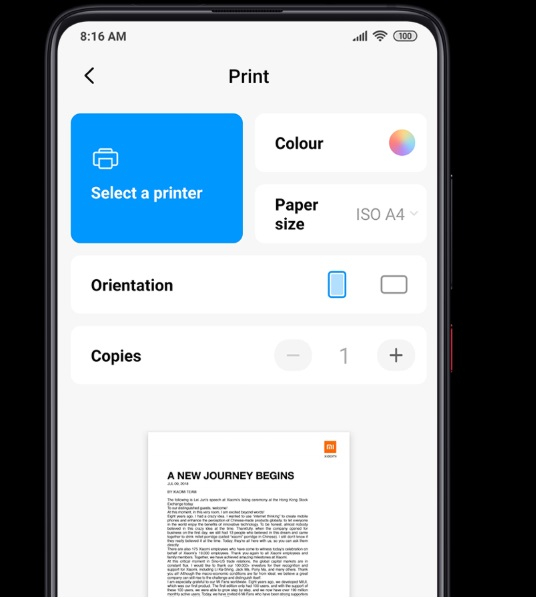 Here are compatible printers: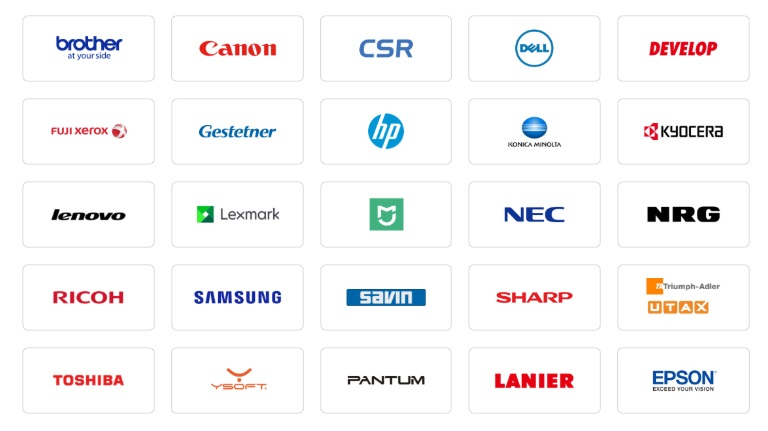 Getting all things done right on time. You can create and track your daily tasks in the Notes app. Receive reminders and use gestures to manage all things on your to-do list. This is for you to arrange every day and everything properly. The new 'Task' is added to the notes app. A new reminder feature that helps you easily create, organize, and track your tasks. When the task is about to begin, it will also take the initiative to remind. You can quickly add and manage to-do items by swiping from the edge of the screen. List all tasks, sync them with your calendar, add any task with a universal entry of the app or even record a task.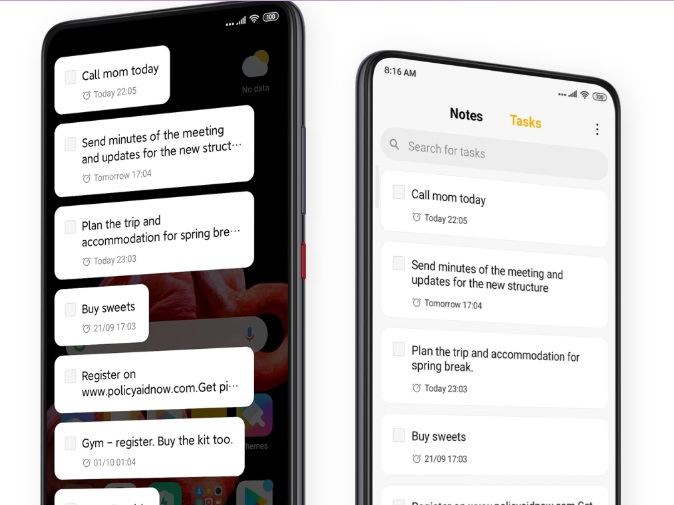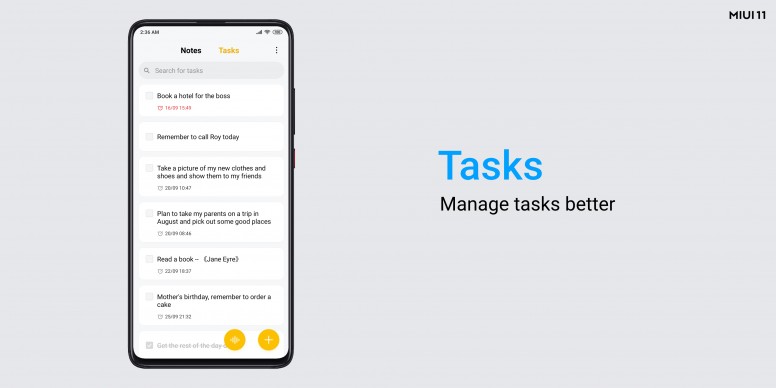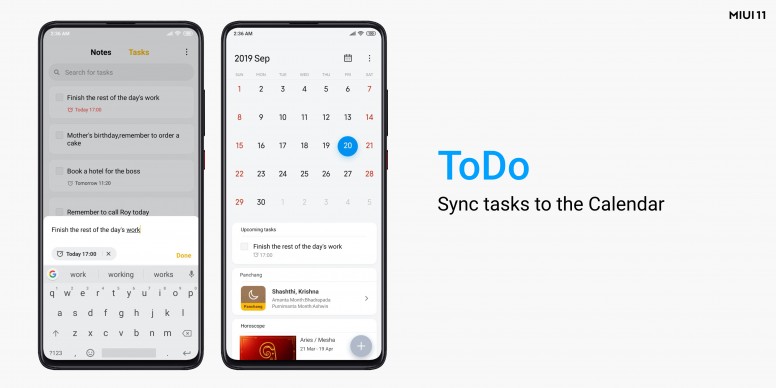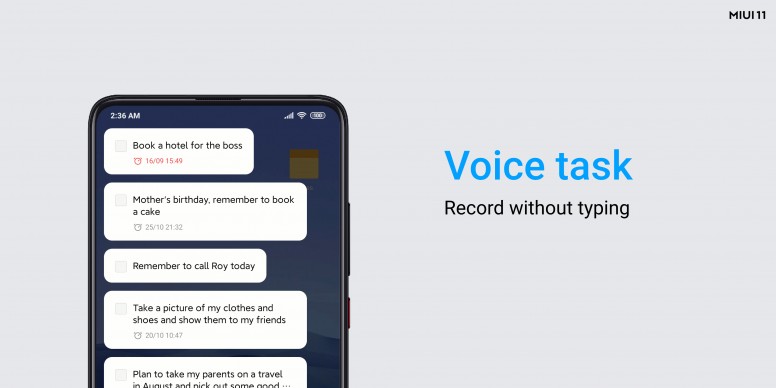 Mi Calculator offers practical calculations and solutions for daily tasks. Go beyond addition, subtraction, multiplication, and division. New features allow you to calculate age, discounts, taxes, and much more. In MIUI 11, you can also minimize calculator and use it without switching between apps. It now also comes with a floating screen now for users to multi-task better.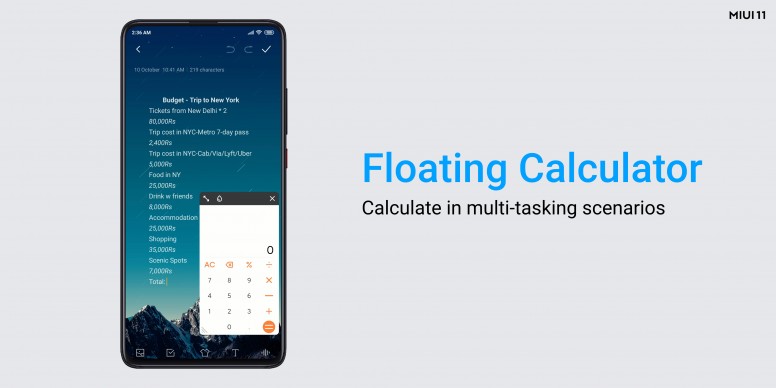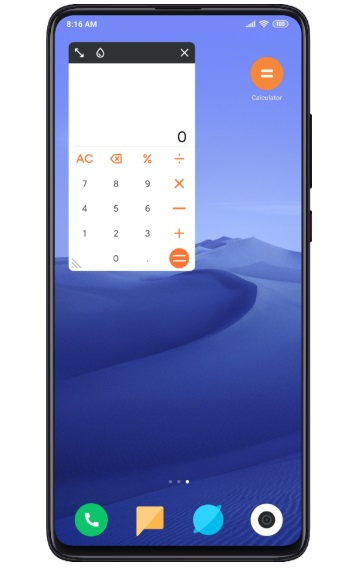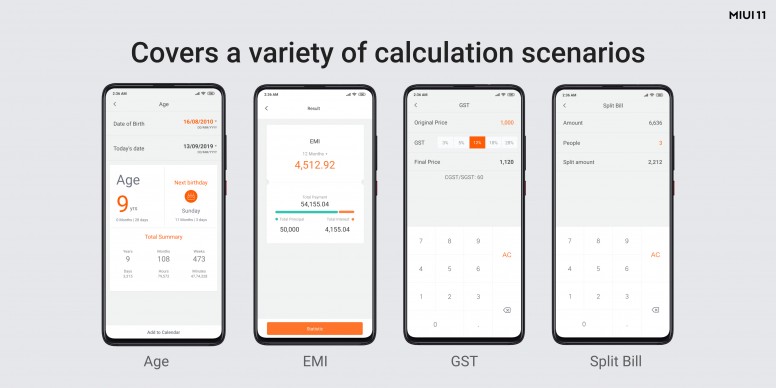 Can you imagine moving around without your phone? With a growing need to understand personal wellbeing better, you can now check your daily steps and other vital data right from your App Vault screen. Make every step count

*This feature is only available in India, Indonesia, and Spain.
*This feature is only available on the following devices equipped with a step counter sensor:
Redmi K20, Mi 8, Mi 8 Lite, Mi 8 SE, Mi MIX 2S, Mi MIX 3, Mi 9 SE, Mi MAX 3, Mi 8 Pro
Redmi Note7, Redmi Note7 Pro, Redmi 7, Redmi Y3, POCO F1, Redmi 7A, Redmi 6 Pro
Redmi Note 5 Pro, Redmi 6A, Redmi 6, Redmi Y2, Mi 6, Mi Note 3, Mi MIX 2
Redmi Note 8 Pro, Redmi Note 8, Mi 9, Redmi K20 Pro, Mi Note 2
Mi MIX, Redmi Note 5, Redmi 5, Redmi 5A, Mi Max 2, Redmi Note 4
Redmi Y1 Lite, Redmi Y1, Redmi 4, Redmi Note 6 Pro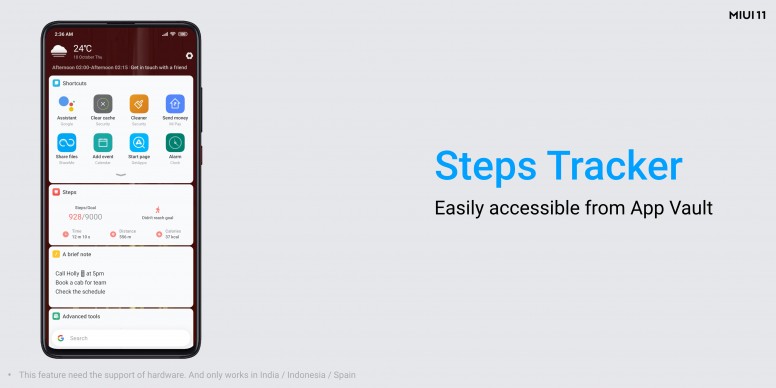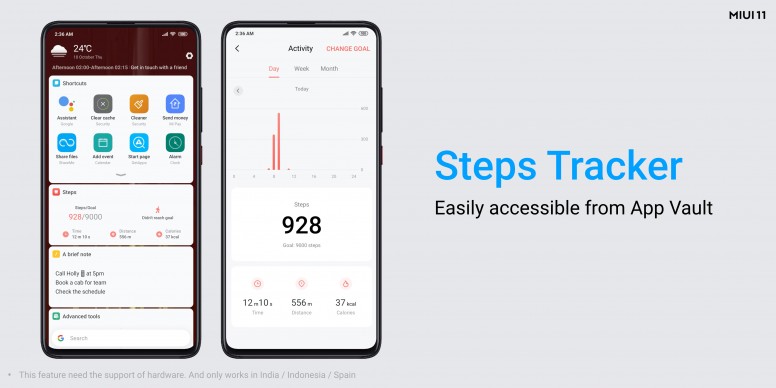 Record and track your menstruation cycle. Reproductive health is important. Record when your periods start and end, receive notifications and suggested dates of your next period directly in the Calendar app.

*This feature is only available in India, Indonesia, and Spain.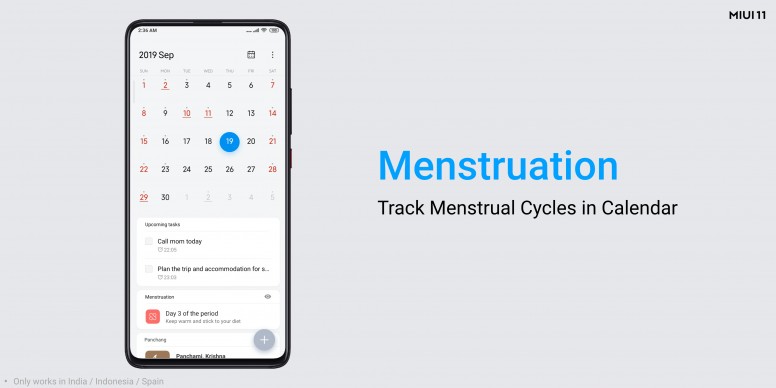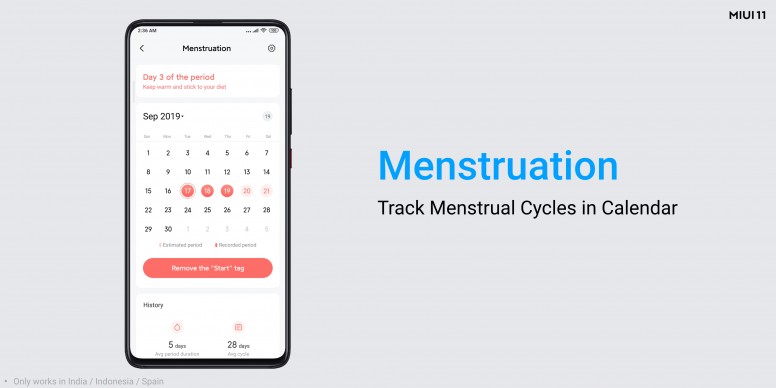 Life is unpredictable and it can get complicated pretty fast. Unavoidable situations might arise, where you may not even be able to operate your phone to call for help. But as people mostly rely more on their mobile phones as their sole source of communication, our smartphones might help us with emergency features in this type of scenario? Your emergency contacts are now always just a tap away. Press the Power button 5 times to send an SOS message with your location info to your emergency contacts.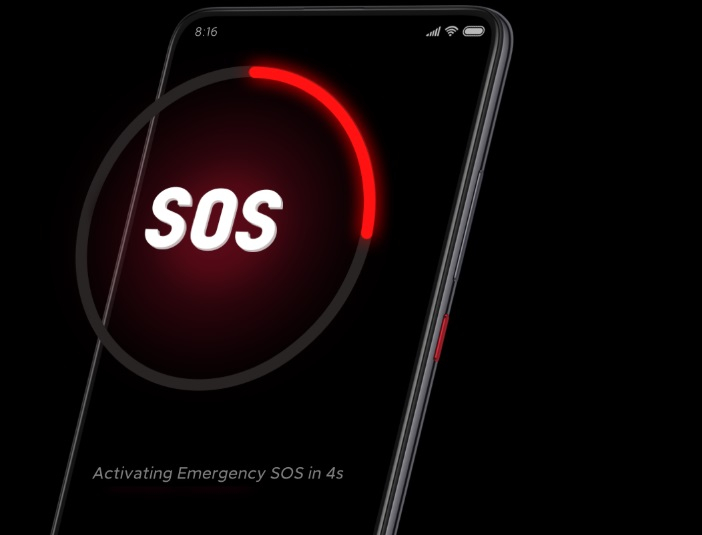 Turn your phone into an ultimate gaming console. Immerse youself in the world of games. Powerful gaming tools and cool sound effects will keep you focused on the challenge! Game Turbo will make the problem of faulty touches disappear and optimize the performance for gaming, making your device fit for combat in a snap!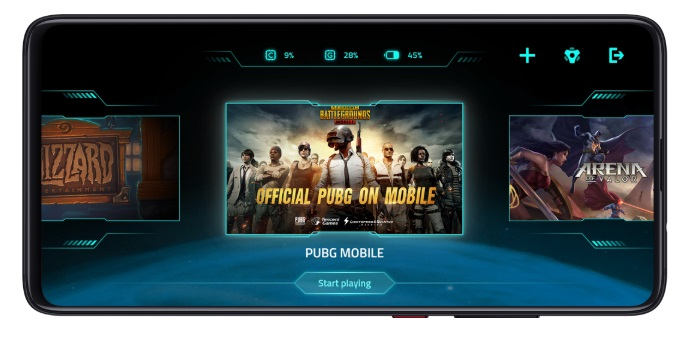 All the features you need just a swipe away. Switch between networks, block messages, and answer calls in the background without interrupting your gaming session. Cast, make screen recordings, and use quick replies. All without leaving the game.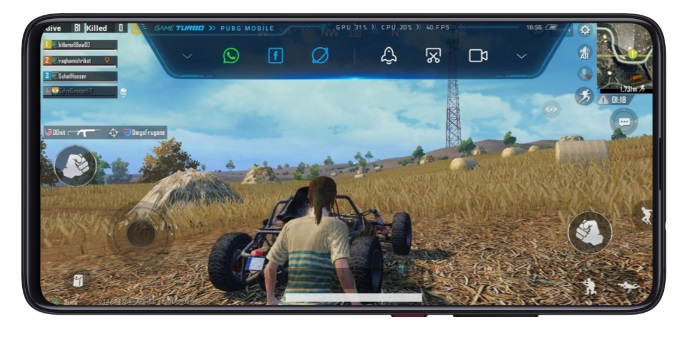 Have you ever been interrupted while you watch a video on landscape mode when you are getting a call? Frustrating isn't it. Well not anymore with the Quick Replies on MIU 11 Take a call or reply to messages without interrupting your game/video. Use the floating tab for replying to messages on MIUI 11. Keep chatting with your friends no matter what app you're using. Quick replies are supported by multiple apps now. You can send messages while you're watching videos, reading, or swiping through your news feed. Keep the conversation going!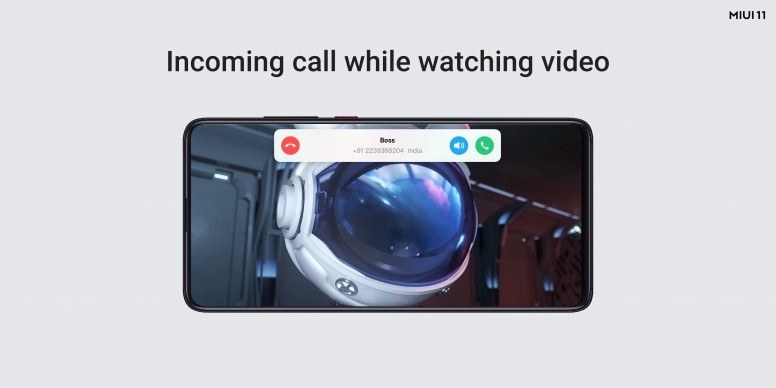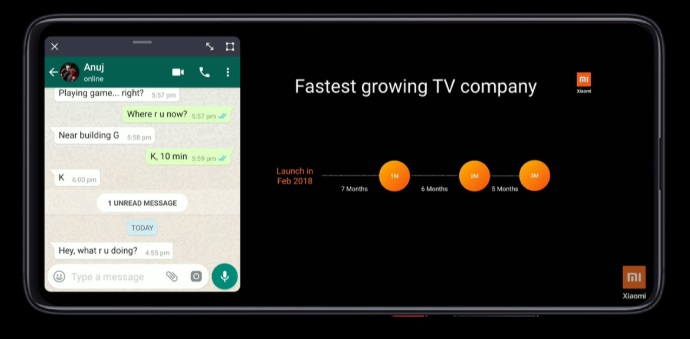 We have a large collection of resources to make your phone look unique. Wallpapers add a sense of personal style to your smartphone screens. On our Themes store app, you can find 100k unique wallpapers. These are highly adopted by our Indian users and this got us thinking "What next?" What's even better, you can choose even a personal video as your wallpaper & flaunt a different look.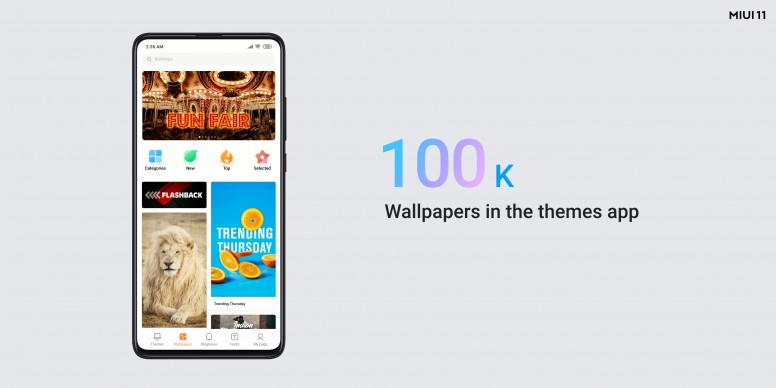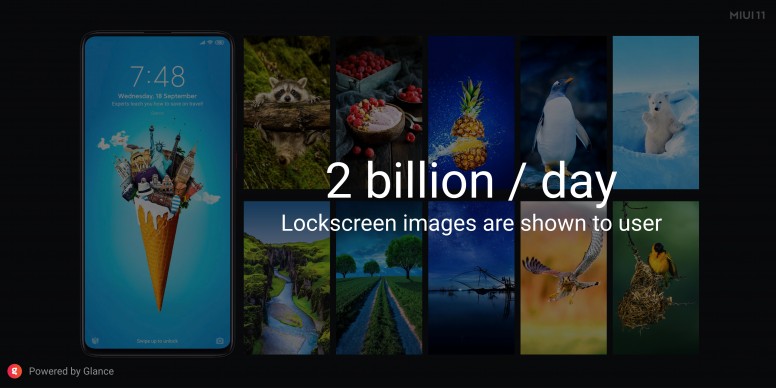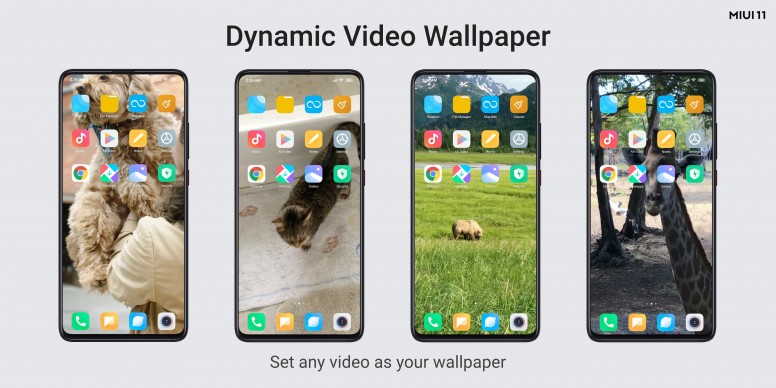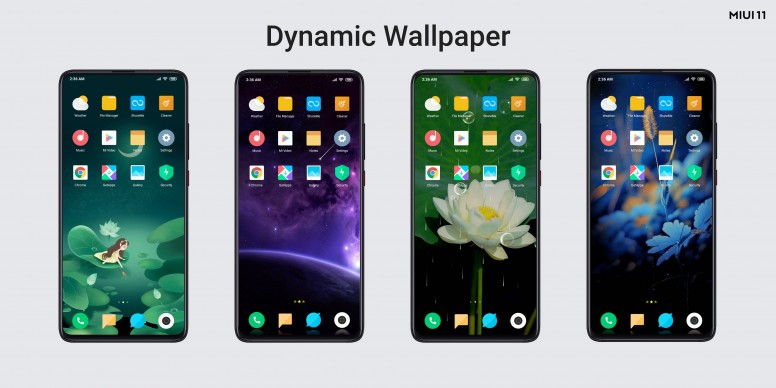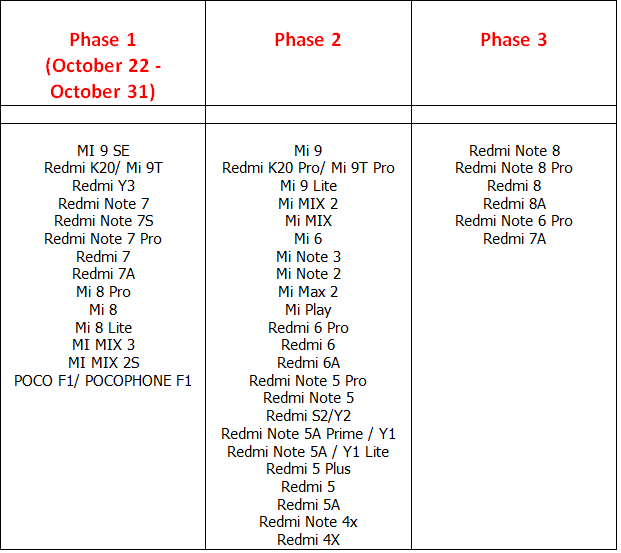 *This release plan is subject to change.



Which Feature Of MIUI 11 Do You Like Most?




Rate