Hi fellow MIUI fans,
I'm bringing a really cool tool Xiaomi ADB Fastboot Tools, The name may sound simple. Some may think it as just another ADB Fastboot installer. However, the function of this tool is far beyond that. It fact, it is a utility having many tools within a single software.Enter the XAF Tools (Xiaomi ADB Fastboot Tools)! It is basically a single Windows-based software with several tools residing within. The tools are called modules.
XAF has main functions of anything a traditional ADB Fastboot tools can do. Except, all the functions are now having GUI (Graphical User Interface). This makes all the jobs easier for novice users.
Users (me, us, and you) are no longer in need to memorize all commands just to execute almost any tasks related to their Xiaomi Android devices.
The XAF helps users establishing ADB and Fastboot connection. Once established, users will then be able to select which action they want to proceed.
Estou trazendo uma ferramenta muito legal do Xiaomi ADB Fastboot Tools, o nome pode parecer simples. Alguns podem pensar que é apenas mais um instalador do ADB Fastboot. No entanto, a função dessa ferramenta está muito além disso. Na verdade, é um utilitário com muitas ferramentas em um único software.Insira o XAF Tools (Xiaomi ADB Fastboot Tools)! É basicamente um único software baseado em Windows com várias ferramentas que residem nele. As ferramentas são chamadas de módulos.
O XAF possui as principais funções de qualquer coisa que as ferramentas tradicionais do ADB Fastboot podem fazer. Exceto que todas as funções agora possuem GUI (Interface Gráfica do Usuário). Isso facilita todos os trabalhos para usuários iniciantes.
Os usuários (eu, nós e você) não precisam mais memorizar todos os comandos apenas para executar quase todas as tarefas relacionadas aos dispositivos Xiaomi Android.
O XAF ajuda os usuários a estabelecer conexão ADB e Fastboot. Uma vez estabelecidos, os usuários poderão selecionar qual ação eles desejam executar.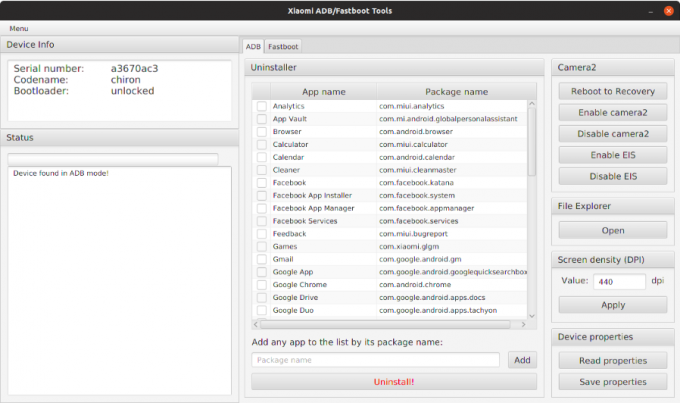 Now let's talk about some of its key features.
Uninstaller: This feature allows users to remove any built-in apps. Xiaomi phones usually come shipped with several default apps including Mi Store, Mi Calculator, Mi Scanner, Mi Remote, etc.
This feature allows users to uninstall any default app. Those apps are not bloatware for some. Others may thing it useless and hence it becomes bloatware for them.
This feature can also uninstall any factory apps and services.
Camera2: The most wanted feature. Many Mi Fans are demanding to unlock their phone bootloader just to enable the Camera2 API. This feature allows users to enable and to disable Camera2 API, to enable and to disable EIS (Electronic Image Stabilization), and to reboot into recovery.
Once the Android Camera2 API has been enabled, users can install any camera apps with manual controls, just like a DSLR.
File Explorer: This is the most loved feature. This launches a File Explorer that let users manage their files stored within phone's storage. This feature is very convenient because sometimes copying and pasting files from and to the phone are crucial.
Screen Density: Users can now adjust and change the DPI value of their phone screen easily. The higher the DPI, the better the display. The lower it is, the lower its display quality but it can save battery power.
Device Properties: Once clicked, the XAF will retrieve many statistics and information about your device.
Flasher: This is the ultimate feature of XAF. The software can flash almost anything that are flash-able through ADB-Fastboot connection. Users can flash custom recoveries, flash Fastboot ROMs, etc. This feature is also capable to boot any image.
Wiper: Well, its name tells everything. This feature is necessary for those who want to wipe caches or perform a factory reset.
OEM Unlocker/Locker: This will unlock phone bootloader in one condition; the phone runs Android One (Mi A1/Mi A2). This won't work on MIUI devices.
MIUI ROM Downloader: This feature is very helpful. Instead of browsing around just to download the correct MIUI ROM, this feature directly fetch the link to Fastboot ROM. Users can either copy the link or download the ROM directly.
Rebooter: This reboots users' phones effortlessly without touching the power button.
Agora vamos falar sobre alguns dos seus principais recursos.
Desinstalador: esse recurso permite que os usuários removem todos os aplicativos internos. Os telefones Xiaomi geralmente vêm com vários aplicativos padrão, incluindo Mi Store, Mi Calculator, Mi Scanner, Mi Remote, etc.
Esse recurso permite aos usuários desinstalar qualquer aplicativo padrão. Esses aplicativos não são bloatware para alguns. Outros podem achar inútil e, portanto, torna-se um bloatware para eles.
Esse recurso também pode desinstalar aplicativos e serviços de fábrica.
Camera2: O recurso mais procurado. Muitos Mi Fans estão exigindo desbloquear o carregador de inicialização do telefone apenas para ativar a API Camera2. Esse recurso permite que os usuários ativem e desativem a API da Camera2, ativem e desativem o EIS (Estabilização Eletrônica de Imagem) e reinicializem a recuperação.
Depois que a API do Android Camera2 for ativada, os usuários poderão instalar qualquer aplicativo de câmera com controles manuais, como uma DSLR.
File Explorer: esse é o recurso mais amado. Isso inicia um Explorador de Arquivos que permite que os usuários gerenciem seus arquivos armazenados no armazenamento do telefone. Esse recurso é muito conveniente, pois às vezes copiar e colar arquivos de e para o telefone é crucial.
Densidade da tela: os usuários agora podem ajustar e alterar o valor de DPI da tela do telefone com facilidade. Quanto maior o DPI, melhor a exibição. Quanto menor, menor a qualidade da tela, mas ele pode economizar energia da bateria.
Propriedades do dispositivo : Uma vez clicado, o XAF recuperará muitas estatísticas e informações sobre o seu dispositivo.
Flasher: Esse é o recurso final do XAF. O software pode piscar quase tudo que é capaz de flash através da conexão ADB-Fastboot. Os usuários podem recuperar recuperações personalizadas, ROMs rápidas do Fastboot, etc. Esse recurso também é capaz de inicializar qualquer imagem.
Wiper: Bem, seu nome diz tudo. Esse recurso é necessário para quem deseja limpar caches ou executar uma redefinição de fábrica.
OEM Unlocker/Locker : Isso desbloqueará o carregador de inicialização do telefone em uma condição; o telefone roda o Android One (Mi A1 / Mi A2). Isso não funcionará em dispositivos MIUI.
MIUI ROM Downloader: Este recurso é muito útil. Em vez de navegar apenas para fazer o download da ROM MIUI correta, esse recurso busca diretamente o link para a ROM do Fastboot. Os usuários podem copiar o link ou baixar a ROM diretamente.
Reinicializador: Isso reinicia os telefones dos usuários sem esforço, sem tocar no botão liga / desliga.
Xiaomi ADB/Fastboot Tools 6.6.1
Changelog
Fixed a bug on Windows that broke the Flasher module

Changelog for 6.6
Added native downloading to the ROM Downloader module (no need for browser)
Minor UI and stability improvements
Updated Kotlin plugin to 1.3.50
Updated ADB/Fastboot to 29.0.2

Please check the front page for more information on download options.


XiaomiADBFastbootTools-Linux.zip 19.6 MB
XiaomiADBFastbootTools-Mac.zip 19.6 MB
XiaomiADBFastbootTools-Win.zip 19.5 MB
XiaomiADBFastbootTools.jar 19.9 MB
Source code(zip)
Source code(tar.gz)



Doubts i am available
Rate