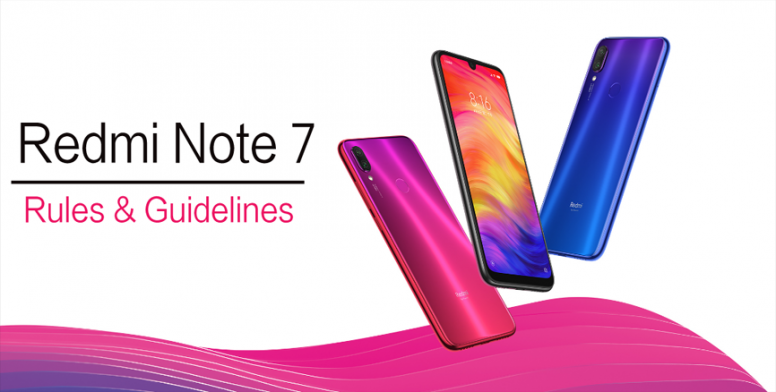 Hey Mi Fans,
A cordial welcome to the Redmi Note 7 Subforum to all of you.
Before you start posting threads in this section, I want you all to get the clear idea of what to post and what not to post!
1. Search before Posting a Thread
Go through the sticky threads once before posting any queries usually all the major queries are been solved by going through the sticky threads.
2. No Spamming
Spamming basically is defined as posting same replies again and again in the same thread or different thread. It can also be posting same thread with same content multiple times in same sections or in different sections. Also posting replies which are irrelevant to thread topic will also be considered as spamming. Keep the section clean.
3. No Nudity, Profanity, Racism and Swear
Strict Action will be taken against you, if we found any sort of Nudity and/or Profanity, Racism, Swear by any of the users.
4. No Off-Topic Reply
Replies which are not related to the thread will be considered as off-topic reply and will be dealt on sight. Moderators will issue a warning to the user if found doing the same.
5. Add Appropriate Title
Do not post titles like Nice Phone Redmi Note 7, Nice MIUI or any such. The title of your thread gives the first impression about your thread. So having an appropriate title will attract other users to read it. How amazing it would be getting so many replies and views on your thread!
6. Add Enough Content
One-liner threads like, Nice Redmi Note 7, I love Redmi Note 7 or any such are not allowed within this section as it doesn't have any enough information to add value to other Mi Fans or let them know what is your question about. Such threads will be deleted on-sight.
7. No Sales & Advertisements
Any form of advertising or sales is strictly prohibited among members of Mi Community. Posting links to third-party vendors, reselling Xiaomi products is also considered as advertising. Such threads will be deleted on-sight.
8. Say no to LEAKS
Threads, containing external links to official files (full ROMs or OTA zips) will be considered as a LEAKS and will be dealt with very SERIOUSLY and accordingly! The user will be banned on-sight if found leaking Official ROMs.
Important Note - If a user is warned 3 times or more he/she will be banned for 30 days. If he/she continues to break the rules then he/she will be permanently banned.
That's all for now, feel free to contact any of the section Moderator if you have any query or issue!
Rate