Assalamu Alaikum,
How is everything? Hope everything will be fine. Sometimes our device showing some problems. Example: Auto reboot, brick, sensor problem, and much more. Then we need to flash our smartphone.
So guys, today I want to show you, "How to flash your Xiaomi device in fastboot".
❒ Notes: Do anything at your own risk. Before flashing your device, backup your all data. Because your device can be reset/wipe your device. If you want to flash China ROM on your Global device or Global ROM on your China device then don't lock your device bootloader. If you can try to lock your device bootloader it can be bricked. Then you need to unlock it again or need an authorized account for flashing in EDL mode. So, be careful.
❒ Advantage:
● Downgrade your device ROM version (Not recommended).
● You can get the official update.
● Can switch Stable to Beta or Beta to Stable and also switch Global to China or China to Global.
● It can remove Root access, Custom Recovery, and Custom ROM also.
● Can Relock your device Bootloader and much more. If you don't want to do it then visit your neatest
Mi service center
.
❒ Requirement:
● Unlocked Bootloader.
● Official Fastboot ROM for your device.
● XiaoMiFlash tool.
● Winrar/7 Zip.
● USB Cable.
● Desktop or Laptop.
❒ Steps:
● First unlocked your device bootloader. If you don't know about then follow this
tutorial
.
● Now download the XiaoMiFlash tool and your device
Global Fastboot ROM
. (If you need any version ROM or if you don't find any fastboot ROM for your device then please comment or create a thread on Mi Community)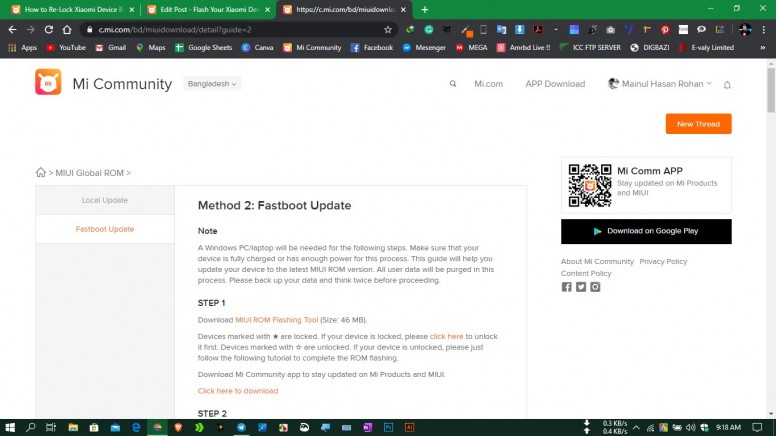 ● First, extract your device fastboot ROM by Winrar/7 zip or other software. If your ROM format is gz/tg. Then edit your ROM extension gz/tg to tgz.
● After extracting cut extracted ROM file and paste on any drive and put into the root directory (Ex: C:\your_device_rom)
● Now install the XiaoMiFlash tool.
● After installing the XiaoMiFlash tool open it.
● Follow this line carefully. If you want to relock your device bootloader then select "clean all and lock" or if you want to just flash your device then select "clean all". I recommend you to select "clean all".
● Now Power Off your device and go to fastboot mode by pressing Power and Volume Down (-) at the same time. (You need 5-10 seconds for it. If you try to go fastboot mode but your mobile doesn't go to fastboot mode then just power off your mobile, then hold press Volume - button and connect the data cable with your mobile and computer).
● Click on the refresh button and wait sometimes. Now you can see the flashing tool detected your device.
● If your device isn't showing on pc or don't stay in fastboot mode. Then update or install
Mi USB Driver
.
● Click "Select" then This PC/Computer - C:\ or any drive where you put extracted ROM for your device.
Ex: C:\your device ROM and click ok. Don't select the images folder.
● Now click the "Flash" button and wait 7-13 minutes.
● After completing the flashing process you can see the flashing result is the success and your device is booting is automatic. After booting setup your device.
Congratulations! you successful flash your device
For your help, I added a YouTube video by Mehadi Hasan.
❒ Read Master Thread:
Is this thread was helpful for you? Tell me in the comment section below.
Thanks to our admin
mnnahid
bhai and all mod, smod for their continuous help and support,
Rate