Symmetria: Path to Perfection is a brilliantly-realized puzzle game by indie developers Platonic Games. This game poses the sort of challenge that keeps people up for far too many hours, and can definitely be addictive if you don't take precaution.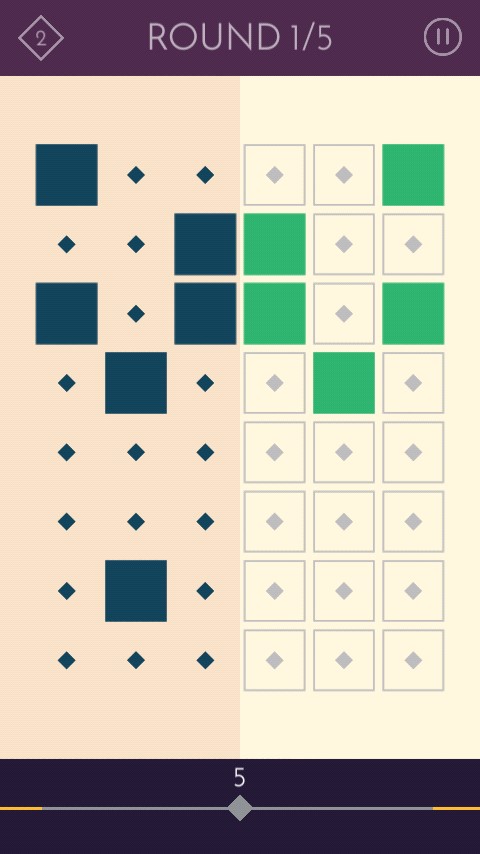 This game is more about quick thinking and what the developers call visual-spacial skills. Time is of the essence in this game, although there is no visual clock ticking on you all the time.
ALIGN 'EM UP
The basic gameplay is maintained in three distinct modes of play: Campaign, Endless, and Battle. Whichever you choose to play you get an empty grid on one side of your screen and a grid with blocks on the opposing side of the screen. Your goal is to recreate the pattern you see in its perfect reflection.
Sometime you have a small grid and large boxes in a single colour, other times you have a multi-coloured puzzle and more spaces, but whatever you see on one side of the screen you must recreate on the other so that both sides are in perfect symmetry.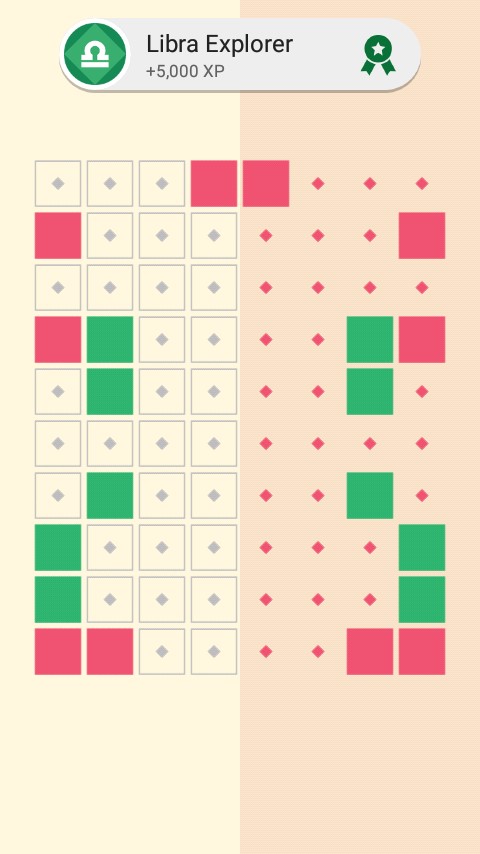 HURRY UP AND THINK!
In Campaign mode you play each level with a lot of latitude. If you make a mistake you have to figure it out for yourself, but the game is easy enough to understand and get a hang of.
You progress through various constellations that represent a level map. You make your way through the Zodiac starting with Aquarius each star indicating a new level and the distance between them giving you a hint at how much solving you will have to do to beat it.
Once you complete the level and see how your time compares to the rest of the world you'll notice your stars don't just unlock, but also fill - or don't fill - depending on how well you did in that round. You'll need to pass a minimum threshold to move on.
In later levels speed is even more crucial because bombs count down from 10 and if you haven't solved the puzzle in that short time the game places extra squares on the board that you have to locate and remove. Avoiding the explosives is paramount so speed is of the essence.
SYMMETRICAL ABUNDANCE
Campaign mode isn't the only way to play Symmetria. In Endless mode you have to solve boards racing against a running timer and don't get a second to catch your breath before the game throws another board at you.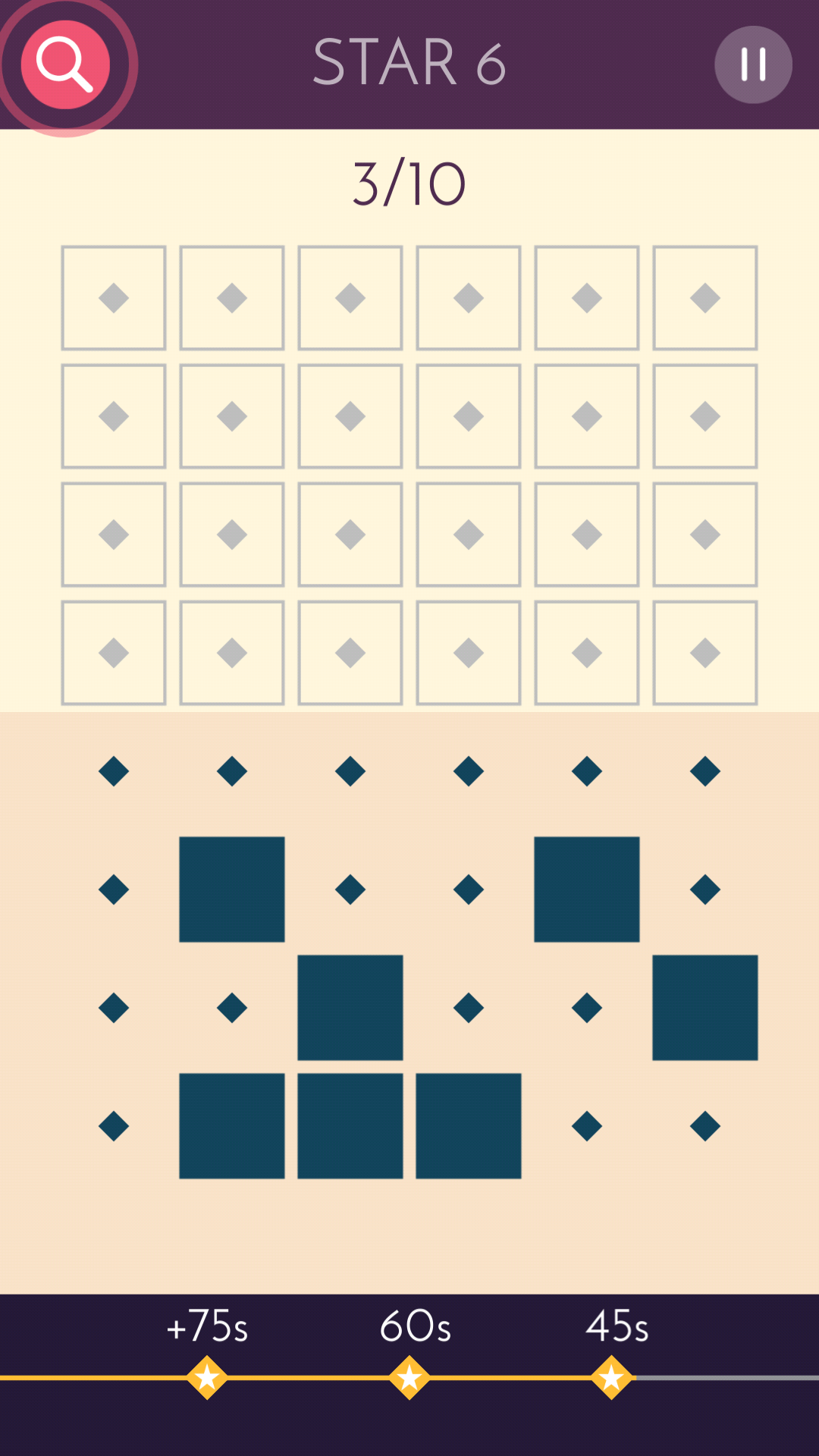 There is also Battle mode which lets two people play on one device. It's a tight squeeze on a smartphone better suited to a tablet, but it's a lot of fun to try and beat your friends and family by solving your asymmetrical mess before they arrange theirs.
The game itself does nag you to buy the full game for Rs 210, and makes you sit through not just pop ups but also full video ads to play for free. But at the same time, they are just minor distractions in what is otherwise an extremely polished final end product.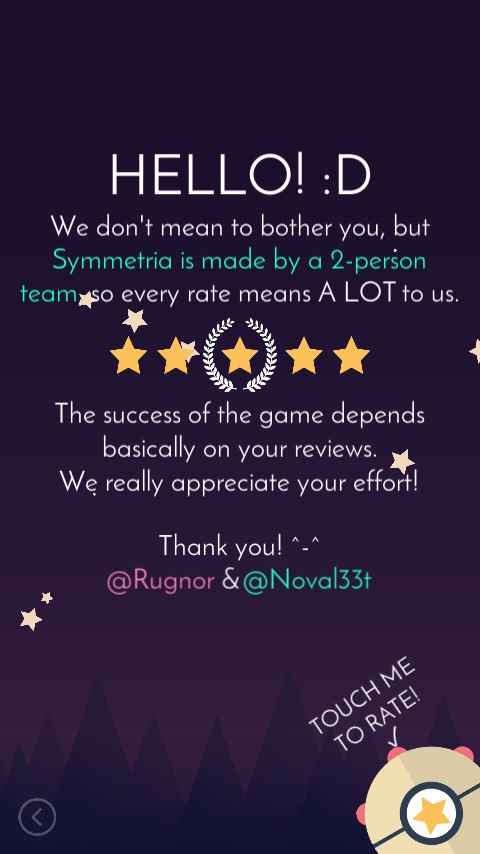 PROS
‐ Inventive unique game idea
‐ Simple addictive gameplay
‐ Tons of gameplay variety
CONS
‐ Full-length video ads unavoidable unless you pay to unlock full game
FINAL VERDICT
Symmetria is one of the best puzzlers I've played in a while. The pace is mellow and the puzzles have enough variety and use such a simple intuitive control scheme (tapping) it's hard not to keep playing way past your bedtime.
Download Symmetria now, but don't blame me if you find yourself losing sleep and seeing mirror-image blocks in your dreams.
Find out more cool apps and games in Mi Picks!