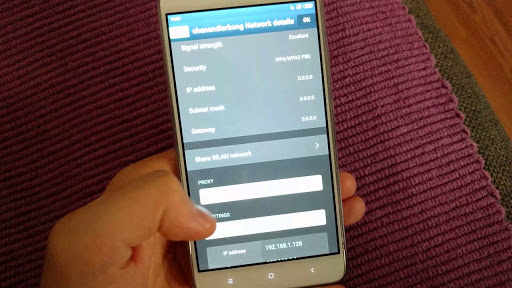 Hello MIUIers,
Do you have any problems connecting to the internet on your Android phone? Is the mobile data on your mobile phone not working?
If you can access the internet when connected to Wi-Fi but you cannot connect to the internet when using your phones mobile data then please go through the fixes below to get your phone internet connection working! Before going through these fixes, please make sure that you have an active internet plan.

Possible issue with the web browser

Before going through the fixes make sure that the problem is with the internet connection and not with the browser. If it turns out to simply be a problem with your internet browser than fixing your internet problem is going to be extremely quick and easy.

Checking a web browser is a relatively simple process. Open the browser and when the page loads you might get a "Webpage not found" or "Webpage not available" error message. That's ok. Tap on the URL bar at the top of the page and manually enter the URL of a major website that you know should be working. Just type it in and then hit ENTER on your phone's keyboard.

If the webpage loads properly and the Google search bar appears(if you open google.com) then click on the search field and type in anything you want to try to search for and press Enter to see if it will load the search results. If it does then congratulations your internet is working and there is simply a problem with your web browser's homepage. You can change your phone's homepage and you shouldn't have any further issues.

If you are using a third party or downloaded web browser then make sure that you try using browser (default browser provided by Xiaomi) to see if the original web-browser is working properly. If Mi browser is working properly then that third party browser is experiencing problems and you might need to contact the software developer of that program for additional assistance as their app or software might need to be updated in order to work properly.

If you type in the URL or Web Address of a major search engine like google.com or a website that you know is working and the page(s) still don't load then the problem is with your device internet connection.

Signal strength

If your device shows only one or two bars of service then chances are your cell phone will not be able to connect or stay connected to its mobile internet. Try moving to a location where you can get more than 2 bars of signal strength on your device and then try accessing the internet again. If this problem persists, even with 3 or more bars of wireless service, then let's look into some other possible causes.

Check your limit

MIUI allows you to set a limit on how much mobile data your phone is allowed to use. This can be a useful and powerful tool that can help prevent you from accidentally going over on your data plan.

You can check the data used by you in your phone's Settings under "Data usage". There is an option to "Restrict mobile data usage" in MIUI. You can find it in Security - Data usage.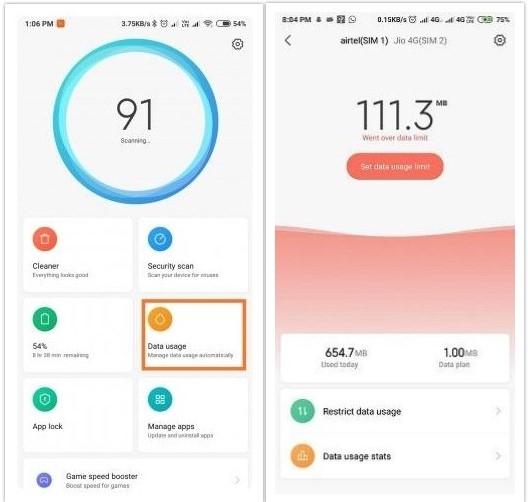 If you have set a limit then look at the data usage chart on that screen and see if your usage has reached the limit. If the limit exceeded then turn off the limit and try your mobile data again. If the data limit option is not selected and your Data usage settings look correct then proceed with the next step in troubleshooting.

Power cycling trick

Restarting your Android phone should be one of the first things to do when trying to fix an issue on your smartphone as it can solve many minor software glitches and bugs.

Power your phone off for a minute and then power it back on and then test your mobile internet connection.

If it starts working properly then enjoy your working internet and if it still has issues then try this little trick.

Turn on your Airplane mode, switch off your phone for 30 seconds and turn your phone back on, turn the Airplane mode off again, wait for about 30 seconds and then test your internet to see if this trick fixed it.

APN Settings

If your phone is loading web pages while on Wi-Fi but not when using your Mobile data or if some applications and programs seem to be able to connect to the internet and work properly then try resetting, clearing, adding or changing the phones proxy or APN settings

Different phones have various ways of getting to the APN settings, in mi they are under the 'SIM Cards & Mobile Networks', 'SIM Card' sections.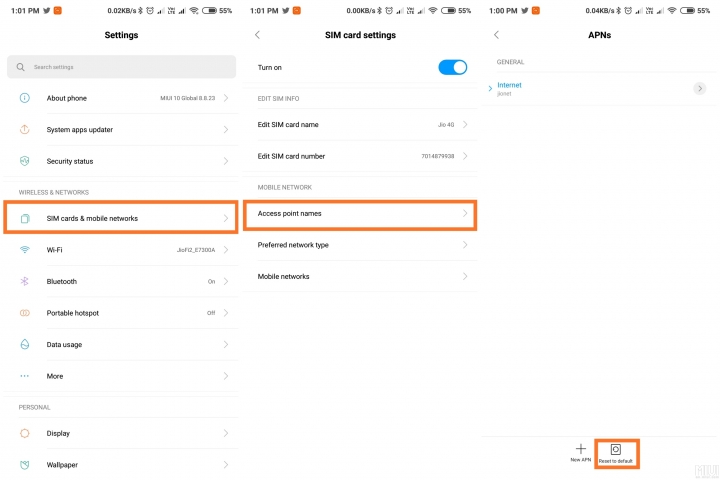 Once you locate your APN or Proxy settings you may need to search for the correct settings for your specific mobile network online in order to verify that everything is correct. You can also, for good measure, create a new APN and see if it allows you to connect to your mobile network properly again.

Checking or adjusting your phones APN settings is often a successful fix when troubleshooting the mobile data connection and internet on an Android smartphone so don't skip this step if you don't have to.

Hard reset

Performing a hard reset is going to be a last resort when troubleshooting the internet on your cell phone as it wipes pretty much everything off of the phone and sets the phone back to its factory default settings. If this issue is the result of an incorrect setting, a bad application, a software problem, a glitch, bug, or virus, then a factory data reset (or hard reset) will resolve this issue as your phone will be like it was when it was brand new out of the box (software wise anyways).

This is often the last resort in troubleshooting internet problems on a cell phone. If you have tried all of the suggestions listed above then I recommend contacting your wireless service provider before performing a hard reset as the issue may be with the network and not with your phone.

Network problems

There can be many things on your Wireless Service Provider's end that can cause problems with your mobile data connection. It can be as simple as the data feature on your specific account not being added properly during activation and has expired in which case the customer care representative could correct the feature and the problem can be solved in a matter of minutes. It could be a configuration error, a provisioning error, a problem with a tower in your area; it could be a lot of things.

Common signs that point to a problem with your network as opposed to a problem with your cell phone include:

Mobile data works in some places but not others - If there is a problem with a tower in your area or your geographical location this could indicate a network issue as opposed to a problem with your cell phone.

Other phones in your area are having the same problem(s) – If other people seem to be experiencing the same issues with the internet on their mobile phones then chances are there is a problem with the service in your area and you should contact your network provider to make sure that they are aware of this issue.

Trying a different SIM card allows the internet to work again - This could indicate an issue with your specific wireless account through your network. Usually when SIM cards malfunctions your wireless service won't work at all but this could also indicate that you need a replacement SIM card as well.

Wi-Fi internet works but not mobile data – if you have tried the suggestions above and your phone cannot connect and use mobile data correctly but it can connect to the internet when connected to Wi-Fi then this could be a problem with your mobile carrier which will have to be taken care of on their end.

Conclusion

After trying all of the suggestions listed in this guide the internet on your cell phone should be fixed and working properly again so enjoy.

If your phone is still having problems connecting and or using its mobile data to access the internet then when contacting your wireless provider make sure to ask about what options are available as you are paying for a service that you are not receiving. They should be able to provide you with some options to fix your internet or provide you with a working phone.

What Did You Do To Resolve The Issue? Are These Helpful.? Comment below...

Source




Rate