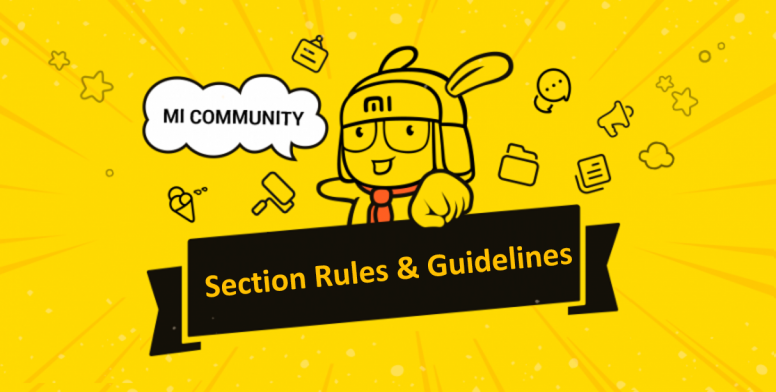 Hi MI Fans!
Welcome you to our Android Apps Section. Before you begin to make any new post, please read this Section Rules & Regulations:
1. Search before Posting a Thread
Please read the sticky threads. Sometimes they contain important information and probably you are interested.
Take few Hours from your time, and read the important threads present in Community. Not only they will give you minimum information, but there is also a lot of information very helpfull.
Use Edit button, instead of creating another post! Multiple posting will lead to deletion of the post, then warn and ban eventualy.
Please Search the Community before posting, As Most Of the Questions are likely to be asked and answered. If you don't follow this, any repeated thread will be deleted, without any notice.
Please Search the Community before posting, as it might be like that the thread you want to post is alredy posted by someone else.. if it is posted by someone else before then the threads posted earlier will prevail and the later one will be deleted on sight

2. English as Common Language
The Philippines is a vast country & we have dialects in different parts of it so to avoid inconvenience we suggest use of English as a common language. If for any reason you have to post a few lines in your regional language then translate them as well.
When replying to a thread, please refrain from posting a few replies at once. This is a Community forum, not a chatroom. Make sure you ask/reply your question/thoughts at once. We want the threads to be neat and clean.
The following content will be considered as spam and deleted on sight without any further notice:
Posts with exclamations like "wow", "yes", "yeah", "alright" etc.
Oneliner threads
Posts with shorts like "thx", "thanx", "thz" etc. This is definitely not a chatroom, it's a forum.
Posts, containing only words like "Thankzzzzzzz", "Niceeeeeeeee", "Downloadddddddd", "coooollll" etc. If you're trying to be original, go and be original somewhere else.
Posts with only emoticons. This is a tech forum, not a chat room. If you have something to say please articulate and adress those thoughts. Emoticons have to complete your posts, not to replace your writing!
Posts with the name of the thread (or part of it).
Posts with only links. Do not post such posts! It's the minimum respect for your readers to put the information in your thread. Please, do not send them to read from 3rd party sites, with expectations to answer you in your thread.
Posts that are not on the topic of the thread like Off-topic posts. If you have any specific problem with that model or another one, post in the right thread/section
Multiple posts in one thread by the same user. According to their content, they will be merged or deleted and only the first one will remain. If you have missed something, use the Edit option instead and edit your posts.
Posts, containing one and the same word, written multiple times like "ok ok", "Thanks Thanks", "Yeah Yeah" etc.
Other content, considered as spam by the mods according to the forum rules.

4. No Nudity, Profanity, Racism, Swear & Flaming
Please do not post any messages that may harass, insult, belittle, threaten or flame another members or guests. Strict action would be taken against you, if any sort of nudity, profanity, racism, and/or swearing is found.
Be clear and have a better title to turn the attention of others towards your thread, don't post one liner as we may not be able to understand what is the thread all about. Be clear in asking a question and Make detail guide when sharing review. Failure to comply will result in your thread being deleted without prior notice. Also Please do not ask to rate or support your post/thread in PM as well as don't even mention anywhere in your post/thread. You will be asked to remove that and if you don't, that post/thread will be deleted without prior notice.
6. Sales & Advertisements
Any form of advertising or sales is strictly prohibited between members in this community. Posting links of third-party vendors reselling Xiaomi products is also considered as advertising.
Except for us moderators, threads containing external links to official files (full ROMs or OTA zips) will be considered as a LEAKS and will be dealt with very SERIOUSLY and accordingly!
Important Note: Thread posted on grounds of multiple appearances in different sections by same user. The post will be deleted onsite without any further notice and a warning may be issued (case to case basis)
Measures taken by Officials
Firstly: Warning to the user (3 times Maximum).
Second step: Ban for 7 days. (This can be extended for up to 3 months depending on case)
Third step: Permanent Ban.
Disclaimer: Moderators are not responsible if you don't read the rules and don't follow the rules. If your thread or post gets deleted and if you get any warnings or ban, then only you will responsible for that. Don't ask for any unnecessary questions in PM, and don't fill unnecessary complains because all the rules are stated clearly. Please read the rules beforehand. Thank You!
Revised by: beanenergy
Download the MI Community App!