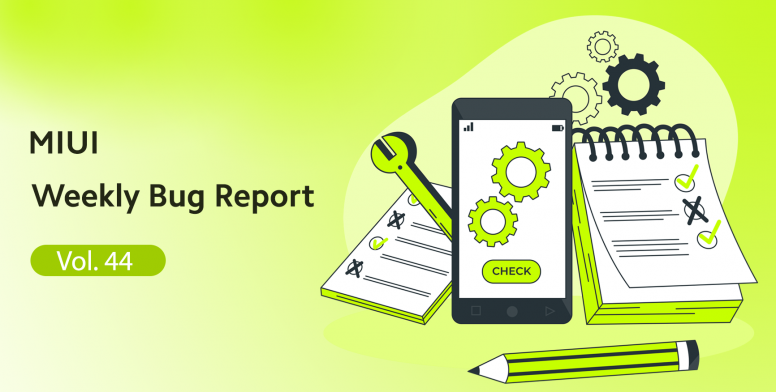 Hello Mi Fans,
As MIUI keeps on evolving and grows, some issues may come and interfere with the smoothness and functionality of the phone in Daily use. That's why Mi Testers and Mi Fans are hard-working in finding and reporting those issues, so the developers will provide fixes ASAP. In this new series of threads, we plan to share with all of you Mi fans, the most common issues found in the ROM. So, let's get started with the list.

Weekly Report:

Issue: Incoming calls appear as unknown numbers.

Device: Mi 10
Affected Version: V12.5.1.0 RJBMIXM
Status: Analysing the issue. The current problem mainly occurs in Spain.


Issue: Music Player Notifications space still left blank after removed.

Device: All Mi/Redmi Device updated to MIUI 12.5
Affected Version: V12.5.1.0
Status: The fixed change will enter the stable version on 6/10.
2. The self-upgrade fix plan is completing the translation work, and the self-upgrade is expected to start on 6/15‌‌.


Issue: System lag/hang when playing games

Device: Redmi Note 10
Affected Version: V12.0.11.0 RKGMIXM, V12.0.4.0 RKGIDXM
Status: The cloud control on 6/8 has been modified and will take effect within 24-48 hours. Continue to follow up and feedback.


Issue: Can't detect the SIM card

Device: Redmi Note 9
Affected Version: V12.0.1.0 RJOMIXM
Root Cause: Android Q upgrades to R, the automatic single and dual card migration requirements do not upgrade the VINTF manifest configuration, resulting in the wrong version of the single card IMtkRadioEx and IRadio, and the Rild service registration fails. The upper AP cannot obtain the SIM card status information from the bottom modem, so the upper AP does not recognize the SIM card.
Status: Areas affected by the locked area (mainly South America), users of the temporary version have been verified, and the problem is solved. The next stable version will be integrated and repaired‌‌.


Issue: System lag/hang when daily use.

Device: Mi 9T/Redmi K20
Affected Version: V12.1.2.0 RFJMIXM, V12.1.2.0 RFJINXM
Status: A change will cause inflate time-consuming to affect the interface loading of all scenes, causing lag
Others: For Cache occupancy too large, 6/10 merged process management solution‌‌.


Issue: System lag/hang when daily use

Device: Redmi Note 9S
Affected Version: V12.0.2.0 RJWMIXM
Status: At present, need to continue to cooperate with Qualcomm debug to see if there is room for optimization.‌‌


Issue: Screen is always on/off switching back when receiving notifications

Device: Mi 11X, Redmi Note 10 Pro, Redmi Note 10S
Affected Version: V12.5.1.0 RKHINXM, V12.5.1.0 RKFINXM, V12.5.1.0 RKLINXM
Status: The problem of must present is related to a piece of logic of sdk hook. The R&D staff found that this animation was added with a TaggingDrawableHelper.tagChildSequenceState logic when MiuiSDK added addView, and this logic would start an animation. When systemui is notified in the asynchronous thread inflater, this animation will run in the asynchronous thread. After trying to remove this logic, it does not reappear‌‌.




So That's all for this week.

In case if you are facing any other issue, You can provide feedback using "Feedback App" or You can also post a thread in MIUI ROM SF




Always Believe That Something Wonderful Is About To Happen