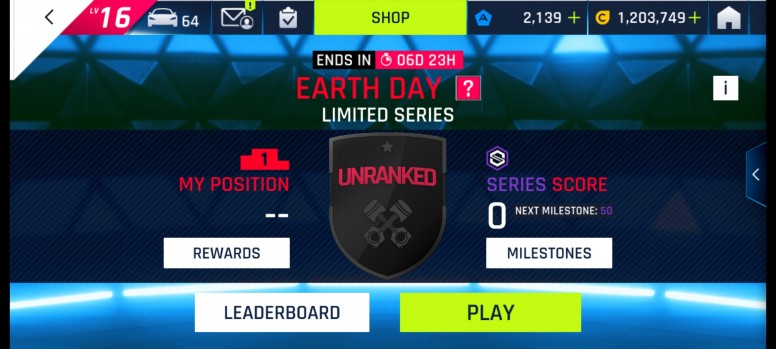 Hei Mi gamers,
In the Earth Day - Limited Series, you experience this car's maximum power. Only pure skill matters here. Also, you'll have unlimited fuel. Cruise the roads with new cars from iconic brands. Explore the new season to unlock fantastic prizes.
The Leagues
There are five leagues in total:
Novice: Every player starts each season in this league after a race, reaching a rating of 1,000

Rookie: Reach a rating of 1,100

Pro Reach a rating of 1,300

Elite: Reach a rating of 1,500

Master: Reach a rating of 1,800



Keep racing to increase your Series score. Reach the different score milestones in order to get awesome rewards.
Pininfarina H2 Speed is the car that you need to get used to. You just have to start racing and prove your worthy skill and get in a position to jump to the next League. There are no worries about fuel, it's unlimited as long as you have a competitive car.
Your opponents cars and their ranking.
I finished with a rating of above 1,000 to attain Novice League, which I will start the race in Novice with a steeper challenge.
Gameplay
Stay safe and enjoy! Get your adrenaline rush!