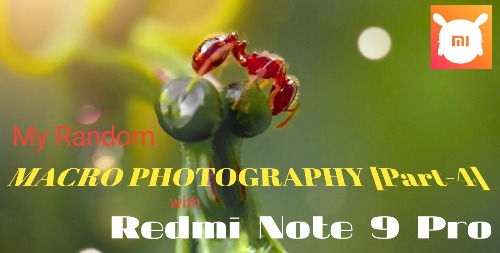 Hello MI fans,
Greetings from country's largest teach community MI COMMUNITY BANGLADESH.....
Hopes that you guys are well by the grace of Almighty and enjoying my/our daily events on MI COMMUNITY BANGLADESH.As Mobile photographers, we wished to find a great and enjoyable place to share our pictures. MI COMMUNITY BANGLADESH is such a beautiful place to share our pictures whit others.
Today I bring my Random MACRO Photograpy [PART-4].But first let's know something about MACRO Photography:
Macro photography is extreme colseup photograpy, usually of very small subjects and living organisms like insects, in which the size of the subject in the photograph is greater than life size. By the original definition,a macro photograph is one in which the size of the subject on the negative or image sensor is life size or greater. And this is called macro photography.
So let's start Macro shots:-
Insects:



Thanks everybody for reading my thread and please comment me to do better in the future....

Special thanks to Admin mnnahid vaiya and sMods Shahed and rayhan vaiya and Mods ankannamul11 vaiya for continues supporting and helping me all time.

But a million thanks to MI COMMUNITY Photograpy Team members, including simla2004, sumaiyashanta, Disha, Sadia Prome, Dipto78, Fahim and also MR.MIRZAN, AKIB, RAKKOSH, MUSELES, NAHIDA RAHMAN and others to supporting and encouraging me all time.
❂ About Mi Community Bangladesh:
Country's largest Tech Community Mi Community Bangladesh is the hanging out place for all the Bangladeshi Mi Fans. Here we share the latest news and happenings about Xiaomi in Bangladesh.All official product launch announcements, sales updates, event registrations, and other news and conversations related to Xiaomi Bangladesh are also published on this platform. More importantly, this is where we can interact with the like-minded Mi Fans like you!
Well,
THANKS EVERYONE AND PLEASE PLEASE COMMENT AND LIKE ME FOR DO BETTER IN FUTURE...................
TAKE CARE AND HAVE A GOOD DAY....
Above all those pictures are possibly taken for the Xiaomi's awesome camera features. So, a lot of THANKS from me for Xiaomi....