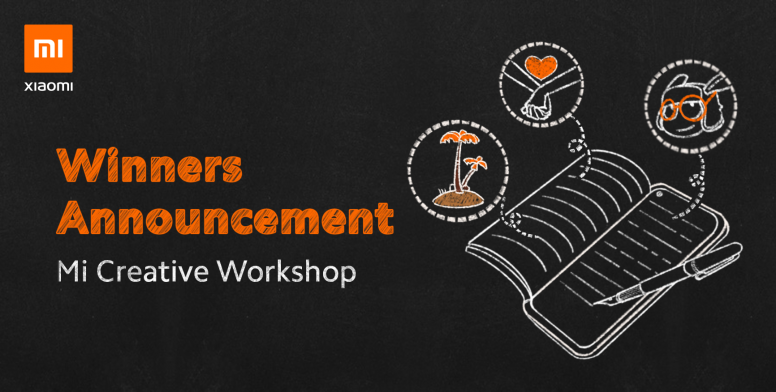 Hello Mi Fans!
It's been almost 3 weeks since the announcement of the Mi Creative Workshop where I tried to help you gain some insights into one of the most in-demand creative skills – Creative Writing!
Hopefully, after this workshop, you have learned the basics of creative writing and its elements. I have received a lot of creative write-ups from Mi Fans during the workshop. And it was a great pleasure to read all of your interesting stories. Thank you all for your participation. It has been a hard task to select the 3 best stories, a lot of them could be worthy of the award.
Let's check out the top 3 works:
First Prize: Mi Watch Color
It was another wet Thursday in the busy city of Lagos, Daniel stood still counting the raindrops muttering indelible figures under his breath by his window as his eyes showed signs of an ever-losing battle with tears.
He had just been scolded for overplaying in school and soiling his uniform, it was those rare days when his friend Mi bunny came traveling through time to make his day fun. Daniel was a quiet kid, a nerd who didn't do well at making friends, with all attempts failing a simple walk home from school changed his entire life.
Furry, Tall, a star crested in a funny-looking hat and twinkling eyes filled with kindness and mischief was all it took Daniel to make Mi Bunny his favorite toy. It took three weeks of saving and he bounded back home on a hot Saturday morning holding up his Bunny to everyone who cared to see.
His mother was clearly not amused but his father, a Construction worker urged him on and persuaded his mother to give him breathing space. In MI bunny, Daniel found love, comfort, companionship, and a time travel partner.
Those moments when they would lie together on the bare concrete floor and travel through time and space to lands far beyond fighting bad guys or saving empires, they were superheroes, superheroes in time and space.
Today Though, he was fighting back tears, Mom had threatened to take MI Bunny from him, all he did was take him to school.
He placed MI Bunny as he laid down on the concrete floor and closed his eyes. A flash, Time Travel and again By his side ever smiling was MI bunny
"I will always be with you"
Feedback: A simple yet very well-written story. Perfect grammar and writing style made the story really enjoyable!
Second Prize: Mi Noise Cancelling Collar Bluetooth Headset
Trevor is so excited about valentine's Day tomorrow. Last week he proposed to Rachel via a beautiful postcard. In the last 6 months, he has sent at least hundreds of postcards to her. He thought Rachel would find it unique and would reciprocate in a positive way.
But to his distress, Rachel hasn't replied to any of his postcards. But Trevor didn't lose hope. Instead of SMS or social media, he has gone a long way to express his feelings for Rachel. He is confident. Rachel will understand one day. And maybe 14th Feb is the day for that!
As the doorbell rings the next morning, Trevor gets up to open the door. There lies a parcel from Rachel with a postcard attached to it. The postcard says... Open the parcel and there you get my answer.
In the parcel, Trevor finds a black Mi 10T Pro. He quickly switches it on. The live wallpaper takes a few seconds to come up on the screen. And it flashes
YES
The next screen flashes once again...
Happy Valentine's Day.
Trevor can't express his joy in words. God has fulfilled his wish. Rachel accepted his love And Rachel in turn gave him another love of a lifetime. His all-new Mi 10T Pro - classic and elegant!
Feedback: The concept is very nice. Live wallpaper on the Mi 10T Pro as an answer to a romantic proposal - kinda cute and unique!
Third Prize: Mi Bluetooth Collar Earphone
It was a long time from now when Mi Bunnies roamed happily across wildlands of a green and luscious world. Groups of different colored Mi Bunnies would gather together in happy families, immersed in the fullest sense of love and peace. It was so wonderful.
On one such day, in the wee waning hours, just before the setting of a beautifully radiant sunset, Mi Bunnies, with creative imaginations, eagerly waited in respectful silence. They had just gathered to hear a visiting Mi Bunny Elder weave a new, untold story of time from many generations distant. As the story began, about a wondrous world called FireStar, I slowly looked around at all the spellbound eyes.
Suddenly, a blur of light flashed in the surrounding shadows. Almost instantly it faded to distant points of light upon the horizon. That light became a blinding dazzle of crackling, red flames, jumping huge distances across the landscape, rebounding faster than thought. Its roar sounded like the planet itself exploded, while brilliant red flames filled my vision completely.
After what seemed an eternity, I heard a chorus of excited Mi Bunny voices murmuring Oohs and Awes, and asking what just happened. The Mi Bunny Elder slowly looked up, with eyes of sharp, flickering lights, and responded that it was an echo of a very close time travel event, felt intensely by all who are near any traveler recently from the FireStar world.
Is the FireStar world far away, or here? Are you a time traveler? I heard a familiar voice answer, yes.
But, I digress from how this adventure began or maybe ended, I'm not always sure. After all, time travel does tend to make things a little fuzzy around the edges after a while.
Feedback: It has both the elements of creative imagination and proper writing style. The choice of words is also perfect, Overall a nice presentation.
Congratulations to all 3 of them!
Special Mention goes to
Ani678
,
GuillaumeMi
,
Sandeep Bhani
,
Cesittar
,
6337402867
,
DaMgaSea
,
NetteCastle
,
Jemidah
,
Jay Zamora
,
adnaiisshy
,
Hicaka
for their awesome stories. What I liked most is that all of their stories have some excellent and unique plots.
Please send me a PM before 8th March, specifying your:
• Full name
• Country
• City
• Address
• Postal Code
• Phone number
• Email address
**Please follow the deadline to send your details to me. Otherwise you won't be able to claim your prizes.
Missed this workshop?
Stay tuned to the next Mi Workshops by hitting the subscribe button on the top of the screen.