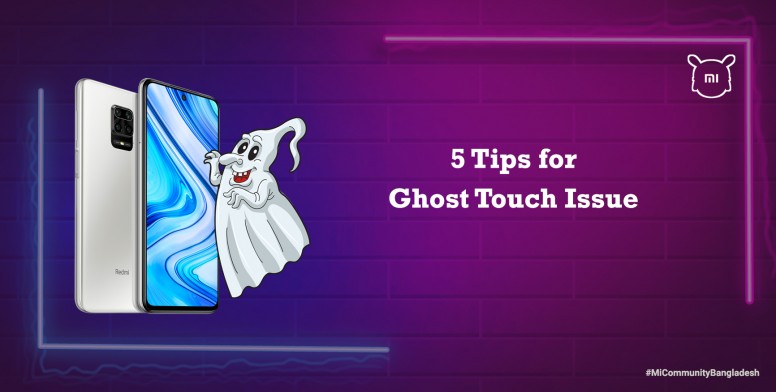 Assalamu Alaikum,
Hello Xiaomians, Hopefully everyone is fine and healthy. Mi Community Bangladesh always tries to fix all android related issues. Today I will discuss with a new topics that can help you many.
We have to face various problems in our daily use of smartphones. We often see many people talking about the Ghost Touch issue. Today I will present to you 5 solutions to this problem. I think that will help you to get rid of such problems.
What is the Ghost Touch issue on Android?
When your device keeps tapping on things that you're not tapping. When your device is away from you or when you're not touching then your device doing random touch on your android device then it can be called ghost touch.
Causes of Ghost Touch on Android?
There could be many reasons which can cause touch issues on your android device. If you're thinking about this as a software issue then you're wrong! Ghost touch issues can occur when you touch the device screen with dirty hands or your device screen dirty. Other causes can be for if you charge your device with faulty charger then it can be also causes of ghost touches. Another cause can be when you are using tempered glass then it can interfere with your device digital working and causes this particular problem. The fall of your devices from a height damages your device and can cause ghost touch as it damages the digitizer.
When you're not touching your device doing random touch on your android device then it can be called ghost touch. You may fix it by following some steps which are Replacing Screen Protector, Changing Faulty Charger, Performing Factory Reset. If this doesn't work then you may contact your nearest service center to fix it



So, these are some of the reasons for the ghost touch on your android smartphones. Let's know some methods to fix the Ghost Touch issue on an android smartphone.
Clean your device screen : To get rid of ghost touch on your Android device smartphone, you need to clean your device. You can also replace the screen protector and then clean it well.
Remove your faulty charger : Faulty charger can also cause this irritating issue on your android device. So you should change your charger and then check if the issue is solved or not.
Factory reset your device : You can factory reset your device to fix the ghost touch on your Android device. But before performing factory reset, backup your additional data as it will erase all your saved data in your device.
Take your device to the Service Center :
If you are not able to fix this issue then lastly you should take your device to the nearest
Authorized Service Center
. They can fix ghost touch issues from your android device.
Return your device : If your device is still in warranty period and you will try all of the tips above. Then you can change your device and replace it with the new device without the ghost touch issue.
Thanks a lot to
mnnahid
bhai (
Admin
) and
rayhanh
bhai (
Super Moderator
) for consecutive help and guidelines.
More Threads:
❂ About Mi Community Bangladesh:
Country's largest Tech Community Mi Community Bangladesh is the hanging out place for all the Bangladeshi Mi Fans. Here we share the latest news and happenings about Xiaomi in Bangladesh.All official product launch announcements, sales updates, event registrations, and other news and conversations related to Xiaomi Bangladesh are also published on this platform. More importantly, this is where we can interact with the like-minded Mi Fans like you!
Download The Mi Community App