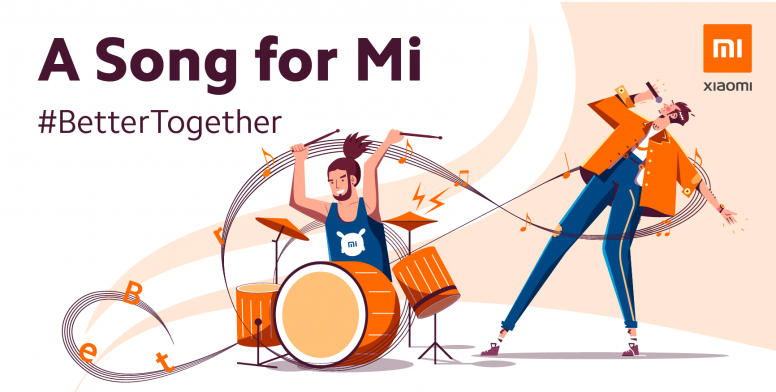 Announced on January 7th.


The Community Team would like to express its gratitude and appreciation for all the emails we have received so far for this project! More than 200 only for the singers!

After having carefully listened to all the submitted works, together with our producer Giulio we have selected the following candidates. These will be the singers in the final version of the song and the Music Video.

Main singers:

Jose Cabatana
Drae Cerna
Michaela S. Bobis
antonino marino


Chorus:
de Lima
Raissa Realeza
Adrastia
Ljupche Todorovski
Princess Vargas


Rap:

We really wish we could have added all the participants to the final song! But don't lose hope!
This Friday we will start recruiting participants for the Music Video of the song we made together.



Stay connected!





Hi Mi Fans,

Do you like singing and you wish you could let the world hear your voice?

Don't miss this chance and join us for the second step of A Song for Mi!

We have collected all the instrumental parts and the lyrics Mi Fans have submitted to us, then our producer Giulio has mixed them together in what we think is an amazing result!

You can hear the demo song here.





https://soundcloud.com/juliusproject/a-song-for-mi-demo-2

What do you think? Not bad, right?

Demo download link

This is the link you can download the folder with demo both in mp3 and HQ version with and both without vocals, so you can upload in google drive or any other way for sharing it!

Now that we have music and lyrics, we can start singing on it! You can sing it too!

How to Participate:

Download the track from the link and listen to it.


Read the lyrics we have provided below.

Sing the lyrics and record your voice. You can choose to follow the melody of the demo version singing it following your creativity.


(IMPORTANT: Use a pair of headphones to listen to music during the recording. We need only your voice, without music. We will not be able to use your recording otherwise)

Lyrics:

VERSE 1
Lately these times got us down,
communities fight, friendships torn
But I still hope that one day,
love will show us its way
Better together

CHORUS
This song is for me and you , lets sing together
we'll make all dreams become true , now and forever
This song is for mi and you , better together
we'll sing like one family , together

BRIDGE
When this life causes pain,
share the love not the hate
We will rise from the fall,
If as one we unite
Better together

CHORUS
This song is for me and you , lets sing together
we'll make all dreams become true , now and forever
This song is for mi and you , better together
we'll sing like one family , together

VERSE 2
If you dream with your hearth
And believe in your friends
You are never alone
We can share a new world ,
Better together

CHORUS
This song is for me and you , lets sing together
we'll make all dreams become true , now and forever
This song is for mi and you , better together
we'll sing like one family , together

RAP
Me (mi) and you, better together
Best together we will rise above disaster
Through the fire, through the storm, through the pain
This life with you is where I shall remain
Nothing will never ever take me from all my hopes
The visions right beyond me when I look into a scope
Better days are just ahead can't you see
That is something that I'll pray for you and me (mi)

Download Lyrics Here:
Lyrics.pdf (42.54 KB, Downloads: 480)

Submission:
or You can upload your singing video to Facebook, Instagram, and Twitter with the hashtag #asongformi.

All the selected singers will be contacted by our Community Team for the final version and will get a Xiaomi 10T Pro.

Submit Deadline

3rd January 2021



Mi and You




Better Together




Rate