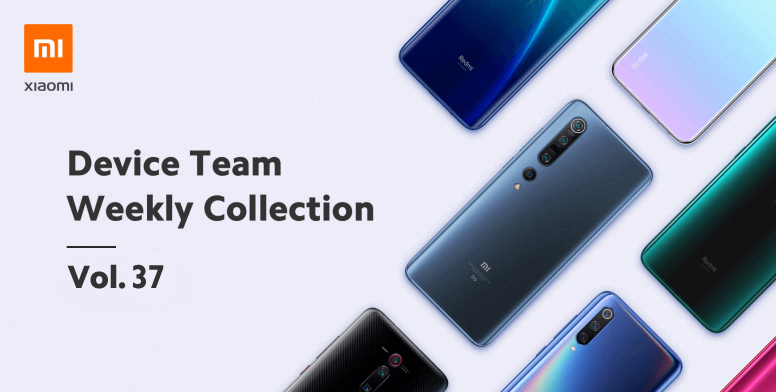 Hello Mi Fans!
How are you all?
Mi Community is the ultimate playground for the Mi Fans to hang out together!! Here we not only discuss and share ideas about Xiaomi products and its stunning technologies but also help all users crack the problems they have faced on their phones. Well, if you have been too busy last week and failed to stay up to date with the updates from the Device Team, do not stew, we are now making your job easier!



Device Team Weekly Collection


Here we will be putting together all the threads, posted every week by the Device Team members - now, there is no way you can miss anything!! So, here comes volume number 37 - keep on rocking!



Mi Air Purifier 2S - Keep The Air Pure
By feds64




Do we really need the Air Purifier? Air purifiers are usually used during seasons where there's visible obscurance in the air, or when allergies are on the rise such as with pollen during Spring. Air Purifiers are used to rid the air of miniscule particles that could be detrimental to our health. The better the quality of air, the less exposed we are to triggers of respiratory health conditions. The air, especially in urban areas, contains particles that are less visible to the naked eye. These contaminants include dust, pollen, smoke, chemical irritants, pet dander, dust mites, mold spores and many particulate matter (PM).

[Read more]
Mi Electric Toothbrush T500 - This is the Way We Brush Our Teeth... Efficiently!
By mitch002




When we were young, we used to sing the song This is the Way We brush our teeth. Were our parents simply grab the toothbrush that they can find in the grocery or the drugstore nearest them. Well thats the conventional way. Brushing teeth has also evolved, as it includes super sonic to make our brushing better and more Efficient. With added Smart function like this one, the Mi Electric Toothbrush T500, you can now even track how manytime your brushed your teeth, how long per brushing and when you need to change the brushhead. Isnt it quite advanced?

Mi Five Smart UVC Sterilization Lamp - Sanitizer For Covid-19 Virus
By feds64




Wassup Mi fans? Hope to find everyone in the best of spirit and energetic. With a fragile recovery from the depths of the coronavirus pandemic and the severe hardship. The risks of getting COVID-19 are higher in crowded and inadequately ventilated spaces where infected people spend long periods of time together in close proximity. These environments are where the virus appears to spread by respiratory droplets or aerosols more efficiently, so taking precautions is even more important. Hence, today I gonna review the Mi Five Smart UVC Sterilization Lamp to sanitize our home and office against Covid-19 viruses.

Mi Yeelight Wireless Charging Night Light - Wireless Cum Night Lamp
By feds64




The festive holidays are coming down pretty soon and the frantic search for gifts is intensifying for most of us. I will revv-up some interesting gadgets for quick ideas. Today I will review the Xiaomi Yeelight Wireless Charging Night Light. Let's get down to it! Yeelight Wireless Charging Night Light is two in one gadget that lets you enjoy the best of both worlds, you can effortlessly charge your phone using the wireless charger pad while having access to smooth, warm light from the detachable magnetic nightlight.

[Device Tech Bytes #29] All You Need To Know About Batteries!
By cherri




Greetings Everyone
Welcome to Device Tech Bytes 29th Vol! In the previous Tech Byte topic, we have learned All About Smartphone GPU! By Me. In today's topic let us know All About Batteries! No cellphones, laptops, or flashlights. No electric cars or robot vacuums. No quartz watches, pocket calculators, or transistor radios. And, for those of us who need a helping hand with our daily lives, no heart pacemakers, hearing aids, or electric wheelchairs. Life without batteries would be a trip back in time, a century or two, when pretty much the only way of making portable energy was either steam power or clockwork. Batteries—handy, convenient power supplies as small as a fingernail or as big as a trunk—give us a sure and steady supply of electrical energy whenever and wherever we need it. Although we get through billions of them every year and they have a big environmental impact, we couldn't live our modern lives without them.

MiJia DC Inverter Smart Tower Fan - Three-dimensional Wide-angle Soft Wind
By feds64




Wassup Mi Fans! Today I am going to review the 2020 released Xiaomi Ecosystem Product, MiJia DC Inverter Tower Fan, Xiaomi's first Tower Fan which is extremely popular in China, that was launched on 15th March 2020. It's slim and compact, portable, versatile and powerful. Mijia DC Inverter Tower Fan is three-dimensional wide-angle soft wind, slim in design in order to save space and securely powered by DC inverter intelligent control which is quiet and energy saving.

Mi Portable Photo Printer
By mitch002




Well its my first time to see a nifty printer that is so small just like a powerbank to be carried to ... wherever you go. Here in my hands is the Mi Portable Photo Printer and its really a nice invention by xiaomi. Imagine printing your photo during concert for a selfie with your favorite idol and printing 2 copies, one for you and one for your idol as remembrance, and asking for an autograph is so sweet for your collection. Its gonna be more memorable if you can put AR on it, meaning upon scanning the photo using the Mi Home App, you can see the video encoded into that photo.

Mi Aqara Wireless Remote Switch (Single Rocker) - More Than A Switch
By feds64




Wassup Mi Fans! Ever dream of a smart home? A smart home allows the use of internet connected devices to enable the remote monitoring and management of appliances and systems, such as lighting, heating, rice cooker and even to the extent of allowing repairmen into your house via smart door or smart gate system. As the leading Reviewer, I invested, bringing the 2020 product line to create awareness and how to embrace a smart home environment. Today, I am going to do a customer review on Mi Wireless Remote Switch (Single Rocker), more than a switch to simplify the manipulation of your lightings and devices within the same gateway or network integrated with respective sensors.


Keep MIUIing!
We will be back next Thursday, with a new chapter of Device Team Weekly Collection!
Always Believe Something Wonderful Is About To Happen!
Previous volumes :

So which device caught your attention? Cast your vote to let us know!
Deadline to vote : December 24th, 2020