Hello Mi Fans,

Great news! Xiaomi has been listed on The Fortune Future 50 for the second consecutive year! Fortune has released its fourth annual Future 50 list recently. This is their most ambitious list in terms of methodology. Developed with Martin Reeves of the BCG Henderson Institute, it is not based on measures of past performance, but rather attempts to measure commitment to the future. Half of it is based on the market's assessment of a company's future potential beyond the existing stream of profits; the other half reflects a sophisticated assessment, using natural language processing among other tools, of strategy, technology, people and structure. In 2019 Xiaomi made it to the Furure 50 list for the first time which demonstrated the company's steady execution and forward-looking strategic nimbleness.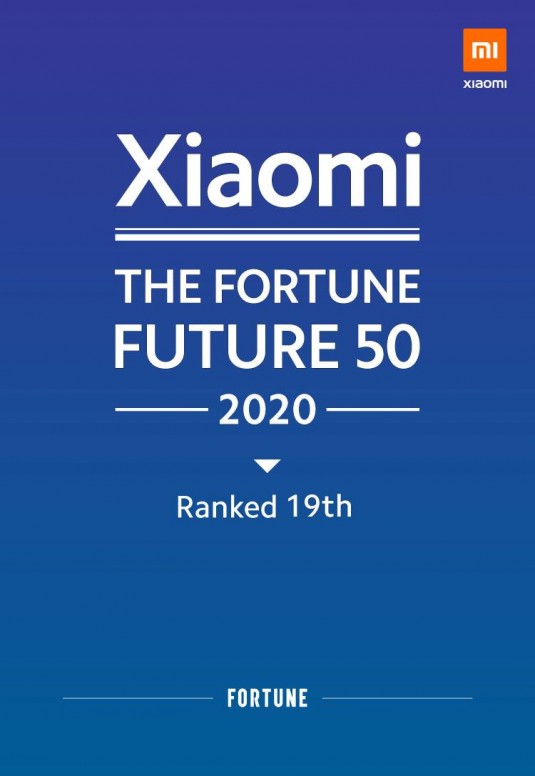 In stable times, sticking with a proven formula makes sense. For successful companies, it's a good bet that the products and models that are working well today will continue to work in the future. But in volatile and uncertain times—when the need for resilience rises to the forefront—adapting to new circumstances and reinventing businesses become central challenges.

The events of 2020 have reminded us how quickly the pattern of challenge can change. When the COVID-19 pandemic first swept across the world, companies focused primarily on the immediate problems of how to maintain operations and survive. But as time has passed, business leaders have shifted their attention back to longer timescales, such as what it will take to succeed in the postcrisis future and how to rebuild their businesses accordingly.

In Q3 2020, Xiaomi's smartphone business grew significantly – both revenue and shipments achieved record high levels – and kept the momentum for growth in both mainland China and in overseas markets. Smartphone revenue amounted to RMB47.6 billion in the quarter representing an increase of 47.5% YoY while smartphone shipments totaled 46.6 million units, an increase of 45.3% YoY.

According to Canalys, Xiaomi ranked 3rd globally in terms of smartphone shipments with a market share of 13.5% in Q3 2020. In the first 10 months of 2020, the Group sold more than 8 milli Leveraging on the large user base and new retail channel capabilities bolstered by the "Smartphone × AIoT" strategy, the Group's revenue from IoT and lifestyle products segment amounted to RMB18.1 billion in Q3 2020, representing an increase of 16.1% YoY. Revenue from IoT and lifestyle products in overseas markets increased by 56.2% YoY, reaching a historical high.on units of smartphones globally with retail price points at or above RMB3,000 in mainland China and EUR300, or equivalent, in overseas markets.

Fortune's Future 50 list, recognizes companies, best positioned for long-term growth based on a robust methodology jointly developed by FORTUNE and management consulting firm, Boston Consulting Group (BCG). To select the 2020 Future 50, FORTUNE and BCG evaluated more than 1,000 publicly traded companies on market potential and ability to deliver against market potential. Ansys' clear strategy, commitment to sustainability, investment in research and development, strong leadership and company structure played a significant role in its selection.

Thank you Fortune for the recognition!

A big heartfelt thank you to all our Mi Fans and partners around the world!




#NoMiWithoutYou!







Rate