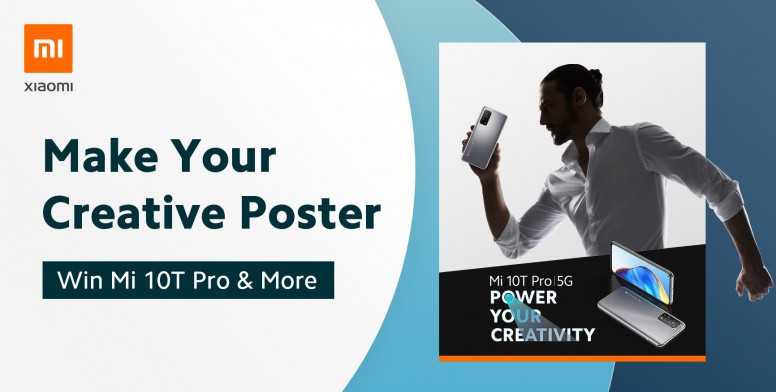 Announced on November 3.
Thank you for all your active participation. Now it's time to announce the lucky draw winners!
Congratulations for #41 6296911398, #172 Змея, #252 Mahsa1378, #336 Aegisson and #511 guniak66
Zip Password: Mi10Tcreativity

Pls send us your contact info including your name, address, postal code, email address and phone number within one week. Failed to do so, you will not be able to claim the prize.

Thanks once again for your participation. See you next round.
Hey Mi fans,
Ever wondered what it feels like to be on the trending cover in these ever-changing days? Mi Celebrity is the answer. It is a new attempt to inspire Mi fans with creative postures to make the perfect cover!

Now is your chance to Power Your Creativity in front of the camera for our one and onlyMi 10T series! When we say we created the Mi 10T Series to Power Your Creativity, we meant it. Powerful in performance, creative in style. Mi Celebrity invites you to be on the cover with Mi 10T series!

All you need to do is upload your creative photo or take one in front of the camera. Save the cover and there you go. Your exclusive Mi Celebrity cover shot is ready to be in the spotlight.

To fully prepare yourself for Mi Celebrity, here are the specific steps:


Enter the Mi Celebrity Page: https://www.mi-celebrity.com



Take a photo from the camera option or upload one from the files, then rotate and edit the picture or adjust the Mi phone template size.






Confirm and save.



Upload to Mi Community or share to social media.





Top 3 Mi Celebrities Awards:
Mi 10T Pro
Once you're selected as Top 3 Mi Celebrities by Mi fans' voting, you will be able to experience fame on Xiaomi Official Platforms and let worldwide Mi fans know more of you!


5 Lucky Draw Awards:
1More Earphone + BetterTogether Cap+ BetterTogether T-shirt

All the Mi fans who have submitted entries will have the chance to win lucky draw award.
One participant will be selected from the lucky draw. He or she will be selected from 6%, 10%, 16%, 25%, 28%, 37%, 46%, 49%, 55%, 69%, 75%, 88% and 90% of the total number of replies which are encrypted in the file below.

Mi_Celebrity_2020.zip (298 Bytes, Downloads: 372)

Contest Time: October 23- October 30
Vote Time: November 3- November 5

Contest Rules:

Entries must have to avoid duplicity and complete the task on their own. Any photo that has already been posted or contains a copyright infringement, will be disqualified.
All submitted photos must be shot on Xiaomi phones.
Replies submitted after the submission deadline will not be considered.
By taking part in Mi Celebrity, the participants grant the contest organizer a world-wide, royalty-free, non-exclusive, perpetual and irrevocable license to use, reproduce, distribute, publish, transmit, display, change and retain the participant's entries in all formats and in any medium of communication, and for any purpose which the contest organizer considers appropriate.



Mi Celebrity


Get yourself ready for your Big Chance to experience fame.
Rate