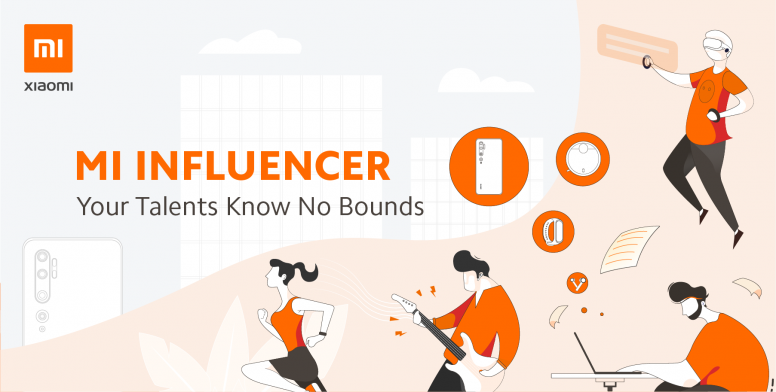 Announced on Oct. 20

Thanks for your participation in Mi Influencer Third Recruit. After careful consideration, here we have selected 4 Mi fans to be Mi Influencers. Congratulations to @EveHuey, @Rav3nArya, @junyoshida and @Scomii.

Welcome to Join our Mi Influencer Elite Team! We will contact you soon to discuss about the details.

Thanks again for all your support. Stay tuned for the next round!



Hey Mi fans,
Mi Influencer third recruitment is here! Get ready for another round of talent show!

We're looking for Mi fans who has great potential to create eye-catching and well-acclaimed content works. Also if you're very active on social media channels and have great influential impact on target audiences, that would be a Plus! Yes, excellent content creator and social media influencer with enough followers and audience engagement!

For the third recruiting, we have one new category: Art Painting! Yes, you heard us! Mi Influencer is the right place for you to thrive as an artist!

We're very delighted to welcome you to join Mi Influencer Program if you're eligible for the following criterias:


Agree with Xiaomi culture with great enthusiasm and high brand awareness
Have outstanding talent in a certain field, such as unboxing & review, video making, and photography.
Hold great interest in new scientific and technological undertakings, tech-geek would be highly recommended;
Able to produce insightful, creative, and original high quality content (copywriting, videos, pictures);
Willing to and actively promoting content works with the support of Xiaomi global platforms so as to realize complementary advantages;
Acitive on Mi Community and Xiaomi social media so as to combine your personal brand with Mi Influencer program.



What we can offer?
Mi Influencers will be given full opportunity to expand their personal brand on Xiaomi official all-platforms with all-round promotion;
Mi Influencers will have the priority to participate Xiaomi official campaigns.
For quarterly assessment, top performers of Mi Influencers will be rewarded with Mi products that worth $300 USD.
For special Xiaomi phone & gadgets project tasks, Mi Influencers will also have the chance to get the latest Mi Phone or Mi gadgets of the year.
By the end of year, each Mi Influencer will get surprise gift packs from Mi Community.


Three recruiting categories required:

Art Painting:
This is something new! If you're interested in art painting, and have a great knack for painting. Then apply to join us! Art makes your dream soar. Mi Influencer is here to help make your art dream come true!



Video making:
Either Mi products unboxing and review videos or Videography to promote and showcase amazing feature potential of Xiaomi phones. Also you are able to write introduction and description for your video creations.

Photography:
Show the world your photography skills enhanced by the excellent camera potential of Mi phones.Of course, you can do more than just photography. You are also required to produce photography tutorials and write out descriptions fluently and naturally for your photographs.

Mi Influencer Responsibilities:
Continuous and stable creators of original high-quality content (at least 2 original pieces of works per month)
Speak up for Mi fans, actively interact with Mi fans to activate Mi Community
Stand up for Mi Community and spread positive energy for Mi community
Share Mi product using experience in different ways to let more people know about Xiaomi.



How to participate?
All you need to do is pick a category you have talents for and send us your master work via a thread link under comments section! And if you have any social media channels, pls also send your work links on Youtube, Instagram, etc. Mi Community team will find out the best candidates and contact with you via PM.

Enlist in: By October 19th.




Are you ready to join Mi Influencer elite team?




Give your talent an edge!



Note: Mi Community will reserve the final interpretation right for Mi Influencer Program.





Rate