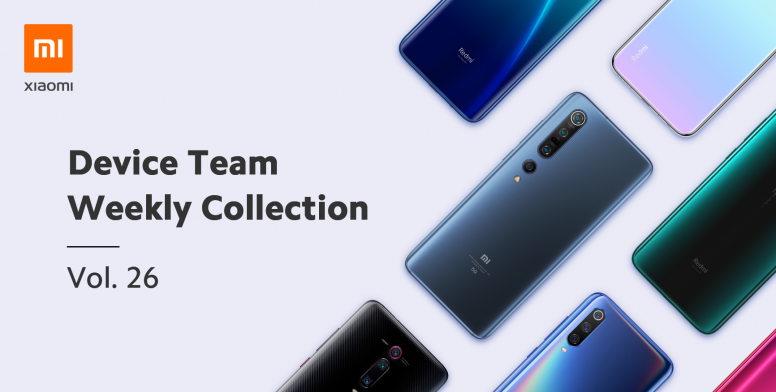 Hello Mi Fans,

Mi Community is the ultimate playground for the Mi Fans to hang out together!!! Here we not only discuss and share ideas about Xiaomi products and its stunning technologies, but also help all users crack the problems they have faced on their phones. Well, if you have been too busy last week and failed to stay up to date with the updates from the Device Team, do not stew, we are now making your job easier!



Device Team Weekly Collection


Here we will be putting together all the threads, posted every week by the Device Team members - now, there is no way you can miss anything!! So, here comes the volume 26 - keep on reading!



All About Screen: LCD vs OLED , Refresh Rate & Flat vs Curved!






Hey Mi Fans,




Display or screen is one of the most important aspects of our everyday companion- our phone! Every time it's the screen with which we interact first.
With each passing year the display technology gets evolved. Smartphone displays have embraced a new trend of looking beyond the standard 60Hz refresh rate. And Xiaomi has also been pushing the boundaries of mobile screen technology by adopting screens with higher refresh rates.

Recently, we've launched the POCO X3 NFC with 120 Hz refresh rate. Our Mi 10 Pro also supports the refresh rate of 90Hz. higher refresh rate display largely enhances your smartphone experience. Scrolling through the app drawer, images and webpages becomes so much smoother.
[Device Tech Bytes #17] Understanding the Different Types of USB Cables and Ports
Greetings Everyone




Welcome to Device Tech Bytes 17th Vol! In the previous Tech Byte topic, we have learned

All About Augmented Reality & Virtual Reality

By Me. Today let's dive into the world of USB Universal Serial Bus (USB) which was developed in the 1990s in an effort to simplify the connections between computers and peripheral devices. It has become widely popular due to its compatibility with many platforms and operating systems, its low cost of implementation, and its ease of use. Most computers that are built today come with several USB ports, and USB is the interface of choice for most home and office peripherals including printers, cameras, modems, and portable storage devices.
[Debate - Battle Of Minds #2] Stock ROM vs Custom ROM
Hello, Mi fans..!




I hope everyone is doing well,
In the last debate, we had a great discussion about the Mid-range Flagship Vs Premium Flagship Smartphones. Most of the mi fans prefer the Premium flagship smartphone over the Mid-Range flagship mobile. As of now "Mi Mix Alpha" & "Mi 10 Ultra" are the ultra flagship mobiles from Xiaomi with innovative & highly power-packed features. So, today we are back with another fascinating topic for you guys i.e Stock ROM vs Custom ROM. so, why wait..? relax and scroll down.
And, that's it!!
We will be back next Thursday, with a new chapter of Device Team Weekly Collection!
What are you waiting for? Vote for the thread you like most NOW!
Deadline to vote: September 23rd, 2020
Rate