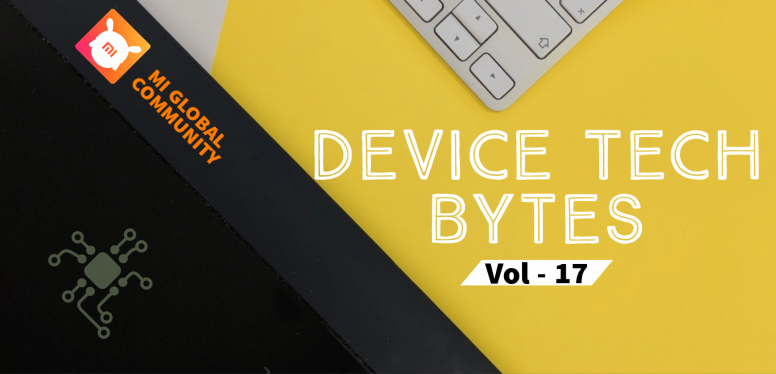 Greetings Everyone
Welcome to
Device Tech Bytes
17th Vol!
In the previous Tech Byte topic, we have learned
All About Augmented Reality & Virtual Reality
By
Me
. Today let's dive into the world of USB Universal Serial Bus (USB) which was developed in the 1990s in an effort to simplify the connections between computers and peripheral devices. It has become widely popular due to its compatibility with many platforms and operating systems, its low cost of implementation, and its ease of use. Most computers that are built today come with several USB ports, and USB is the interface of choice for most home and office peripherals including printers, cameras, modems, and portable storage devices.
What is USB?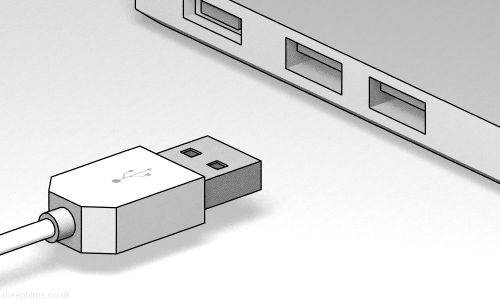 USB standards are developed and maintained by an industry body called the USB Implementers Forum (USB-IF). In its original specification, USB defined only two connector types: A and B. Revisions to the specification and demands on manufacturers have expanded the breadth of connectors used for USB devices, but the majority of USB products still use these A and B connector interfaces. USB is a series of standards (see Table 1) that specify how cables connect, communicate, and exchange power with electronic devices and related peripherals. Each USB standard has its own data transfer speeds, maximum power, and maximum cable lengths. They all also operate with specific types of USB cable/port connectors.
USB Versions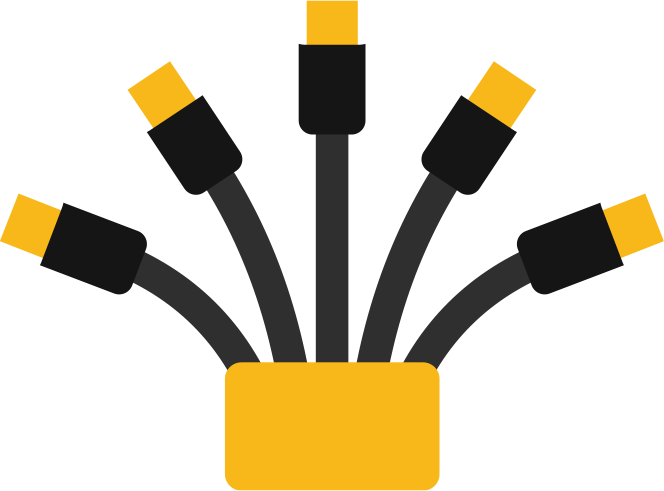 USB 1.1: devices can reach a maximum transmission rate of 12 Mbps, called Full Speed USB.
USB 2.0: compliant devices can reach a maximum transmission rate of 480 Mbps, called High-Speed USB.
USB 3.2 Gen 1: Previously called USB 3.0, compliant hardware can reach a maximum transmission rate of 5 Gbps (5,120 Mbps), called SuperSpeed USB.
USB 3.2 Gen 2: Previously called USB 3.1, compliant devices are able to transfer data at 10 Gbps (10,240 Mbps), called Superspeed+.
USB 3.2 Gen 2x2: Also known as USB 3.2, compliant devices are able to transfer data at 20 Gbps (20,480 Mbps), called Superspeed+ USB dual-lane.
USB4: Based on the Thunderbolt 3 specification, USB4 supports 40 Gbps (40,960 Mbps).

Types of USB Connectors

A number of different USB connectors exist, all of which I have described below
USB-A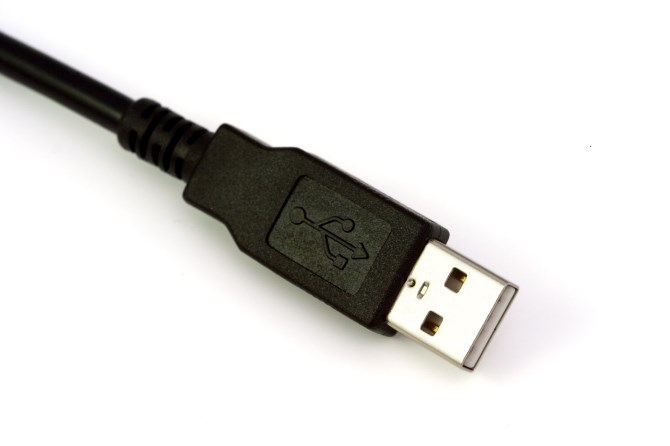 This is the standard connector, found on one end of almost every USB cable. It's a rectangular connector that only fits in one way. You'll find several USB-A ports on virtually every desktop computer and laptop. Many TVs, game systems, cars, media players, and other devices have one or more, too. You won't find cables with USB-A on either end, as there's really no situation in which this could be useful. In fact, connecting two computers with a USB-A cable could damage them both.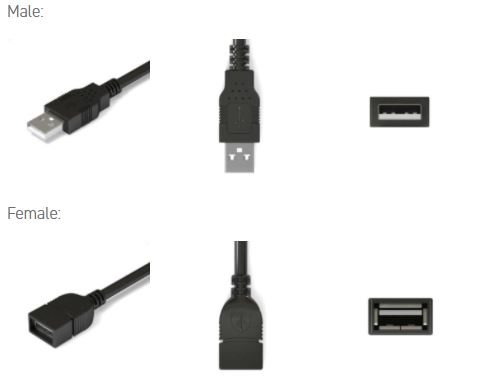 A-A cables are used to connect USB devices with an A-style Female port to a PC or another USB device and for data transfer between two computer systems. Note: Typically an A-A cable is not intended to connect two computers together or to connect a USB hub between two computers. Doing so may cause irreparable damage to your computers and may even present a fire hazard. Check with the manufacturer before using an A-A cable for data transfer.
USB-B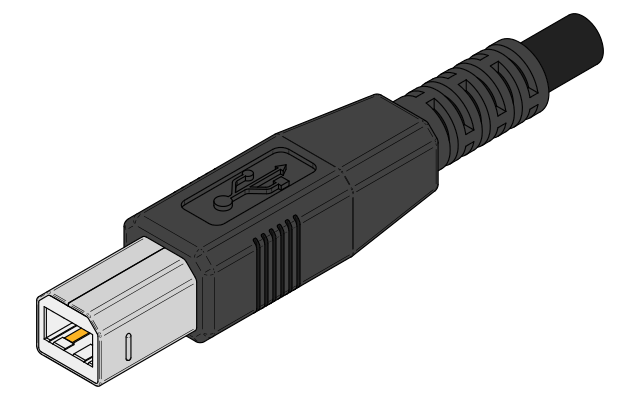 Officially called USB Standard-B, these plugs and receptacles are square-shaped with an extra notch on top, most noticeable on USB 3.0 Type B connectors. USB 1.1 Type B and USB 2.0 Type B plugs are physically compatible with USB 3.0 Type B receptacles but USB 3.0 Type B plugs are not compatible with USB 2.0 Type B or USB 1.1 Type B receptacles.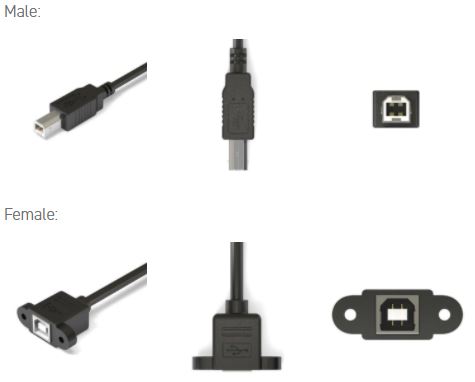 The B-style connector is designed for use on USB peripheral devices. The B-style interface is squarish in shape and has slightly beveled corners on the top ends of the connector. Like the A connector, it uses the friction of the connector body to stay in place. The B-socket is an "upstream" connector that is only used on peripheral devices. Because of this, the majority of USB applications require an A-B cable.
Mini-USB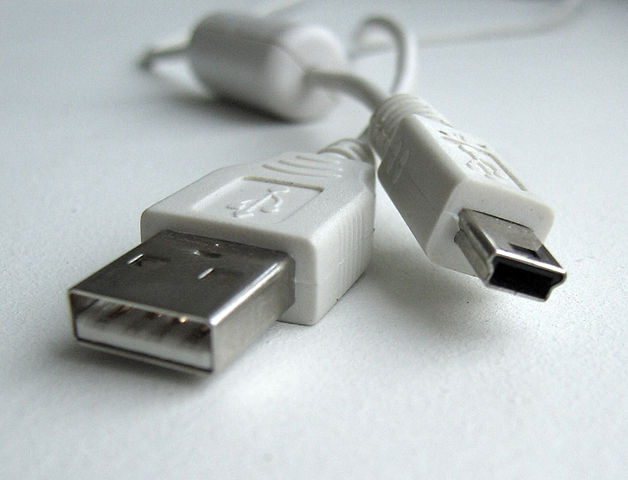 As the name suggests, this is a smaller connection type that's good for mobile devices. It's been largely superseded by micro-USB, but you'll still find it on some cameras, MP3 players, and other such devices. Micro-A plugs look like two different rectangular plugs fused together, one slightly longer than the other. USB 3.0 Micro-A plugs are only compatible with USB 3.0 Micro-AB receptacles.
Micro-USB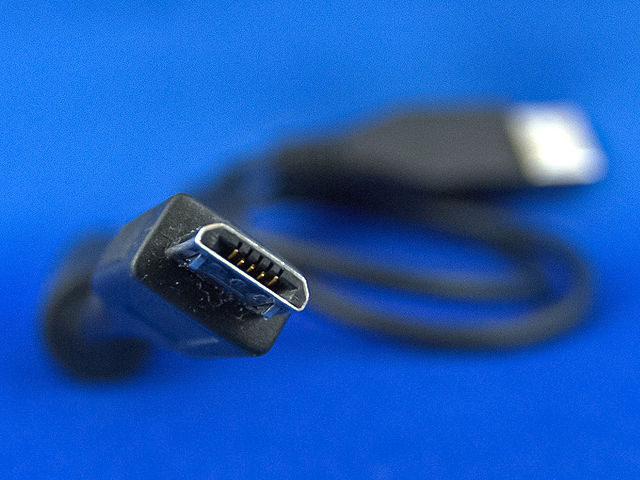 USB 2.0 Micro-A plugs are very small and rectangular in shape, resembling in many ways a shrunken USB Type-A plug. USB Micro-A plugs are physically compatible with both USB 2.0 and USB 3.0 Micro-AB receptacles. This is a tiny connector that's popular on all kinds of portable devices. Everything from Android phones to external battery packs to Bluetooth headphones uses a micro-USB port. However, some smartphones have moved onto the newer USB-C port.
USB 3.0 Micro B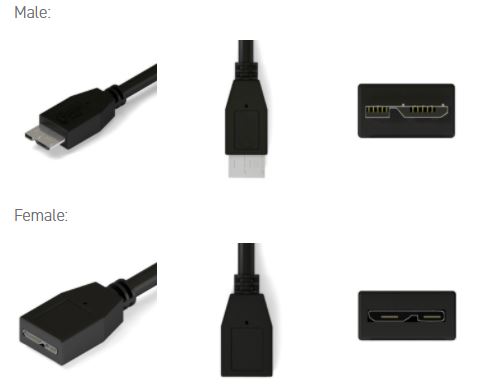 The USB 3.0 Micro B connector is found on USB 3.0 devices. This connector is designed to carry data and power in USB SuperSpeed applications. Cables with this connector are not backward compatible with USB 2.0 or USB 1.1 devices.
USB-C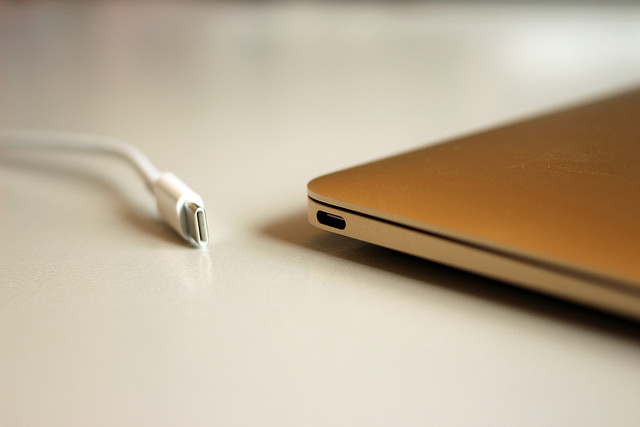 This is the newest USB standard. Unlike older cables, which usually have USB-A on one end and another type on the other, USB-C can connect two devices that both have USB-C ports. Also different from the above types, it's reversible. USB-C is slowly being adopted by device manufacturers. Much newer Android OEM's, like the Xiaomi, Samsung, Vivo, Realme, and Google devices, use USB-C.
If you know about USB-C, you may have also heard about the Thunderbolt hardware interface. This is a standard that allows a USB-C port and cable to transfer data at speedy rates, connect to high-resolution displays, and perform other tasks. Not every USB-C port supports Thunderbolt 3, though. For example, Apple's newest MacBook Pro models feature several Thunderbolt 3 USB-C ports. But the standard MacBook's single USB-C port lacks Thunderbolt 3 support.
Because of all this, USB-C is a bit confusing. The port can either be a basic USB port similar to the ones above, or it can be a multi-purpose jack. This depends on the device.
Lightning Cable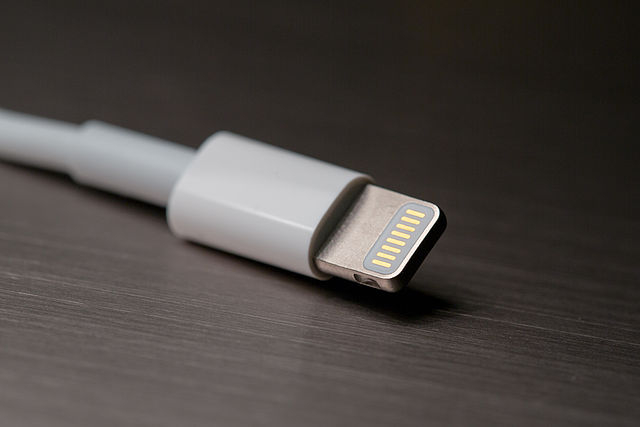 This isn't really a USB standard, but I have included it for the sake of completion. Apple has used the proprietary Lightning cable in its mobile devices since late 2012. Like USB-C, it's reversible. iPhone and iPad users plug a Lightning to USB-A cable into their devices to charge, connect to a PC, and more.
Thunderbolt 3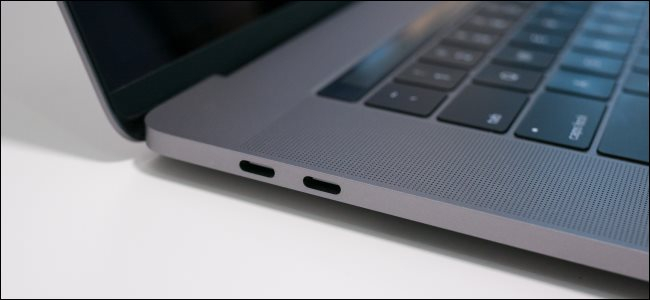 Thunderbolt 3 is a proprietary (for now) data and video transfer protocol developed by Intel. To use it, PC makers need to obtain certification from Intel. Not every company wants to do that. That's too bad because Thunderbolt 3 is incredibly fast. It's much faster than the current maximum speeds for USB. The current top version of USB is USB 3.1 Gen 2, which is capable of speeds up to 10 Gigabits per second (Gbps). That is only one-quarter of the maximum speed of Thunderbolt 3, which has a maximum capability of 40 Gbps.
The future of thunderbolt is not clear if Intel plans on updating Thunderbolt to version 4, but the future for Thunderbolt 3 is very clear. Intel's Thunderbolt protocol is merging into USB4. The specification for USB4 was announced in the summer of 2019, with USB4 based products rolling out in 2020 or 2021.
USB Speed Standards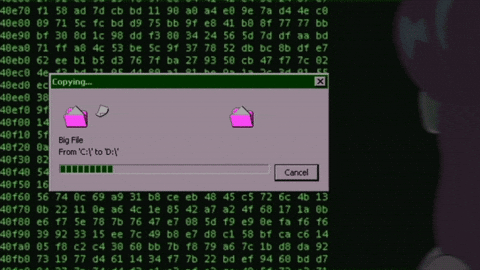 Throughout its life, USB has updated its standards a few times. In addition to the types of connectors on each end, each USB cable and the port has a standard of speed.

USB 1.0 was released in 1996, but it wasn't until late 1998 that USB 1.1 arrived and kicked off the era of USB properly. This could only utilize USB-A and USB-B connectors and is ancient by modern standards. You're very unlikely to find any USB 1.x devices or cables around today.

In 2000, USB got a makeover with its 2.0 update. This supports much faster speeds than version 1 could and introduced support for several of the new ports mentioned above. It's also notable for adding USB OTG (On-The-Go) support, which allows two USB devices to communicate directly. For example, with an adapter, you can connect a standard USB keyboard to an Android phone.

USB 2.0 is still used in cheaper flash drives, along with many mice, keyboards, and similar devices. If a cable or port doesn't have any USB 3 markings, as discussed below, it's likely USB 2.0.

USB 3.0 launched in 2008, with 3.1 and 3.2 iterations coming later. Its biggest upgrade is much faster transfer speeds than USB 2.0 can provide. You'll recognize USB 3.x cables and ports by their blue coloring and/or lightning bolt logo. These devices are backward-compatible, so you can plug a USB 3.x cable into a USB 2.0 port or vice-versa. However, doing so limits you to USB 2.0 speeds.



Many external hard drives and higher-end flash drives use USB 3. USB-C cables are always USB 3. Older cable types, like micro-USB, require a special connector type for USB 3.0 compatibility. You'll often see this kind of connector on external hard drives so they can take advantage of USB 3 speeds.


USB Power Delivery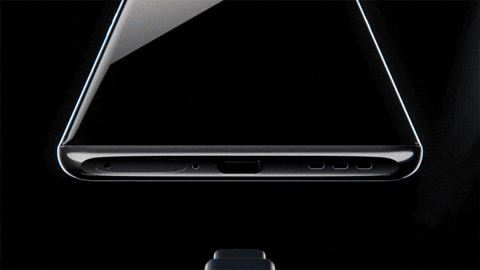 Up to 100W of power can be delivered across a single USB cable, eliminating the need for a separate power brick. This is especially useful for peripherals that draw higher power levels, such as hard drives and printers. Not all devices will support USB Power Delivery, however; consult your device's specifications chart or owner's manual if you are uncertain.



Examples of USB Power Delivery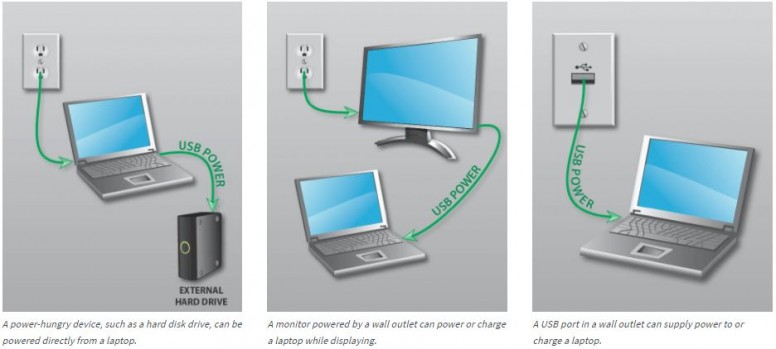 USB Unveiled
Now you know about the various types of USB cables and their uses. Generally, you can plug standard devices like mice and keyboards into a USB 2.0 port, as speed isn't a priority for them. But any devices that will transfer data, like an external hard drive, should be plugged into a USB 3 port for best results. Time will tell if USB-C becomes the standard and largely replaces these or not. Either way, we'll have USB-A ports around for a long time to support older devices.
Source
houkconsulting, cablestogo, Wikipedia
Previous Tech Bytes
| | |
| --- | --- |
| [Device Tech Bytes] [#1] by --cherri | |
| [Device Tech Bytes] [#2] by --JBJ2 | |
| [Device Tech Bytes] [#3] by --Nazeer In | |
| [Device Tech Bytes] [#4] by --cherri | |
| [Device Tech Bytes] [#5] by --cherri | |
| [Device Tech Bytes] [#6] by --CooCkie | |
| [Device Tech Bytes] [#7] by --cherri | |
| [Device Tech Bytes] [#8] by --cherri | |
| [Device Tech Bytes] [#9] by --Yàswânth Tondepu | |
| [Device Tech Bytes] [#10] by --Arun Abhimanyu | |
| [Device Tech Bytes] [#11] by --CooCkie | |
| [Device Tech Bytes] [#12] by --Arun Abhimanyu | |
| [Device Tech Bytes] [#13] by --Yàswânth Tondepu | |
| [Device Tech Bytes] [#14] by --JBJ2 | |
| [Device Tech Bytes] [#15] by --Arun Abhimanyu | |
| [Device Tech Bytes] [#16] by --cherri | |
Credits
Thanks to the admins and moderators for this great opportunity
hope I will come up with good content again in my next topic
Rate