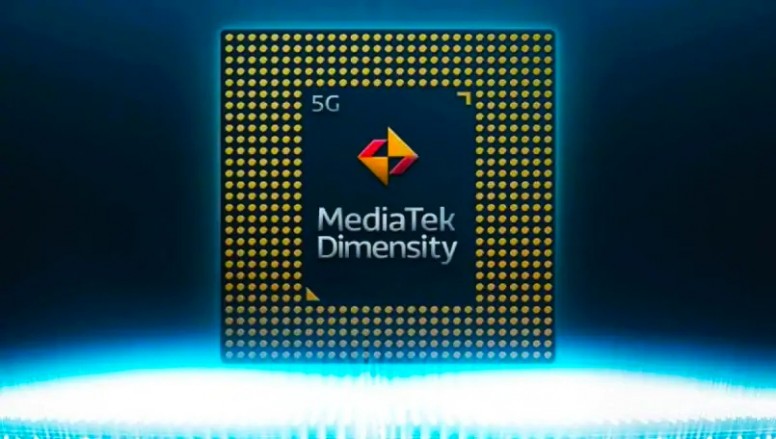 Hello Mi Fan's!!!




MediaTek SoCs are doing very well in the current SoC market. Their Dimensity 5G Series and Helio G Series are a huge success. The company is competing hard with Qualcomm but Its main feet are in Asian markets like China, India, Indonesia, etc. In terms of getting market share in the US market, MediaTek was struggling.


The most powerful MediaTek SoC right now is Dimensity 1000 Series and MediaTek on Thursday announced the Dimensity 1000C, the company's newest 5G-enabled SoC for mobile devices. It's the chip that will power the new T-Mobile LG Velvet announced by the carrier, MediaTek believes the arrival of the Dimensity 1000C is a win for consumers, as it gives them greater choice.

Here's a breakdown of the chip's specs:


CPU: 4 ARM Cortex-A77 cores @ 2.0GHz + 4 ARM Cortex-A55 cores @ 2.0GHz
GPU: 5-core ARM Mali-G57
AI: 4-core MediaTek AI processing unit (APU 3.0)
RAM: Up to 12GB LPDDR4X @ 1866MHz
Storage: UFS 2.2
Display: Full HD+ (2520×1080) @ 120Hz
Video: MediaTek MiraVision with AI-PQ (artificial intelligence picture quality enhancements), SDR to HDR video playback,
HDR10+ video playback
ISP: 5-core ISP supporting up to 4 concurrent cameras, up to 64MP single camera @ ZSL, up to dual 32MP + 16MP cameras @ ZSL, AV1 hardware decoding support
Modem: Integrated 5G modem with support for sub-6GHz frequencies (no mmWave). Wi-Fi 5 (802.11a/b/g/n/ac). Bluetooth 5.1.
GNSS: Dual-band GNSS support
DSP: Multiple voice assistant and trigger word support
Fab: 7nm process


The regular MediaTek Dimensity 1000 has higher clock speeds in the 4 ARM Cortex-A77 cores (@ 2.6GHz versus 2.0GHz), a better GPU (9-core Mali-G77 versus 5-core Mali-G57), supports more RAM (16GB versus 12GB), and has a faster ISP (up to 80MP camera versus 64MP), among other differences.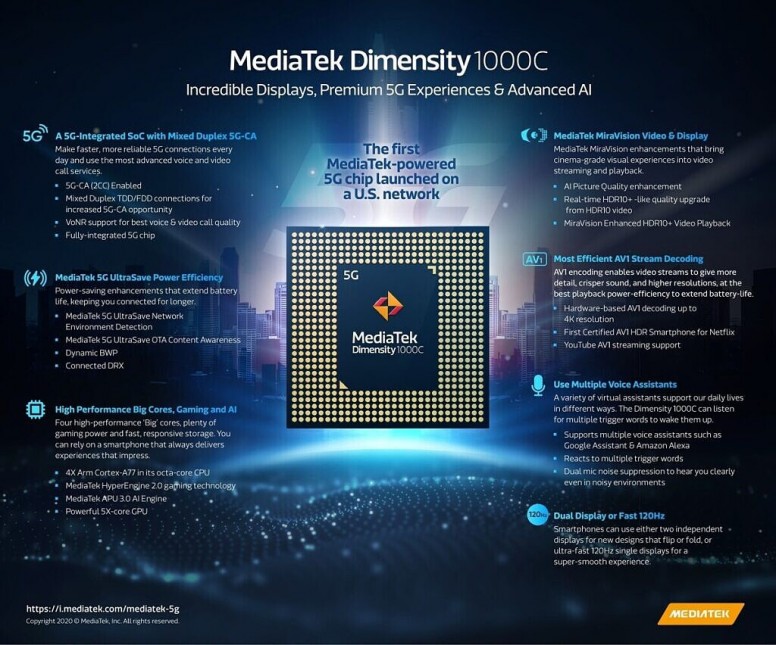 Key features and specs include:
AV1 with Netflix: The Dimensity 1000C enables AV1 HDR on Netflix, and AV1 video streaming on YouTube. MediaTek is also working with Twitch, the world's leading live streaming channel, to bring AV1 video streaming to mobile.
Dual Voice Wake Up: The Dimensity 1000C is MediaTek's first SoC model with dual integrated Voice Wakeup (VoW) function in US that minimizes the power of applications in the Android OS such as the always-on Google Assistant.
Dual Display: The Dimensity 1000C is MediaTek's first model to support dual display.
Advanced Camera Support: For stronger and more precise face detection, the Dimensity 1000C is equipped with an advanced AI face detection hardware engine.


However, The MediaTek Dimensity 1000C has a integrated 5G Modem, T-Mobile LG Velvet supports the carrier's sub-6GHz (600MHz low-band and 2.5GHz mid-band) 5G network.

MediaTek Dimensity 1000 powered devices have already launched with key smartphone brands in other markets. The Dimenstiy 1000C was developed and tailored for the US market. The 1000 series joins MediaTek's other popular Dimensity 5G chips including the Dimensity 800 and Dimensity 700 series. MediaTek offers a full range of 5G chips to bring the promise of 5G to everyone.

Source