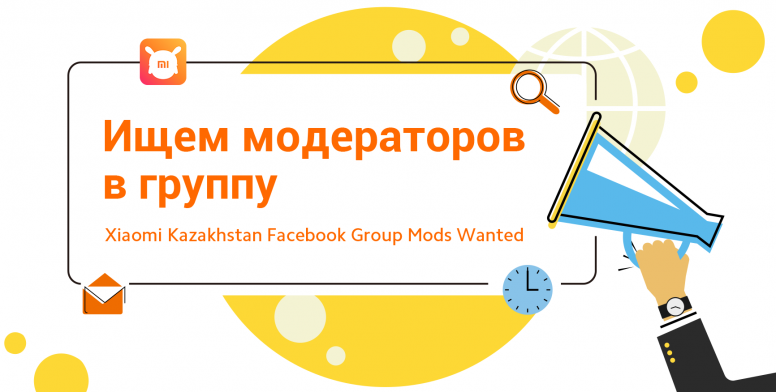 Hi Mi Fans,
As we all know, Facebook Groups can be a GREAT way to extend the reach of our Mi Fans base, get new Mi fans onboard and build relationships! And we're now looking for talented and hardcore mi fans to join and manage our Kazakhstan Facebook Group. They will be focusing on sharing information about Mi Products and ROMs, help assist each other with MIUI and Xiaomi related queries and so on.
Join us if you love and want to contribute to the unique Mi fans culture! We'll bring the latest and most interesting topics for our Mi fans together.
How to apply?
All you need to do is to reply to this thread with :
Your name and a bit of personal details (Native Kazakh/Russian speaker and understand Kazakh/Russian)

Please write about how you became Mi Fan

Please mention the number of Mi products you have and add a photo of them.

If you are already a member of any Xiaomi associated groups on Facebook, please mention them in your comment.



We will be selecting the hardcore Mi fans and invite them to be the admin of our Official Facebook group. Exciting rewards will be waiting for them!
Mi Community team will find out the best candidates and contact them via PM.
So what are you waiting for?
Come and join our Kazakhstan Facebook group
**************************
Привет, Мi фаны!
Как мы все знаем, группы в Facebook могут стать ОТЛИЧНЫМ способом расширить охват нашей базы Мi фанов, привлечь новых поклонников Mi и помочь им стать частью растущей и большой Mi семьи! И теперь мы ищем талантливых и преданных фанатов, которые хотят присоединиться к нашей казахстанской группе в Facebook и управлять ею. Здесь, Вы будете обмениваться информацией о различных Mi продуктах, помогать друг другу в вопросах, связанных с MIUI, и так далее.
Присоединяйтесь к нам, если вы любите и хотите внести свой вклад в уникальную культуру фанатов Mi! Мы соберем вместе самые свежие и самые интересные темы для наших поклонников Mi.
Как подать заявку?
Все, что вам нужно сделать, это ответить на эту тему:
· Ваше имя и некоторые личные данные (родной казахский / русский язык и понимаю казахский / русский)
· Напишите, пожалуйста, как вы стали Ми- Фаном
· Укажите количество имеющихся у вас продуктов Mi и добавьте их фотографии.
· Если вы уже являетесь участником каких-либо групп, связанных с Xiaomi на Facebook, укажите их в своем комментарии.
Мы выберем самых ярых фанатов Mi и пригласим их стать администраторами нашей официальной группы в Facebook. Их ждут захватывающие награды!
Команда Mi Community найдет лучших кандидатов и свяжется с ними через личку.
Присоединяйтесь к нашей казахстанской группе в Facebook.