Xiaomi's 10th-anniversary event yesterday saw the tech giant announce a number of awesome products. Among the lineup is the Mi 10 Ultra which is the first phone with support for 120W fast charging. There is also the Mi TV Lux Transparent Edition, a literally transparent flatscreen TV. A Xiaomi spokesman has now revealed that there are no plans for these products to get a global release.

Daniel D (@Daniel_in-HD) is the Senior Product Marketing Manager and Global Spokesperson for Xiaomi and he revealed in a tweet that there are no plans for a global release for the Mi 10 Ultra, Redmi K30 Ultra, Mi TV Lux Transparent Edition, and the Ninebot GoKart Pro Lamborghini Edition.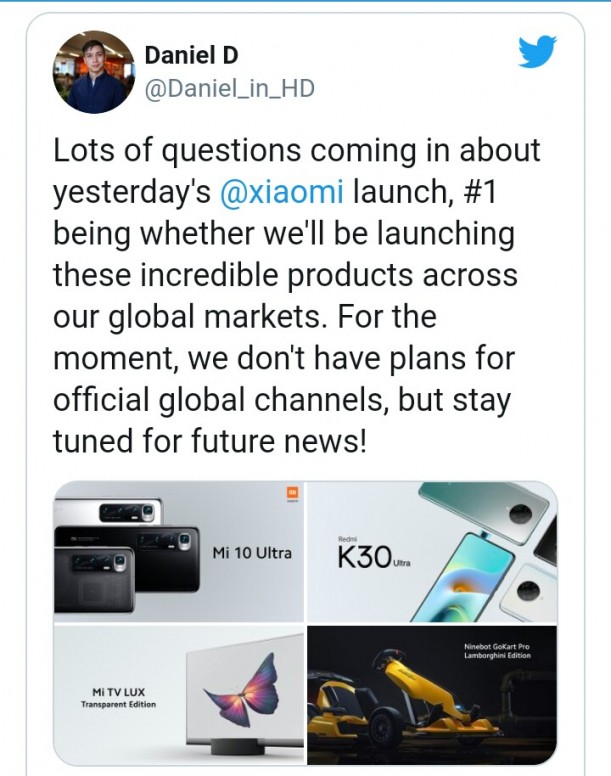 It sure is disappointing news but there is still a chance that at least one of these products may get an international release before the end of the year. However, the chances of the Mi 10 Ultra getting a global release might be the slimmest of them all.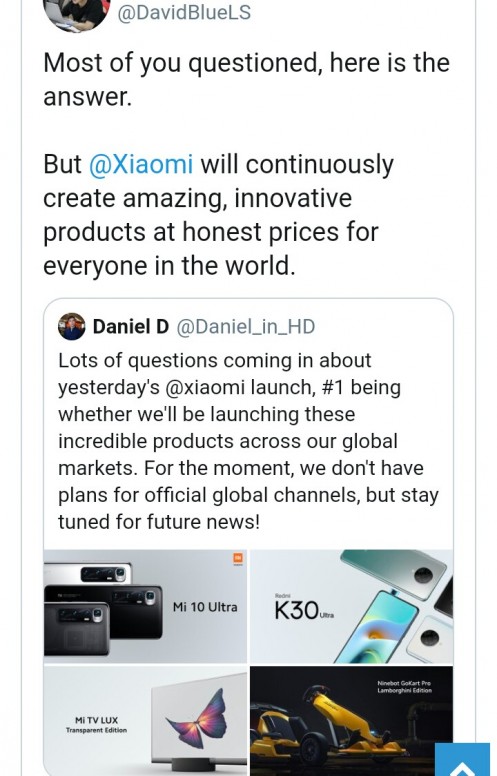 To start with, Xiaomi didn't announce the Mi 9 Pro 5G outside China last year. So, it is understandable why there are no plans to launch the Mi 10 Ultra globally. Another reason is that the Mi 10 Ultra flagship is assembled at Xiaomi's new Smart Factory, a next-gen fully-automated production line that is designed for making flagships and as a testing-ground for high-end products.

The Mi 10 Ultra is the first premium smartphone to be assembled at this factory which means if Xiaomi is going to launch the device outside China, it will have to be exported to these markets which will significantly raise the price. The same can be said for the Mi TV Lux Transparent Edition too.

Anyways, we can look forward to the Mi 11 (if that is what it will be called and they don't pull a Samsung move and jump to Mi 20). Next year's flagship should get a global release and should pack some of the features of the Mi 10 Ultra including 120W fast charging.

Source