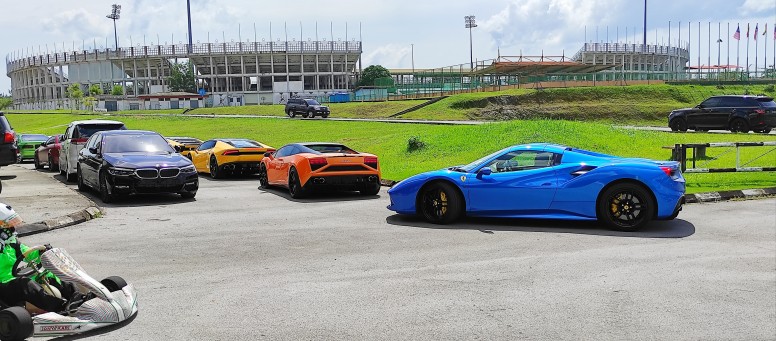 Wassup Mi fans,
Hope to find everyone energetic and jolly. Finally enjoying the dose of adrenaline rush after a hectic week. During the week I always have to get up early for a busy day ahead and during Sunday I can catch up with a good sleep. Not a bad score, could have more sleep. If you want to more of getting a good rest, checkout:
Knowing The Stages And Pattern Of Your Sleep - Mi Smart Band 5
After that's done, I quickly throw on some clothes and pick up a newspaper from the local shop.
With my coffee and paper, I gathered some great ideas for the upcoming Gamers Contest. And planning to spend the rest of the morning on the sofa, and to my surprise, I received a call to gather for a luncheon and drive in a convoy. Threw in my DJI Mavic Pro in the car and sped to our rendezvous.
It's play time to do 42sec flat on this track. I can tell you off hand you need at minimum a horsepower of 400hp and a good torque to clock 42sec. A semi slick will be an advantage, I can tell you Lamborghini Urus is known to be quick and fast, but it will disappoint you here as it is overpowered and sluggish due to its size to go around the headpin corner, and bends. Most suitable is its siblings.
All ready for a showdown of power and thrust.
One of the car that got numerous trophies, Mercedes-AMG CLA 45 S, with 420hp and the ideal ECU remapping for the track to run the engine more aggressively for power and torque, at low and medium end.
Take a peek. Come standard with the AMG Speedshift DCT seven-speed dual-clutch transmission, which has been tweaked for shorter gear ratios, and Mercedes' 4Matic all-wheel drive system.
Uses a 4-piston monobloc fixed front calipers and single-piston floating calipers at the rear. Our performance driving day is set up to get the most out of the pleasure and exercising our mind and give a full concentrate that where you completely put 100% on your driving skill and make the right decision in a split of seconds when you negotiate the corner or the oversteer. It's fun, when you need to get ready for the next corner and the suitable racing line to beat your opponents. Wow, thats so exhilarating, right?
That's all for now, till next time...
Rate