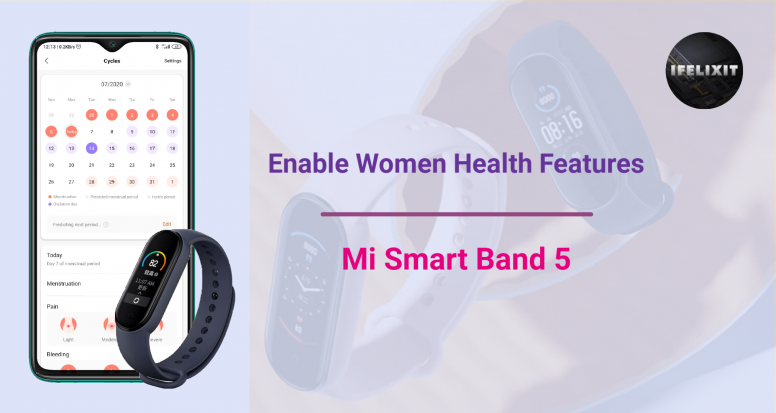 Hei Mi Smart Band Users,
Mi Smart Band 5 is the latest wearable activity tracker offered by Xiaomi. It was announced in China on 11 June 2020, and went on sale from 18 June 2020 in China which has already apparently sold out on that very day it came online. Mi band 5, comes with a larger display, more fitness activities, women's health, and magnetic charging. This is the 5th generation of the Mi Bands and sports a larger display of 1.1-inch colored AMOLED screen, compared to 0.95-inch on Mi Band 4. It's more prominent display gives it more room for menus and features to be displayed.
More features come with the 5th generation, one of the most prominent features targeted for women is the health tool, that includes menstrual cycle and ovulation monitoring, menstruation prediction and storing the past history of their menstruation conditions via interactive inputs.
Enabling Women Health
By default, the feature is not shown in the Display of your Mi Smart Band 5 when you browse down. Hence, you need to enable it, which seems slightly confusing as with the new update Firmware version v1.0.0.76.
With the current Firmware version v1.0.0.76, the Women Health is not shown on the Mi Fit app screen nor the Mi Smart Band 5. To make it available we need to enable it accordingly. Cycles, record menstrual cycles to help you understand your body.
Launch Mi Fit app, goto Profile - Mi Smart Band 5 and click Display settings, as shown below:
Next tap and hold the 3 lines adjacent to Cycles, move up to include it in the display group and it will automatically go into the Workout menu with the Cycles feature available to use.
Next, tap View more, then Cycles - Settings. Goto Menstruation settings, input the Period length and Cycle length.
Next, enable Menstruation cycle prediction.
What's Menstrual Cycle Prediction?
It predicts the entire menstrual cycle of a woman based on personal data such as the period length, start and end date. A complete menstrual cycle prediction includes menstrual period, fertile period, and ovulation day predictions. This feature helps women understand their body conditions and regularize their periods. Long-term continuous and complete menstrual records are helpful to improve the prediction accuracy. Always remember to record your menstruation data.
For the Reminders, you can enable App notifications, remind you before the period starts and before ovulation day. At the same time to send notification to your band, before the period starts and ovulation day.
Note: You'll be notified at 9:00 PM of the day selected.
Next all the Cycles menu and data will appear.
Within the Cycles menu, input the Pain, you are experiencing by tapping the women icon, as light, medium, severe and the same for Bleeding and Emotions. And on the bottom you can keep track of the previous symptoms.
That's all to it, and the Workout menu will show the summary of your Status.
Do you find it useful?
Rate