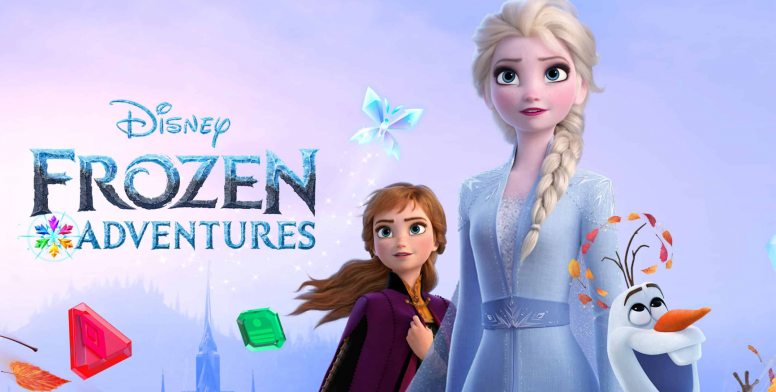 Hello Mi Fans,

How are you all doing? Stay safe and keep yourself and your family protected in these tough times! Match 3 games are many of our favorite types of gameplay. And Disney? Well, I am sure most of us are a fan of it. And when we see all those original Disney characters in the veil of a match 3 puzzle game, that definitelt creates a magic. Today we will be reviewing one of the best game associated with Disney characters - Disney Frozen Adventures. Lets get started!


Disney Frozen Adventures is the one of the best offering of the franchise. It is indeed a great game released by Jam City. Being a die-hard fan of Disney I love the characters and story from the animated movies. And seeing them in a game, brings it up to a whole new level of entertainment. You can connect your Facebook account while playing the game to save the progress as well as earn extra 500 coins. So without any further delay, lets Set our foot in the kingdom of Arendelle and help Anna and Elsa to explore the world around them.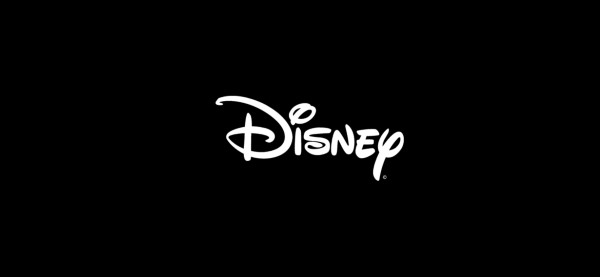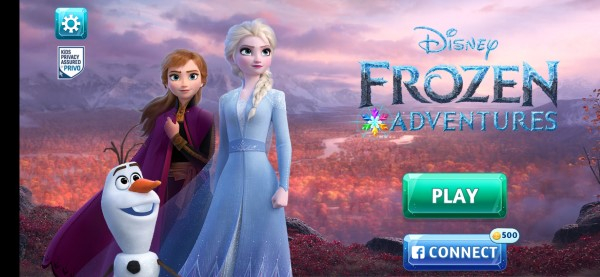 Story:
Before delving into the game play, first lets talk about the story line. Here your role will be that of a royal event planner in charge of beautifying Castle Arendelle in preparation for a great ball or the royal gala. And you need fulfil that mission along with some other addons like sending out guest invitations, helping with other guests etc. - all by playing a traditional match 3 game with several power ups. You will find all familiar characters like Elsa, Olaf, and Anna. You would need to renovate the Kingdom of Arendelle and their castle.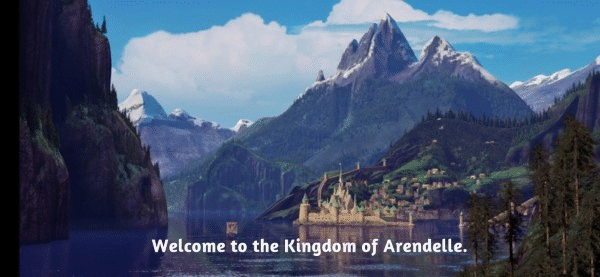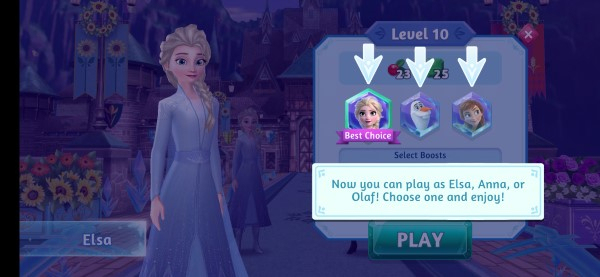 Gameplay:
As I said earlier, to decorate the castle you will be playing different levels of puzzles where you need to match 3 to clear them and eventually beat the level. For different levels you will be unlocking different characters and help them in fixing the castle. You will be given different scenes like - decorating Castle Entrance, Great Hall, Advisor's Chambers, Castle Garden etc. For example first you have to decorate the entrance. You will need to finish different levels to finish that particular mission. At the top center there is a progress bar which constantly reminds you of how many levels to left to beat the mission.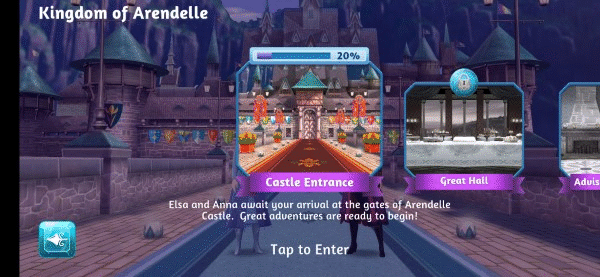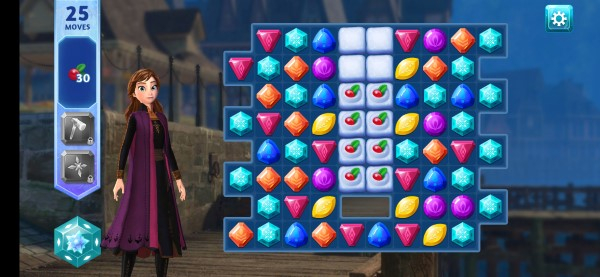 Each level would give you different goal. Like collecting 9 red crystals, strawberries, break magic frost and so on. Its obvious that with each passing levels, difficulty rises. And for every levels you have limited number of moves. The game starts with 5 free lives which gets refilled at specific interval of time. While playing the levels what I felt is, they are all Frozen-themed and adapted to the movies. That really gives a nice touch to the entire gameplay and appearance. Once you unlock all 3 characters of the game, you will be given option to choose any one of them to play a particular level. The more the player makes perfect matches throughout the game, the more the power-ups he/she will make throughout the game.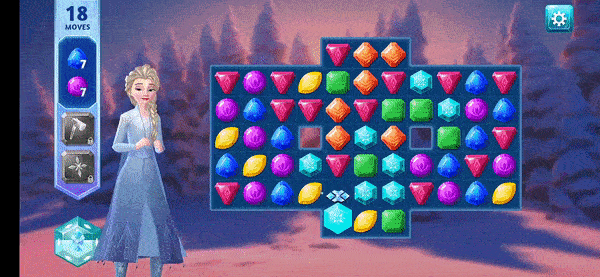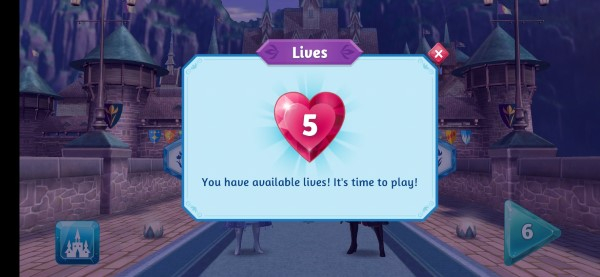 Powerups:
Each character has their own special ability. Once you match all light blue crystals, the character's magic is unveiled and you would be given the special power ups. While it's easier to combine 3 pieces together, I would suggest try to create massive or huge combos with 4 or more number of pieces, as it would create power ups like - Line Clears, Ice Butterflies, Blast Snowflakes, Rainbow snowflakes. Lines clears are created from a line of 4 identical pieces and once activated they can clear everything in a horizontal or vertical orientation. Ice Butterflies release a butterfly that flies towards an objective piece and destroys it.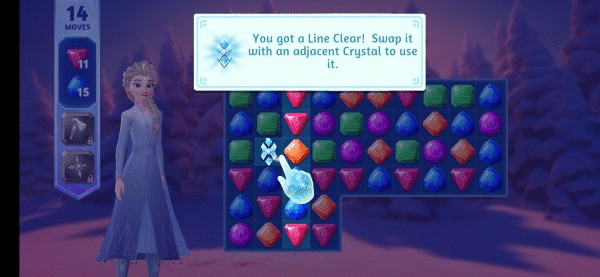 You can even make a combo of different powerups together to create a large explosion. so on a whole these will make your gaming a whole lot easier. Also one last thing I would love to say here is, if you are into spending some real bucks, you can buy extra boosts for coins or via bundles at the Arendelle Market. It's very important to select the right character to play various levels as you will have to rely on their special skill to clear the level and finish off the challenge. So just find the ideal one for different situations. Remember, Elsa can create line clear pieces with her ability, while Anna creates blast pieces. Olaf is expert in creating two ice butterflies with his special skill.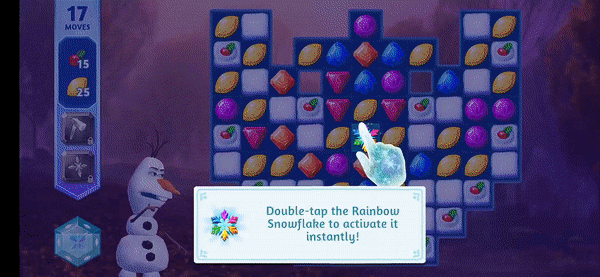 The entire game stands on the objective to fix the castle through decorating it's different parts. But for that you need snowflakes which is treated as a special type of currency in-game. After successful completion of each levels, you collect snowflakes which can be used in the restoration and decoration of the castle. When it comes to decorating various rooms of the castle, for most of the scenarios you will be prompted to choose between different types and colors to use. This is definitely adds a uniqueness to the looks and you can fully make your preference a priority here. I love this one. Even many of the times I keep experimenting between the choices given to find the best look. You can even share your creation with your friends via a screenshot. There are different rewards which includes daily check in prizes and unlocking various chests.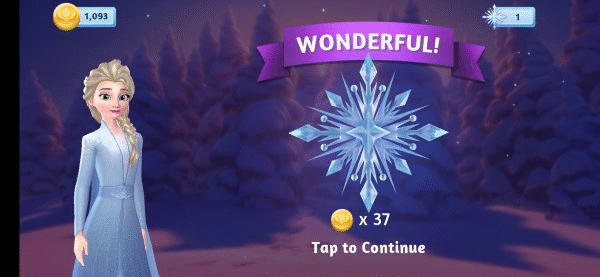 Use of Snowflakes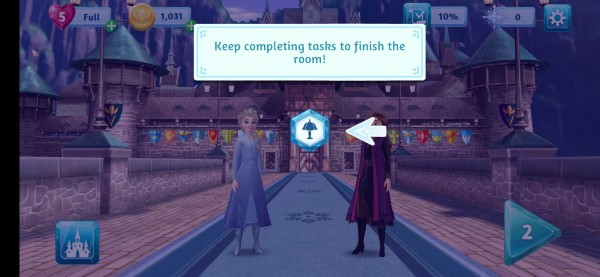 Decoration of the castle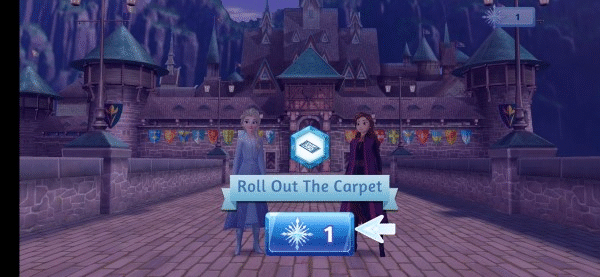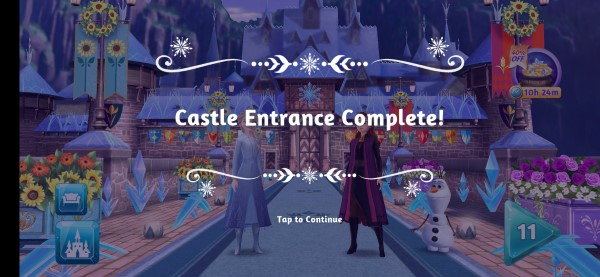 Rewards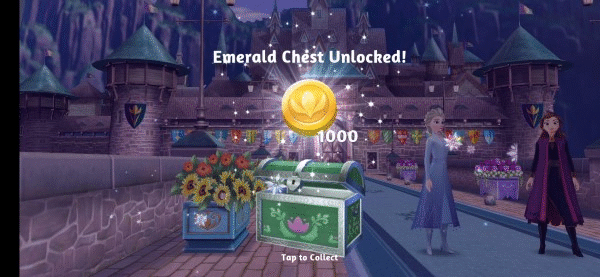 Pros:
Impressive graphics
Original Disney models
Exciting and challenging game play
hundreds of levels match three puzzles

Cons:
Some of the levels are too difficult with way too little number of moves



Frozen Adventures is a simple, fun-filled, entertaining as well as challenging game. The graphics are impressive and beautiful with original Disney characters. Levels are arranged nicely and the entire appearance of the game looks so familiar. Be it game play or the story, I will definitely give it more marks than any other match 3 games of recent times. This game definitely gives you an immersive experience. But it needs both luck and strategy to clear the levels without loosing any life. With the 3D nature of the game also lets us pan around and explore the surroundings on a better way. Do not hesitate to see what fun adventures await Elsa and Anna and all their friends.

I will give it 4.5 out of 5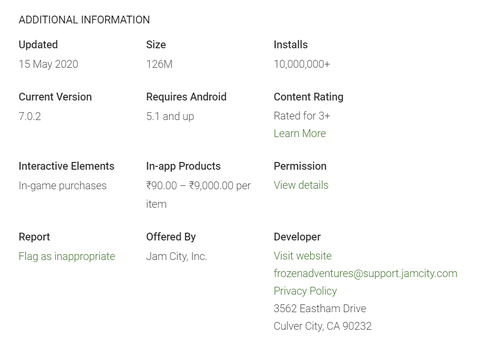 Rate