Drodzy Fan Mi,

Ten dzień w końcu nadszedł! Chciałabym Was zaprosić na długo wyczekiwaną premierę serii Redmi Note 9 w Polsce. Będzie to niezwykła premiera, na którą zaprosiliśmy wielu ciekawych gości i która uroni przed Wami rąbek tajemnicy odnośnie kolejnych działań, które w najbliższym czasie ruszą na terenie naszego kraju. Na chwilę obecną mogę jedynie powiedzieć, że.... It's About To Be Legendary!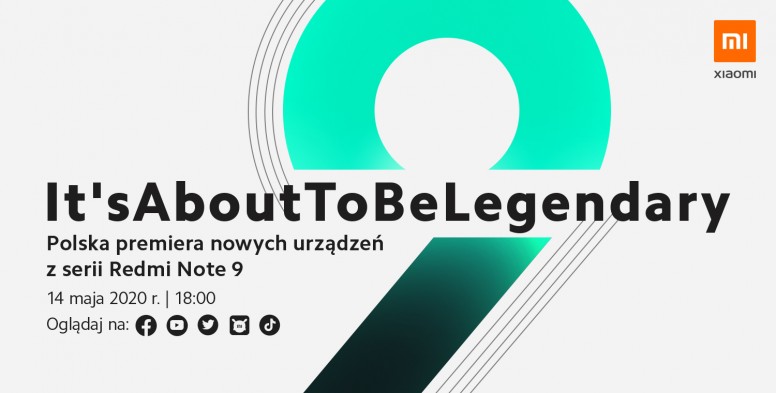 Dzisiejszą premierę będziecie mogli oglądać w aż 5ciu miejscach - na Mi Community (gdzie Was serdecznie zapraszam), Na Twitterze, Youtube, Facebooku oraz na... Tik Toku!

Poza znanymi już co niektórym urządzeniami z Serii Redmi Note 9, przygotowaliśmy też kilka nowości, które niebawem zagoszczą w naszych sklepach (zarówno tych internetowych jak i stacjonarnych) oraz u naszych partnerów.
Czeka na Was zarówno tradycyjna prezentacja produktowa, jak i nasze studio z gościem specjalnym, do tego mała dawka dobrej muzyki i mnóstwo nowości!
Jednym słowem - będzie się działo! Szykuje się legendarne wydarzenie! Widzimy się dziś o godzinie 18:00!

Tym samym tradycyjnie już otwieram naszą wirytualną salę kinową godzinę wcześniej, abyście mogli się w niej rozgościć i zająć wygodne miejsca :) Czekam tam na Was i na Wasze pytania i sugestie. Do zobaczenia na czacie!