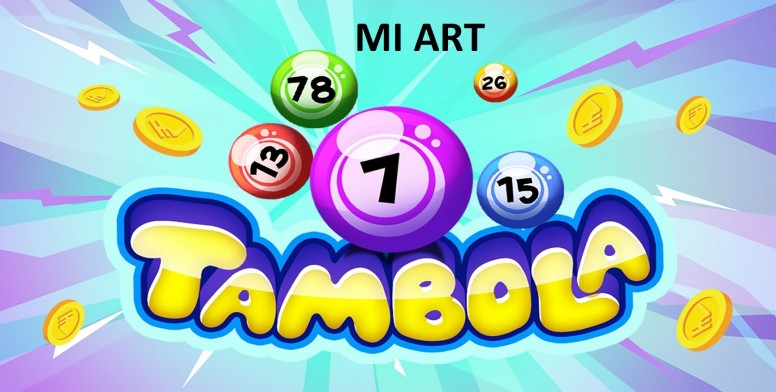 Hello MIUIers, hope evryone is doing great. Now we're at the final week's review of the month. This is the most excitement part of my ART journey. Guess why?? we can review our favorite and cool game review in this final week. So, let get started. I'm going to review a game " Tambola " the game name may varies for different regions, but the game is being developed and maintained by the same Octro Inc, team. Under, Casino category.
Firstly, the game is originated from south italy and there might be different set of rules for different regions globally. Especially, in india itself we have numours names and different set of rules for the same game from all over different states or regions. But, globally it's a common name as " Tambola " now the game is live online and digitally with real online players.
Review: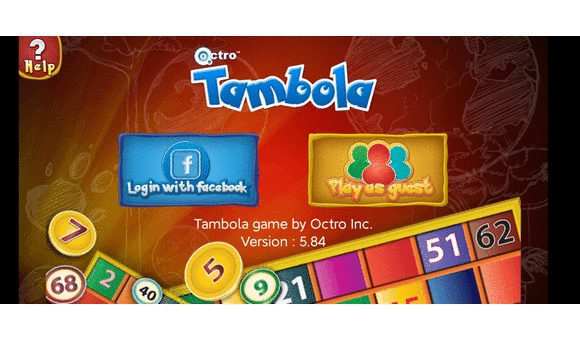 Now, that's the login screen of the app. As I mentioned before, this is an online gaming with real players. We can compare the game with similar games such as 8 Ball Pool, Carrom Pool, etc., The above login screen is similar to these games. We can either opt for Facebook login or can simply go as guest. But, we can play with know (friends and family) people with the guest option.
Also, we need to setup everything manually in the guest mode of the game. Where as, using Facebook account login. We can play with family and friends, who are linked to the same FB account.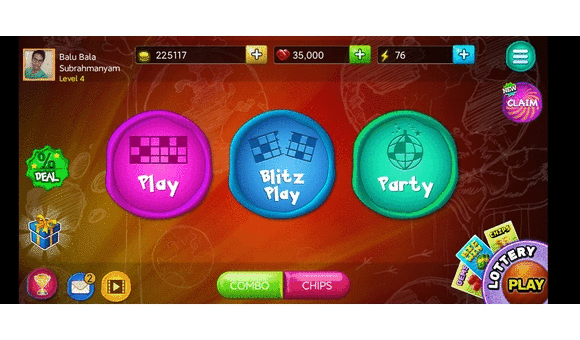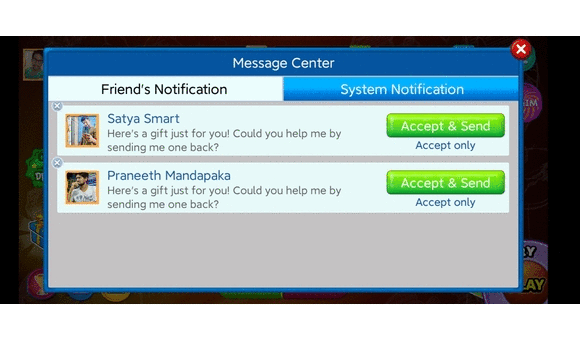 There we go. That's the home screen of the game (in first GIF). There we can see all the options in very well organised manner. Like leader board, message or notification center. Just like in every recent online based games, we can see our leadership with our friends and we can send or receive the gifts (such as chips or coins in this game) each other. That's what we can see in those (Message center and Leadership board) two options mentioned(second GIF).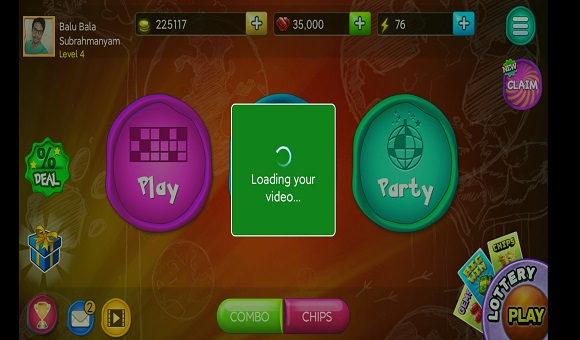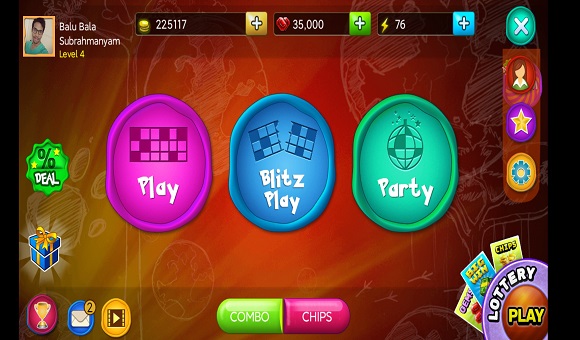 Another pretty similar feature of recent online games is, we can watch a sponsored video(screenshot up) and claim our game rewards, usually we use in a game to purchase game items. In this case, such as chips and coins. Also, we can see a menu button on the home screen itself at the top right side (screeshot down). Where we can change the settings for voice over (male or female) and many more.
Also, one can notice that, there are three play modes such as, normal play. blitz play and party. I've played normal and party play and don't know about the middle one honestly. The normal one is just like a online players and the party is like a room creation in PUBG. Also, we can switch between the store of chips and coins at the bottom middle of home screen.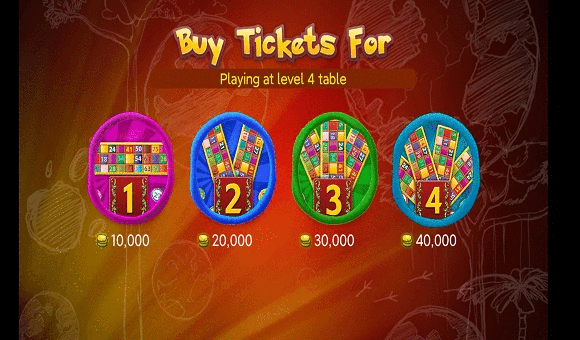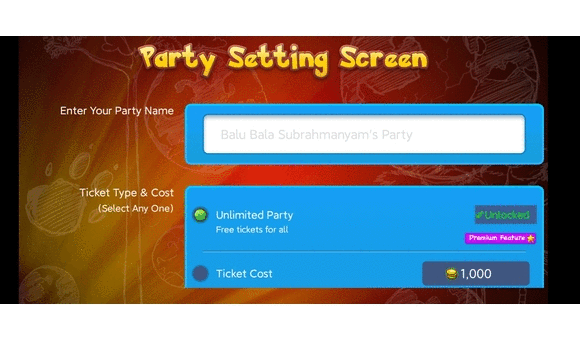 That's how we purchase the tickets for the game and as I said there are options to enter an existing party or creating a new one. If we opt for joining an existing party there's nothing much to ourselves. If we wanna create a party, again there are options to choose. Whether we want to be a host (can't be played) and we can only opt for announcing numbers or play together with others(automated system will anouunce the numbers at the rate of 15 seconds). All there are optional and can be set by the party host, at the time of creation of party or room. later, we can share the party ID (our own creation) and password(randomized system generated) to others.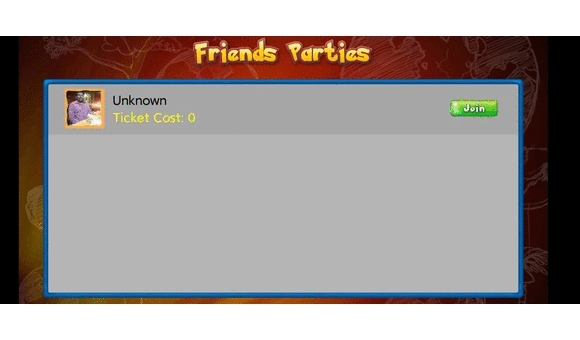 Forgot, to mention that there is another option to join the party. Which is called friend's aprty and nearby parties. We can join the parties hosted by our Facebook friends, as it's already linked with FB and we need to wait for their approval before, we joining. On the other hand, we join nearby parties, as the game uses both internet and GPS, to locate the nearby parties.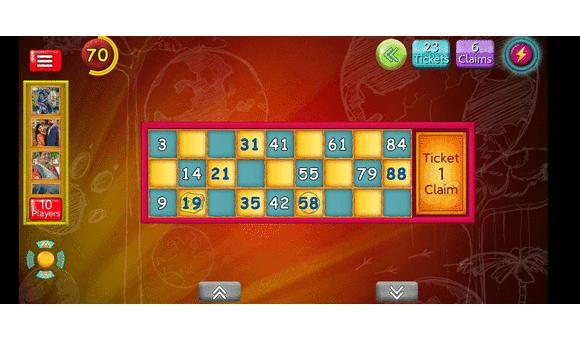 That's the in UI of the game. Currently I've selected normal play and I got 9 online random players. On the left side we can see the player's list, their claims in the present game, their stats too. Also, we can see an automated number announcement displayed at the top left and we can hear the sound with the slelected voice in the said prefernces above.
The announcement is not bore as I expected. It's not saying the number normally like it's number nine, it's number fourteen, etc., Intead it's saying the number with catchy sayings for eg: " raise and shine - 49 " " It's valentine's day - 14 " " One fat lady - 8 " " Top of the house - 1 " " Perfect size - 36 " , etc., isn't it cool?? If you ever bored of those sayings, we can simply mute the audio from the settings.
As I mentioned earlier, in the intro part. We have names such as Jaldi house (jaldi = quickly in hindi language), Housie, Indian bingo and many more. Usually, since my childhood I've grown up by playing this game with a book, contained these paper tickets and plastic coins to announce the number. In fact I hate to be a host and I was and I'm really lazy at announcing those numbers xD :p.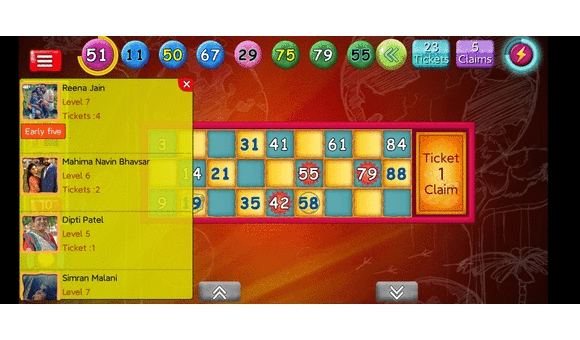 Thanks to the developers, who bring back our childhood memories and with this digital and online game play. We can kill our time in this COVID19 boring time, with our friends and families, located globally. That's the layout of the ticket and we can also see and cross check the announced number at the right side of the page, just in case if we missed. Usually, the game has 5 claims such as Jaldi five or early five, top, middle and bottom line, four corners and full house. We can claim respective one by selecting the announced number in our ticket.
It's even simpler and better in this virtual game. We can claim by clicking the ticket claim option and make sure you're ready and response to the time. We used to punch with sticks or strike with a ball pen and all. Now in this virtual game, just a simple tap. Meanwhile, we can get the bonus points by tapping the bonus meter at the top right side corner, once it's filled and started blinking. This reminds me the Temple Run game's energy filling meter, to create a shield.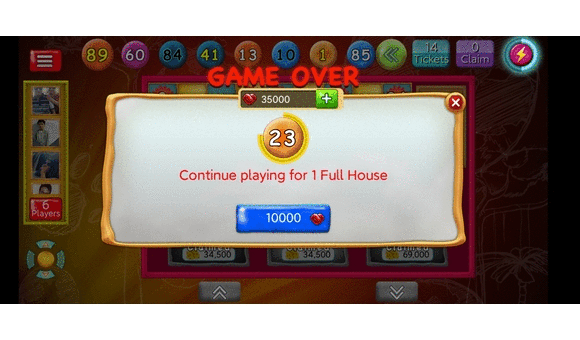 That's the end of the normal game. All 5 claims were taken by others and I got nothing. If it's party, there's no such option to another full house. We can simply return to the dashboard and start purcasing the tickets again. But, in this case I got a chance to wait for another house and I opt for wait, as had only one number left my ticket. Also, in party's mode we can chat with the fellow people (not while playing) in the dashboard of the game. This is also pretty similar to 8 Ballpool and Carrom pool games.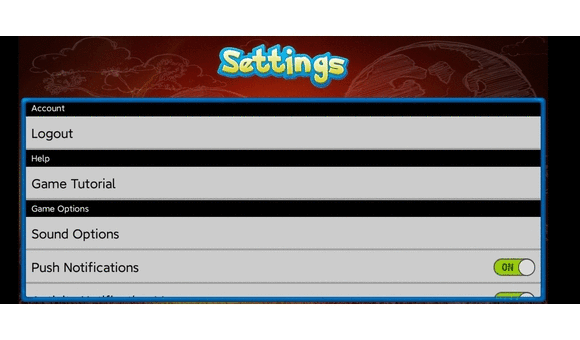 That's a pretty neat and clean settings option for the game. Where, we can see the options such as notifications, sound, account logout and game tutorial, etc., That's all about this beautiful game folks. I'm pretty sure, that I've covered each and everything, as much as possible to me. Thank you.
Add.Information: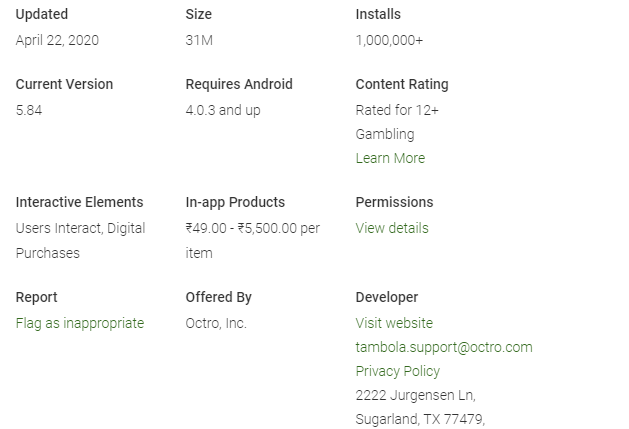 Available for free on playstore
No annoying ads, while playing
Best time killer, to play with friends and family across the globe
Works for all the networks starting from 2G to 4G and ofcourse on WIFI :p
Sometimes numbers are repeating by the system, which is already taken before
One an admin or a host exit the dashboard, no one can enter the party using the credentials, need to create party everytime we wanna play
If you wanna kill the time with your families, friends from the home itself. That too in this crucial COVID19 situation. This is the best time killing game with more fun. If you never played this, trust me and just give a try and thank me later.
Rate