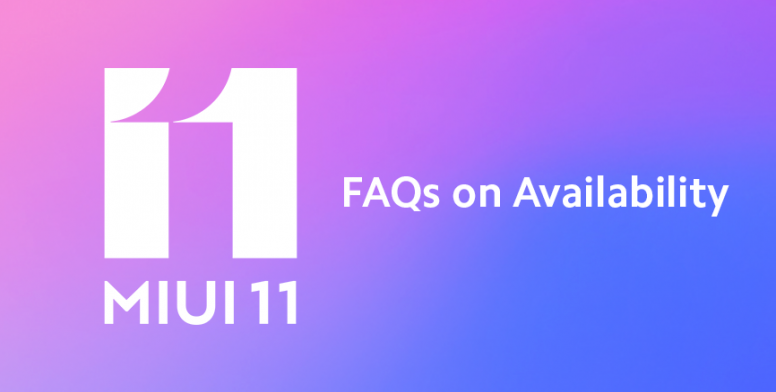 Hey Mi Fans,
Nowadays we're seeing this kind of threads like "When my device will get MIUI 11, When my device will be updated with Android 10, Is my device going to be updated with MIUI 11?" etc. These posts are spamming all subforums including device, MIUI General and feedback sections in Mi Community. So we decide to answer all of your questions in this thread.
Frequently Asked Question-
Q: Will My device get MIUI 11? If then, when?
A: MIUI 11 release schedule:
Phase 1 (October 22-31)
Redmi Y3
Redmi Note 7
Redmi Note 7S
Redmi Note 7 Pro
Redmi 7
Mi 8 Lite
POCOPHONE F1

Phase 2 (November 4-12)
Redmi K20 Pro
Redmi 6
Redmi 6A
Redmi Note 5
Redmi S2
Redmi 5 Plus
Redmi 5


Phase 3 (November 13-29)

*This release plan is subject to change


Q: My device model isn't on the list, so can't I get the update?

A: If your device model isn't in the list that means, no update for now and there's no confirmation for further updates.




Q: How can I get MIUI 11 in Mi A2/ Mi A3 etc?

A: Since Mi A2, Mi A3 etc. are Android One devices, these will get Android One based updates, not MIUI.




Q: No updates came in this month.

A: It's not necessary that you'll get the update every single month.




Q: When will I get Android 10?

A: When Company decides that your device should get the update, you'll get it by OTA. We'll also share the news of updates when it'll be available. Be active on Mi Community.




Q: Update was available, now it's gone. What to do?

A: Update comes by batch if you miss your batch then it'll come again after a while. Till then keep patient.


[N.B: No more threads on this topic will be entertained in the subforum and will be deleted without prior notice. Read the FAQ and previous threads before posting.]


Popular Columns across Mi Community:

Rate