Hello Mi Fans,
We are very happy to announce that recently we have incorporated the MIUI ROM Download portal in our Global Mi Community. We are sure, this would make the ROM downloading experience much more smoother and hassle-free for our users worldwide. We have listed all the devices launched globally in different countries and put their ROMs under the Download tab for you! So, from now on, you don't have to look here and there for your required ROM. Just head on to the Download section from PC, Mobile or Community app and you would get there all you need.
You can find the MIUI Recovery ROMs and Fastboot ROMs for your device, arranged in accordance to their MIUI version (i.e MIUI 10, MIUI 9, Android One). Today, in this thread we will try to provide our users with all the necessary information related to this Download section. If you are new to the world of flashing, don't worry. We have a detailed guide for that too. let's get started:
Where to Download?
You can download ROMs either from Desktop site, or the Mobile Site or from the Mi Community App.
From App:
On the homepage. Click on the MIUI tab.
Click on the top banner (MIUI 10 image) to enter the Download section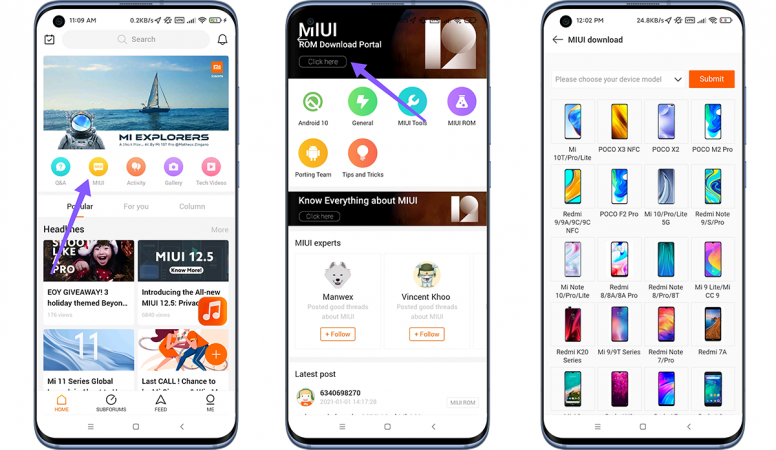 Desktop site:
Go to https://c.mi.com/global/
On the top navigation bar you will find the ROM Download tab. Click on it.
Once you have entered the Download section. Either choose your device from the drop down menu or pick it from the devices list below. Under the Default tab, all the devices are listed by default where as in the ROM Version tab, you would find devices are categorized based on their MIUI version (MIUI 12, MIUI 11, MIUI 10, Android one)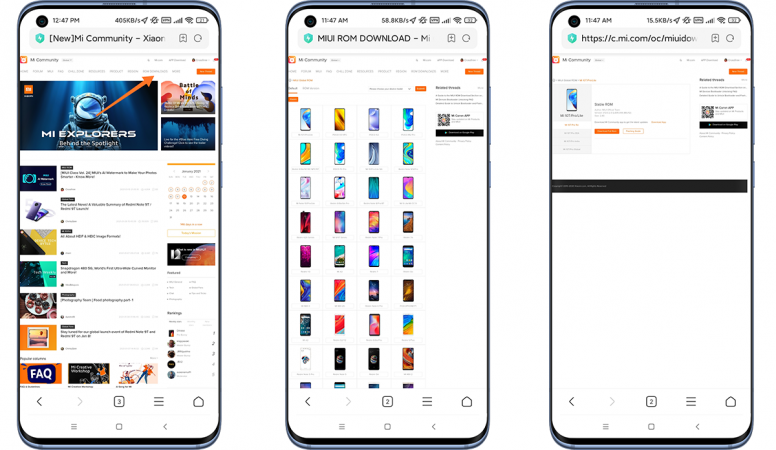 Mobile Site:
If you are using mobile site, click on the 3 bars at top left corner.
From there choose " ROM Downloads"
Select your device and download the ROM you need.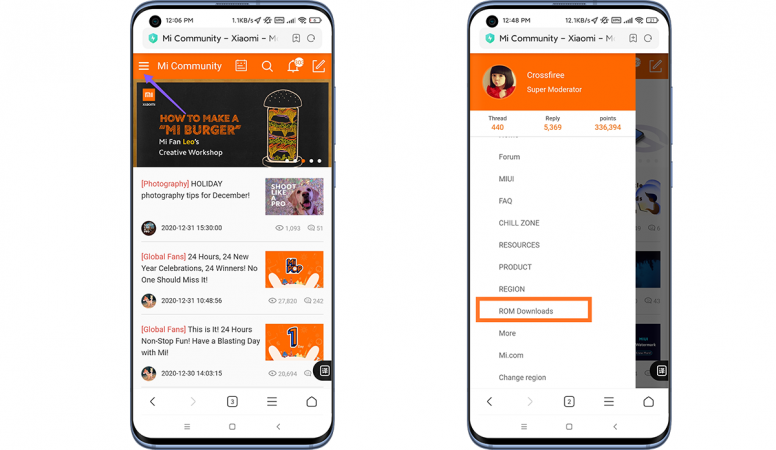 Here we have the links for you:
Recovery ROM Download
Fastboot ROM Download
Flashing Guide
https://c.mi.com/oc/miuidownload/detail?guide=1
Note: Please note that, only after the first OTA is released for your latest Xiaomi devices, we will include that in the Download section. We will be updating the Download portal from time to time. If you have any feedback or suggestions, please share it in the comments.
Rate