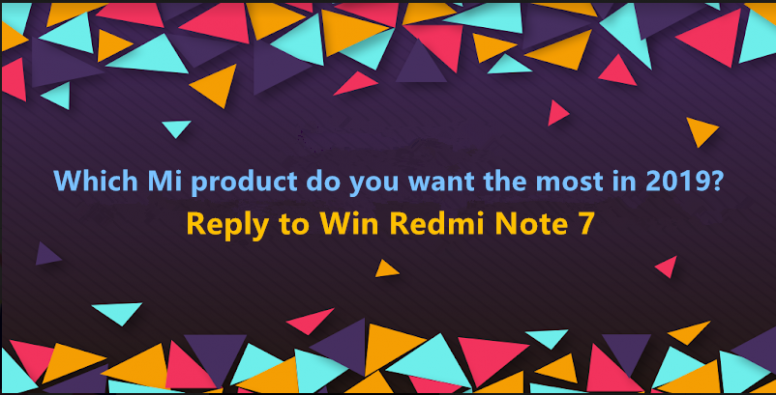 Announced on 9th May
Hello Mi Fans,
Thanks for your participation in the contest.
[Contest] Which Mi product do you want the most in 2019? Reply to win Redmi Note 7!
Password for Zip:innomi
Congrats on our
First Prize Winner
(Redmi Note 7)
:
1715389481
(Mi ID: 1715389481)
Please send your real name, complete residential address (including city, state and country name), along with phone number to @Elaine2046 via PM within one week (strict deadline). Failing to do so, you won't be able to claim your prize anymore! Thanks.
Thank you for all the Mi Fans who joined our adventure, we will give the "Bunny Winner" medal to every participant soon!
Stay tuned for our next round contest!
Hello Mi Fans,
To let everyone around the world enjoy a better life through innovative technology, Xiaomi never fails to surprise us with its amazing products at honest pricing. And today, Xiaomi has emerged as one of the most successful brands with its innovations and super cool products. With the vision of being friends of Mi Fans and being the coolest company in the world, Xiaomi has indeed been on a miraculous journey!
All these would not have been possible without the constant support and encouragement of our Mi Fans. So, we want to hear from you: Of all these amazing Mi products, which one do you want the most in 2019? Reply to this, you might get a chance to win Redmi Note 7 for free!
Which Mi product do you want the most in 2019?
Reply to Win Redmi Note 7!
Contest Time:
Contest ends on 7th May 2019 (Beijing Standard Time)






Prizes:
1. First Prize (1 Winner): Redmi Note 7

(First winner will be selected from 4%, 16%, 22%, 39%, 43%, 56%, 69%, 74%, 89%, 91%, 96% of the total number of replies which are encrypted in the file below ).

Mi Product.rar (182 Bytes, Downloads: 1511)




2. Participation Award: Anyone who replied with valid entries will get

"Bunny Winner"

medal!




Contest Rules:
Each ID can reply at most 4 times.

Each ID can win ONLY 1 prize.

All irrelevant Replies/Spams will be disqualified and may get a warning.

Prize winner must be the author of valid answer. Winner of irrelevant answers, such as "great, thanks, ok" etc. will be disqualified and prize will go to the author of next valid reply.




About Mi Community
Mi Community is our official community forum, the ultimate playground for our Mi Fans to hang out together. It's where all your questions or doubts about our Xiaomi products will get answered and where you can get the latest news and happenings about Xiaomi. More importantly, it is the perfect place to interact with other hardcore Mi Fans like you!
(Don't forget to give it a five-star review, thanks in advance)
Rate