Hello Miuiers! Welcome To My First Thread I Wrote. Today I Will Be Comparing The Xiaomi Mi Notebook Air With The Apple Macbook Air


Xiaomi's ultra-thin notebook comes in two sizes: 13.3-inch and 12.5-inch. This is the first of many similarities between it and the MacBook Air, which comes in 13.3-inch and 11.6-inch options.




Interestingly, the Mi Notebook is slimmer and lighter than the MacBook in both instances. While Apple's 13.3-inch machine is 17mm thick and 1.35kg, the 13.3-inch Notebook Air is 14.8mm thick and weighs only 1.28kg.

The smaller MacBook Air is also 17mm thick but weighs just 1.08kg, while the 12.5-inch Notebook Air comes in at just 12.9mm and a relatively lightweight 1.07kg.


In terms of dimensions, then, Xiaomi has certainly managed to outdo Apple. It's taken slightly different design cues, though, with the Mi Notebook Air looking more like a Microsoft Surface Instead Of A Macbook Air with a squarer, flatter design that doesn't taper off.



Both Apple and Xiaomi's machines come with backlit keyboards, but the Notebook Air models both come with an HDMI port alongside two USB 3.0 ports on the 13.3-inch model, and one on the 12.5-inch version.

When it comes to the displays, Apple, again, offers a 13.3-inch option and an 11.6-inch option. The former comes with a 1,440 x 900 resolution, while the latter comes with a 1,366 x 768 resolution. That feels a bit old fashioned in a world where 4K is fast becoming the norm, and most phones even have a 1080p resolution. Which is probably why Xiaomi chose to give both models of its new laptop a Full HD resolution, once again going above what Apple offers.

If we were talking about phones, you'd be unlikely to notice the difference, but on a laptop, the gap between the resolutions could well be noticeable. We're yet to try out the Xiaomi Notebook, so we can't say for sure. But with most mid to high-end laptops, we'd hope to see at least a Full HD (1080p) resolution. With that in mind, we have to give this one to Xiaomi, at least for now.




That said, we're yet to see how the screen handles colour reproduction, whether there's any backlight bleed, and all the other considerations that a full review would allow us to investigate. Stay tuned for a full update.

When it comes to hardware, the Macbook Air and Notebook Air are fairly closely matched in many ways.There's a lot to get through here so, in the interest of simplicity, here's how the various models break down in as simple terms as possible:




The 13.3-inch and 11-inch MacBook Air come with either 256GB, or 128GB PCIe-based flash storage (configurable to 512GB), a 1.6GHz dual-core Intel Core i5 processor, and 4GB RAM.

The Notebook Air's specs differ depending on which model you go for. While the 13.3-inch model comes packing 8GB DDR4 RAM, a 256GB SSD, and an Intel Core i5 processor, the 12.5-inch version features a less capable Intel Core M3, while RAM is halved to 4GB, and the SSD is also significantly less capacious at 128GB.

In short, the large model Notebook Air is better than the large model MacBook Air when it comes to the spec sheet, while the small version of the Notebook isn't quite as good as the small version of the MacBook Air, thanks to its Core M chip.

Xiaomi has loaded the 13.3-inch Notebook Air with a dedicated Nvidia GeForce 940MX graphics card, so it should have a decent performance when playing games.

As a result, Xiaomi seems to once again have outdone Apple, at least when it comes to the larger model Notebook Air. More RAM and a dedicated GPU mean you'll simply be getting better performance for your money with the 13.3-inch Xiaomi laptop.





Xiaomi says the 40Wh battery on the 13.3-inch Notebook Air will last 9.5 hours from a single charge, and the laptop is capable of charging to 50% in 30 minutes using the USB-C charger provided.Based on our experience with laptops with dedicated graphics cards, this seems a optimistic, but we'll have to wait and see.The smaller model should last slightly longer, with a claimed battery life of 11.5 hours.



Not bad, considering the two laptops manage to keep things lighter and slimmer than the MacBook Air models. Apple's 13.3-inch machine does come with a 12-hour battery life, which is significantly more than the 9.5 hours on the Notebook Air equivalent, but then, there's no dedicated graphics card to power. We'd argue that losing a few hours of battery life for a decent GPU isn't all that bad.

Interestingly, the smaller model Notebook Air actually manages to almost match the larger MacBook Air, with its 11.5 hour battery life. And it clearly bests the smaller MacBook model, which comes with a 9-hour claimed battery life.

Once again, we don't have any real tests to go on here, but on paper the laptops are fairly evenly matched, with the larger MacBook Air model coming out on top in terms of battery power.

Another area where Xiaomi seems to have an edge on Apple, the 13.3-inch Notebook Air will go on sale for 4,999 yuan, which works out to about £686 inc VAT. The large Macbook Air model, on the other hand, is currently available for £999 for the 256GB storage model, and £849 for the 128GB version. That's a big difference, especially considering the Xiaomi machine comes with what looks to be a significant hardware advantage over the MacBook.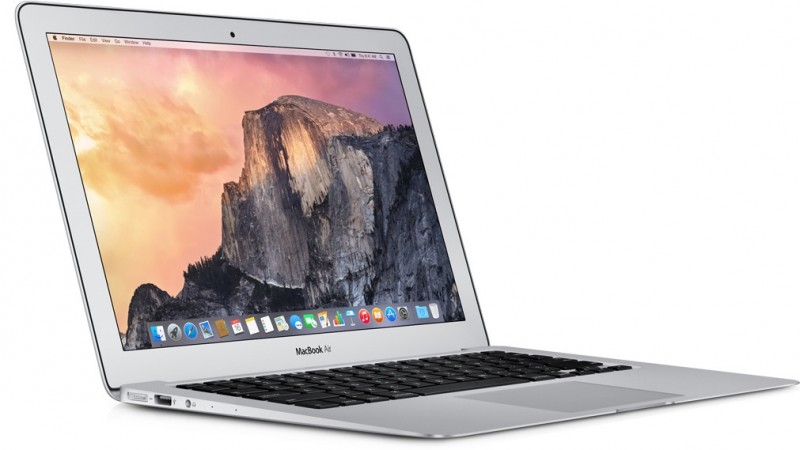 Unfortunately, it seems that, for now at least, only China will see an official Mi Notebook Air release, with no global launch date yet confirmed.
Those looking for a more compact option can pay £899 for the MacBook Air with 256GB internal storage, or £749 for the 128GB option, while Xiaomi is planning to charge £3,499 yuan (about £500 inc VAT), for its 12.5-inch offering. Again, a sizeable difference that makes the Xiaomi machines look like a more attractive offer.