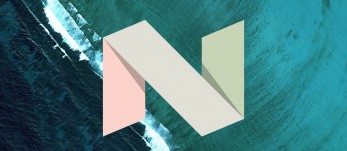 Introduction
Every year Apple and Google each push out new versions of the world's leading mobile operating systems. Until 2016, for the past few years the tradition was that Apple outed the new iOS release first, in September, while Google followed with the latest Android treat in October or November. However, this year things have been different, for the search giant decided to make Android 7.0 Nougat available in August, while Apple hasn't changed its schedule.


Like Marshmallow in 2015, Nougat got an extensive beta testing phase, during which Google released five Developer Previews, one each month from March to July. These should have been useful to developers, allowing them to test their apps against the new Nougat APIs and make sure the new functionalities in the OS are added in. Yet despite having months to prepare, some apps still don't fully support everything that's new in Android 7.0, while others have only been updated for that purpose mere days ago.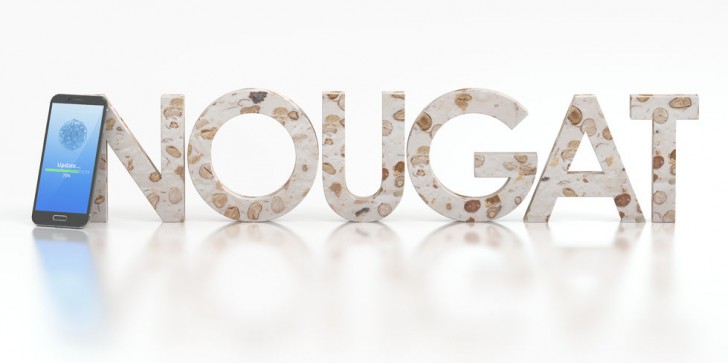 As usual, the new Android release went out to supported Nexus devices first (as well as the Pixel C tablet and the General Mobile 4G Android One phone). If your handset or tablet doesn't get its updates straight from Google, then you're still in for quite a wait before you'll see Nougat on your device - if ever. As always, software updates are a pain point in the Android ecosystem if you don't buy Nexus, and there's still no adequate solution to this mess, unfortunately.


Key upgrades over Marshmallow

The redesigned and heavily improved notification system now lets you act on every individual notification even when you get a few from the same app;
Direct replies inside the notification area are now an OS feature, so there's no more need to use hacky third-party apps to get this function;
Split-screen multitasking is finally here (on both phones and tablets), baked right into Android, and should at some point work with most apps;
Double tapping the Overview button (the square one) quickly takes you to the previous app used, like Alt-Tab in Windows;
Doze on the go promises to further improve idle battery life;
Apps install and update faster for every device running Android 7.0, and the last time you see the infamous "Android is upgrading…" screen will be when you make the switch to Nougat - it will be gone for every subsequent update;
Devices shipping with the new Android release preinstalled get seamless OS updates that download and install in the background, with only a quick reboot needed afterwards;
The Vulkan API will show you much nicer game graphics if your hardware supports it;
Upcoming Daydream-certified devices will use Android's new VR mode to make experiencing virtual reality smoother than ever.



What we're still missing

Google Assistant - this was announced at I/O and is going to represent the rebranded and enhanced Google Now experience. It still won't have a proper name like Siri or Cortana, but at least 'Assistant' conveys a lot more information about what it is than 'Google Now' ever did;
The leaked redesigned (and animated) navigation buttons;
A new launcher - this was also leaked this summer and it features a pretty big revamp compared to the now-stale Google Now Launcher that's still the default in Nougat;
Some of the new features in Android 7.0 will only work on devices shipping with this OS version, so, for now, we're also missing those - phones and tablets launching with Nougat from day one, fully taking advantage of everything it has to offer;
Some polish and much more third-party developer support, especially for big new features such as split-screen multitasking and direct replies from notifications. The lack of these is quite baffling after five full months of developer previews having been available.





Whether you're waiting for Nougat to make it to your device, or if you have one of the few supported products and can already taste it, join us onto the next pages as we take a look at everything that's new in the latest iteration of the most successful operating system in history.


Look and feel
The first new thing you'll see after you take the plunge and install the Nougat update is the new Google logo. This has been a staple of the company's various online properties for quite a while now, so it's good to finally have it in the Android boot sequence too. The actual Android boot logo is unchanged from Marshmallow, on the other hand.

Once the first boot is complete you'll notice that you have the exact same Google Now Launcher with the exact same features and looks as before. That's because no big update to the built-in launcher has accompanied the Android version bump. So you get the same homescreens as before, with Google Now taking hold of the leftmost pane. The app drawer is a tap away as usual, and still shows your most used apps up top straight beneath the search field. Under those is the familiar vertically-scrolling alphabetically-ordered list of everything you have installed on your device.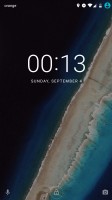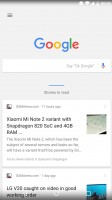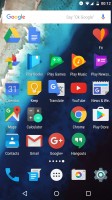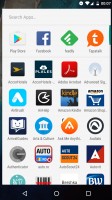 The lock screen is the same too, with the voice assist shortcut on the left and the camera shortcut on the right. To unlock you need to swipe up as before. But there is a new feature here, though it may not be immediately obvious: different wallpapers can be selected for the home screen and the lock screen. Yes, really, it took Google this long to implement this functionality in its stock UI.


Settings
One area which has received a pretty substantial update is Settings. There's a search button in the upper right corner, and under the title bar you'll see the status of Do Not Disturb mode (if it's on), along with a Suggestions section that will only prove useful to people who are new to the OS (if at all). You can disable it, however. Only below that does the actual list of settings start, but things are different here too.

There's more information shown at a glance, which is great. For example, the state of each connectivity option is detailed directly in the main Settings screen. So if you're connected to a Wi-Fi network, you'll see its name. Similarly, you can quickly evaluate how much data you've used in the current month without ever needing to tap on the corresponding setting. And so on for everything else - you can check out your available storage space, how loud your ringer is set, how much battery is left, and even the amount of RAM you're currently using - all from the main menu.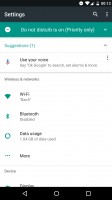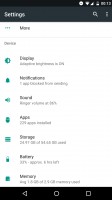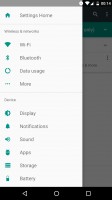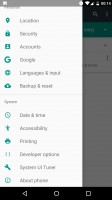 For whatever reason, Google has also added a navigation drawer to Settings, which slides in from the left. Oddly (or thankfully, depending on your perspective), there's no accompanying hamburger button as you might have expected. The navigation drawer helps you quickly jump from inside one setting to another without going back to the initial list.


Notifications
Undoubtedly one of the headline features of Android since its inception, the notification area has been revamped in Nougat. Not so much that you won't recognize it, but enough that it will obviously be different from the get-go. There are many new features inside notifications, which all work toward basically requiring you to jump inside apps as rarely as possible. This is meant to encourage a more fluent workflow - instead of tapping on a new notification to go into the corresponding app and then taking some action there, you can do a lot of things straight within the notification itself. That's the theory, and it works well enough in apps that support the new features. Hopefully, third party developers will be quick to update every app that can take advantage of the new functionality.

Bundled notifications are just that what they seem. Let's take Gmail as an example. Instead of showing you one separate notification for every email you receive, you'll first see only one notification containing all of them. That's hardly new, but what follows is. See, in the aforementioned case of getting many emails, you can 'unbundle' each individual notification from the stack and then act on it - delete the email or reply to it, for example. And when you expand a notification you can now see a lot more text than before, which will give you a much better idea about the content of each of those emails.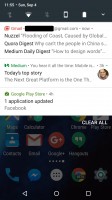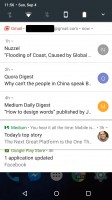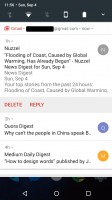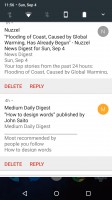 All of the above ties in nicely with what Google calls Notification Direct Reply. Just hit Reply on any expanded notification, and you can instantly compose a reply right there, in the notification shade - no need to load the full app. For chat apps the intended behavior here is to see every message you get in its entirety. What's more, once you reply your messages go into the notification's thread, so conceivably you might find yourself looking at any such app's UI a lot less than before. This feature has been spotted before in certain apps, but now it's part of the operating system so it's a lot easier for developers to add. In case you're wondering, Gmail doesn't yet have this working, and neither do most other apps.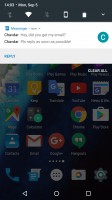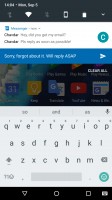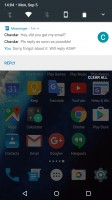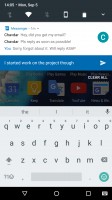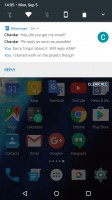 You can choose to show notifications silently or block all notifications on a per app basis. You'll also find that notifications have a new look now and they extend, horizontally, all the way to the edges of the screen (on phones) or of the notification area (on tablets). What's more, they're vertically stacked too, and don't appear as separate cards. All of this might make you miss the old design, at least at first.


Quick Settings
Traditionally, to get to the Quick Settings pane you needed to pull down the notification shade twice - the first pull would give you the view of your notifications, while the second one took you to see the Quick Settings tiles. This is still the case in Android 7.0, but with one very important modification. There's now a row of tiles visible above the list of notifications. This row is thus there on the first pull down of the notification shade, and the icons in it are all actionable. Such solutions have been employed in third-party Android UI skins for years, and now this is finally part of the stock experience.


Quick Settings editing made its debut in Marshmallow, but the option to rearrange the tiles was hidden in the System UI Tuner menu which needed a special trick for activation. In Nougat, Quick Settings can be edited easily, with no additional trickery required. When you do rearrange your tiles, keep in mind that the first five are those that show up in smaller form above the notification list.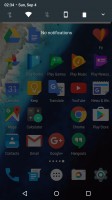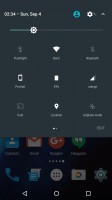 A rather annoying thing here is that if you swipe down from the top on the lock screen, you might expect to see those five mini-tiles, since this is what happens everywhere else in the OS. But instead, you're presented with the full Quick Settings pane. Anyway, this area has horizontally-swipeable pages now because developers have access to an API through which their apps can create new tiles.


Multi-window view and Alt-Tab
Another thing that's been in certain manufacturer flavors of Android is split-screen multitasking, though each device maker had its own interpretation of this and only a handful of apps supported it. That ends now, because Multi-window view is finally built into the core OS itself. Not only that, but it should (eventually) get along with most apps.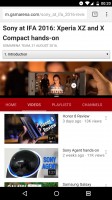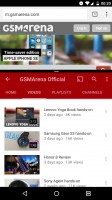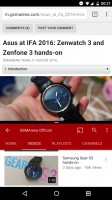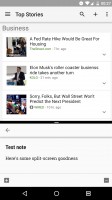 Right now it works well enough with some, it gets pretty wonky with others, and doesn't work at all with a few stubborn ones. Apps that have been specially optimized by developers to work with multi-window will do just that. Then there are those that mostly sort of work, but because they haven't been optimized for the process you'll get a warning that things may go wrong. Unfortunately quite a few of these apps simply don't update when they aren't in focus, which means you essentially get one active app on one side and a glorified screenshot of the out-of-focus app.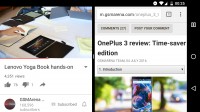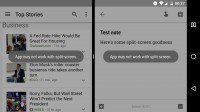 Certain things like full-screen apps (games, for example) or ones that don't support changing orientation (think of Instagram) simply refuse to enter the multi-window state. Oh, and then there's the Google app itself. Indeed, Google's own search app doesn't want to use Google's split-screen multitasking. The good news is that you can use two Chrome windows at the same time, if you go to its menu and select the Move to other window option.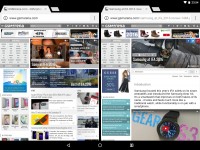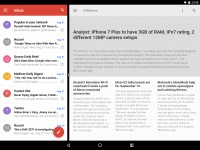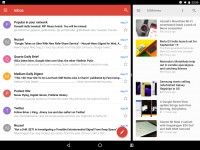 To go multi-window you long press on the multitasking button anywhere in the UI (just not from the home screen). This 'pins' the current app to one side of the screen, while the other half shows your open apps. You then choose one from there and it will take up the other half of the screen. You can drag the separator between the apps around to make one bigger than the other. Obviously this function makes more sense when it's used on tablets or maybe on phones with very big displays, but it's there to play with regardless of the device.


Related is the new quick switching between the last used apps, something you should easily understand if you think about the Alt-Tab key combo on a Windows computer. Pressing that takes you to the last used app before the current one, and double-tapping the multitasking button in Nougat does the same thing. This is one of those small additions that will become second nature once you start to get the hold of it.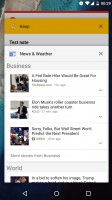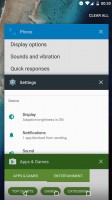 Design-wise, the multitasking carousel overview of your open apps now shows you a smaller number of them at a time, and the app outlines are bigger. That's something you'll notice if you go into this menu a lot, but you're probably going to get used to it in a few days. Oddly, a Clear All button has showed up in the carousel, though tapping it kind of defeats the entire point of having a nice multitasking view on your device. And, unless things go awry with your Android system, clearing all apps isn't something you actually need to ever do.


Doze on the go, Data saver
Doze Mode was one of the main new under-the-hood enhancements introduced in Marshmallow, and in Nougat it's been improved further. To complement the 'normal' Doze, Android now has Doze on the go too. This will save battery when you're moving but you're not using your device - say while it's in your pocket or purse. This is handy, because the original Doze only came into effect after your phone or tablet was stationary for a while. With both Doze modes, idle battery drain in Android 7.0 should be smaller, though in real life usage it's not improved so much that you'll be jumping up and down with joy.

Moving on, Android now has its own Data Saver, which works system-wide. This will be a welcome feature wherever data plans are expensive, and it's something that previously required third party apps.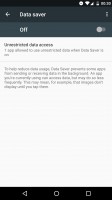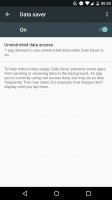 When Data Saver is turned on, background apps aren't able to access cellular data. If you want you can add exceptions to a whitelist, so this is flexible. While the feature works well in practice, your exact savings will depend on precisely what you use your phone for.


Display size
Up until this point you've been able to increase or decrease your device's font size, but starting in Nougat there's an additional handy option - changing Display size. This will alter how big app icons and other objects appear on your screen, including the status bar and the Android navigation buttons. So if you've ever felt that everything you see on your screen is way too big (or too small), now you get a very easy method for tuning things to your liking.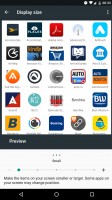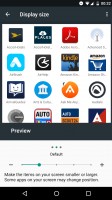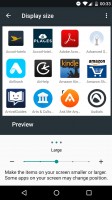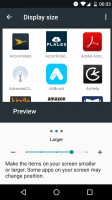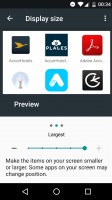 System UI Tuner
The tinkerer-friendly System UI Tuner menu hasn't been removed in Nougat, and like in the previous version of Android it's hidden by default. You make it appear in the Settings list by long-pressing the gear icon inside your Quick Settings pane. As before, the System UI Tuner gives you some additional customization options for the OS, but most of the items inside it have been changed in Nougat.

One thing that's remained the same is having the ability to see the battery percentage at all times inside the battery icon in the status bar. Be aware though that you may encounter a bug which will reset the state of this feature every single time you enter the System UI Tuner.

You can also choose which icons and information to have on the status bar, and whether to show seconds inside the clock or not. You can enable entering the split-screen multitasking mode by swiping up from the square button, and there are a couple of options in there relating to Do Not Disturb mode too.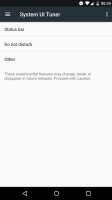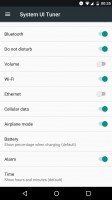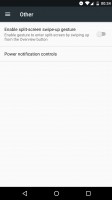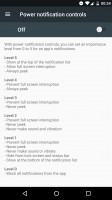 Perhaps most interesting for those obsessed with controlling every single aspect of their user experience will be the Power notification controls, which give you an incredible amount of say over how each individual app displays notifications.


Aside from the aforementioned wonkiness of the battery percentage feature, all of these things seem to work well, but keep in mind the fact that you may run into issues from time to time - this menu is hidden for a reason, after all.



Seamless updates and faster app installs
For future phones and tablets, seamless updates (borrowed from Chrome OS) mean download and installation will take place in the background, and you'll only need to reboot once they're complete.

Oh, and reboots after applying updates shouldn't take longer than usual thanks to that pesky "Android is upgrading" and "Optimizing apps" screen finally being killed by the brand new JIT compiler. This also helps cut down app installation and update times compared to Marshmallow - and that's an improvement you're bound to see from day one, especially on devices that historically struggled with such a workflow (the Nexus 9 comes to mind here).

While the seamless update process can't be implemented on current phones and tablets for technical reasons, the rest of the functions described here are available for all devices running Nougat.



Other small things

Call blocking works differently. The setting is still found in the default Phone app, but it will now block numbers at the system level, and the call blocking list is accessible to third party apps too. Once you add a number to the new list, you won't get any calls or texts from it. The first time you go into Call blocking after installing Nougat you'll get a notice that the functionality has changed;
Do Not Disturb mode got even smarter, by letting you choose to automatically end it when an alarm goes off;
In Emergency Information you can add new details such as your blood type and allergies alongside an emergency contact and your name - and emergency responders can view the data from your lock screen;
Unicode 9 emoji are redesigned, more human-looking, and come with multiple skin tones;
There's a new and improved face recognizer which can be used as a security measure instead of a PIN, password, pattern, or the fingerprint sensor. This is now part of Smart Lock and is less sensitive to lighting conditions, whether or not you have eyewear or facial hair, and how you hold your phone. It's still less secure than any of the other options though;
Android Backup covers more settings now, including accessibility options, run-time permissions for apps, Wi-Fi hotspot settings, and Wi-Fi network restrictions. All of these should be automatically backed up and restored when needed;
You can select multiple languages in Settings so that you can perform searches in more than one language and won't be offered translations of web pages that are in one of the languages you know, and you can sort your preferences so that apps can accurately pick the right keyboard and text type for you.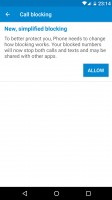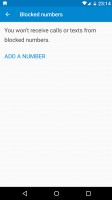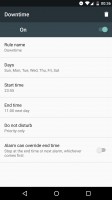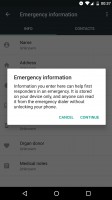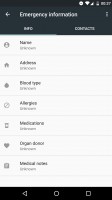 Under-the-hood stuff
Android 7.0 comes with a new graphics API called Vulkan, which should enable much better 3D game graphics on devices with powerful enough hardware to support it. The latest version of the OS also has a built-in Virtual Reality mode, which will only be visible on Daydream-ready devices, this being Google's new grand VR push. Expect to see Daydream-certified handsets as well as a Google-made Daydream VR headset to put your phone into by the end of the year.


With Direct Boot, essential services start running even before you enter your password when you turn your device on. So you'll get notifications and hear alarms as soon as possible. Finally, with file-based encryption, your files are better isolated and protected than they were in the past with block-level encryption. However, only devices launching with Nougat on board will get Direct Boot and file-based encryption by default. For those who update to Android 7.0, the choice to switch to file-based encryption is available in Developer options, but doing this requires a full wipe of all your data, so we'd guess it's not something most people will even consider.



Conclusion
Nougat clearly isn't a huge update. Instead, Google's focus with this release seems to have been all about polishing existing things while adding many little changes here and there, all adding up to a neat overall package. The user experience is obviously better than it ever was, and some under the hood additions promise an intriguing future - be that in gaming with the Vulkan API, or immersing yourself into virtual reality with Daydream. Useful day-to-day stuff hasn't been forgotten either, with Doze on the go improving upon the already quite good Doze mode from last year (if only marginally so) and Data Saver doing just what its name implies. So despite its lack of one (or many) jaw-dropping new features, Android 7.0 is definitely a worthy update.

However, if you're not part of the Nexus crowd (or own a Pixel C or a General Mobile 4G), it's tough to tell how many of the new things in Nougat you'll actually get to see. The low-level stuff that doesn't need dedicated hardware support should make it to every single handset or tablet getting Android 7.0.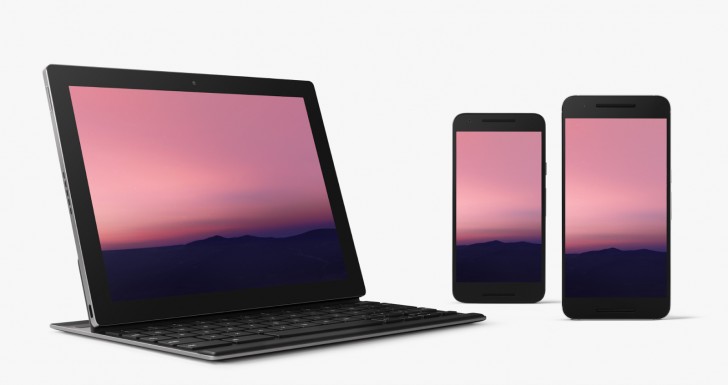 On the other hand, when it comes to software features the rule of thumb is that the more a company likes to 'customize' Android on its devices, the less likely it is that most of what you've just read about will make it into its releases. With products from Motorola, OnePlus, and even HTC and Sony you're probably going to be graced with most of this stuff (though how long you'll have to wait and which phones and tablets will even get the update is another story).


At the opposite end of the spectrum, the likes of Samsung, LG, and Huawei change so much of the core Android UI that it's really impossible to tell if they'll ever implement any of Nougat's user-facing features in an unaltered way. This is the reality of the Android world, and it's actually described very well by Google's own slogan for its mobile OS - Be together. Not the same. There's certainly enough choice for everyone.