This post was edited by paramgagan at 09:10, Aug-20-2015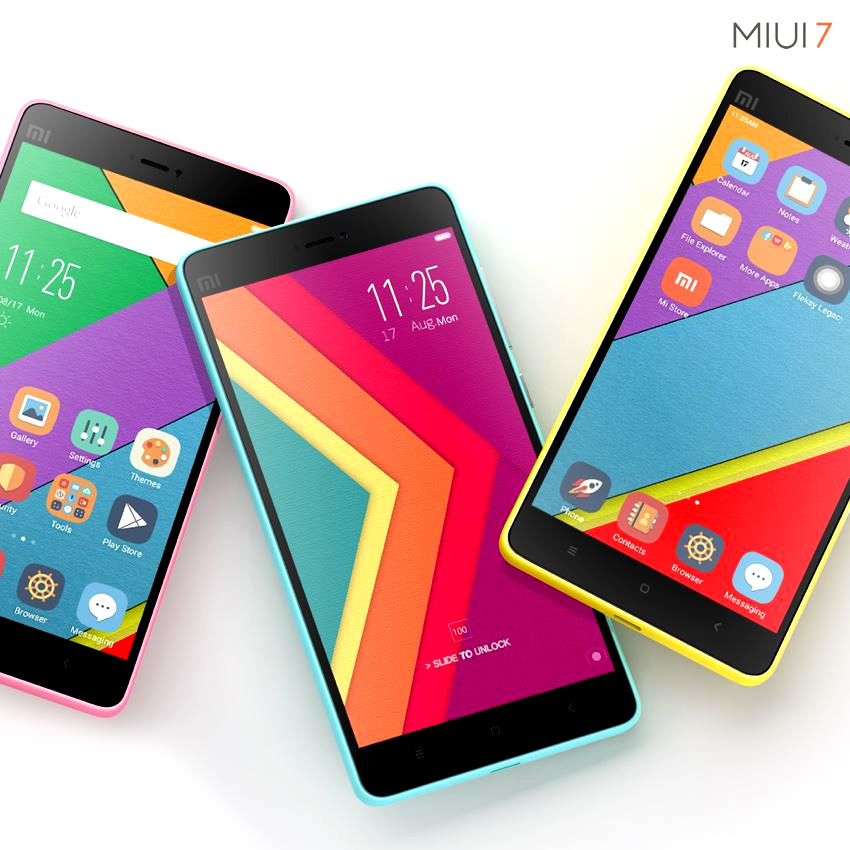 Xiaomi just announced the MIUI 7 at a conference in Delhi yesterday and I ambringing you this article to highlight the main changes and improvements over the former MIUI 6.
1. Performance Optimisation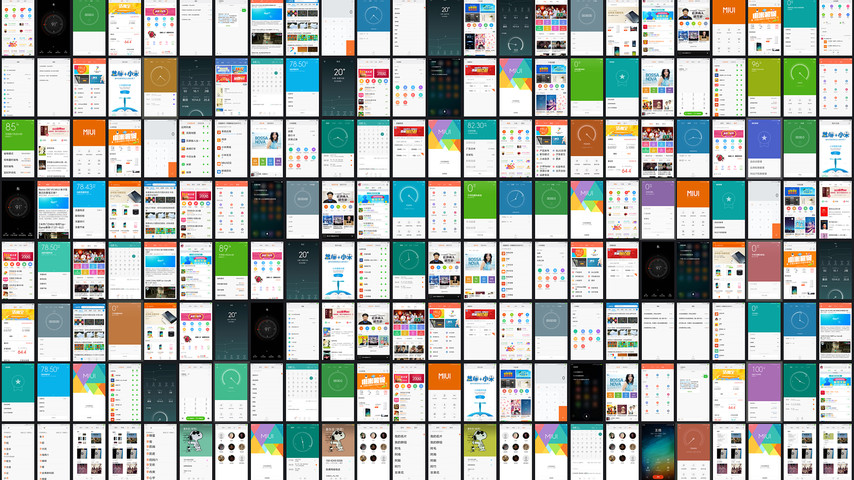 MIUI 7 brings about a 30% increase in speed. It does so by optimising the system response time in such a way that it loads both app data as well as app animations simultaneously.
2. Optimised Battery Life
Battery life is one of the primary concerns on any smartphone. App draw as much as 48% of power from the battery even during the standby when accessing features such as GPS, data networks and scanning for Wi-Fi. MIUI 7 optimises popular apps in such a way that it reduces battery consumption by upto 25% which translates to around 3 hours of extra battery life each day.
3. Built-In Data Saver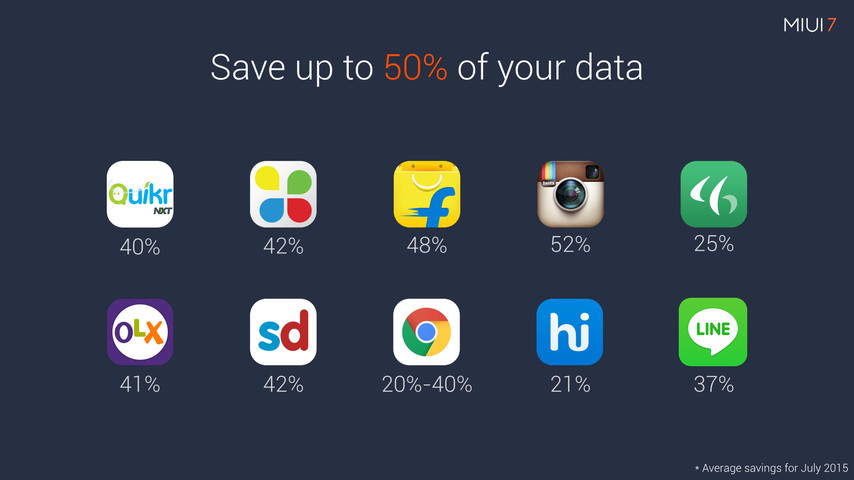 MIUI 7 also makes use of Opera Max in order to save the amount of data consumed by smartphones. Users can save upto 50% of their data usage using this method. The data saver feature will roll out in September in countries such as India, China, Singapore, Malaysia, Philippines, Hong Kong, Taiwan and Brazil.
4. Interactive Visual Response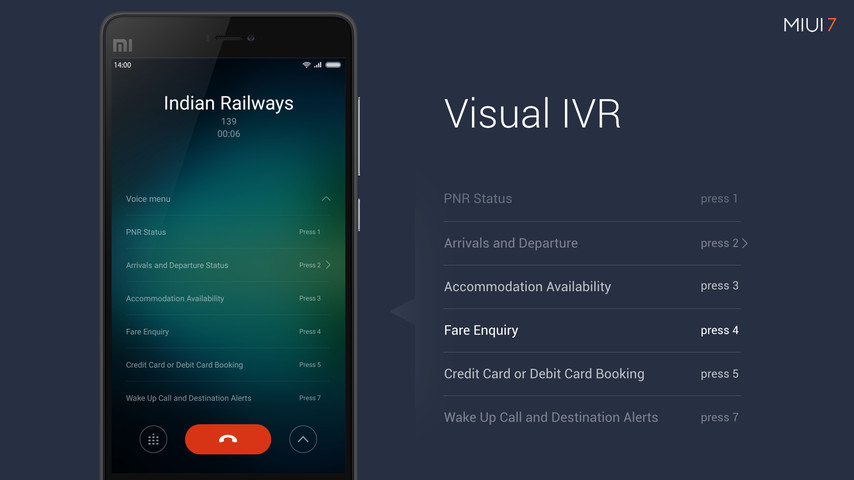 If you are as annoyed as us by the annoying voice prompts that you get when you call a helpline or any automated answer service then this feature will probably be a lifesaver. Interactive Visual Response (IVR) allows you to quickly bypass those annoying voice prompts and instead offers you visual response lists. This is available for over 50 Indian partners such as CitiBank, Tata Sky, Spicejet, Indigo etc.
Another advantage of IVR is the ability to segregate a particular type of message or notification into one category. For example all your messages from banks go into one place which makes it easier to trace.
5. Showtime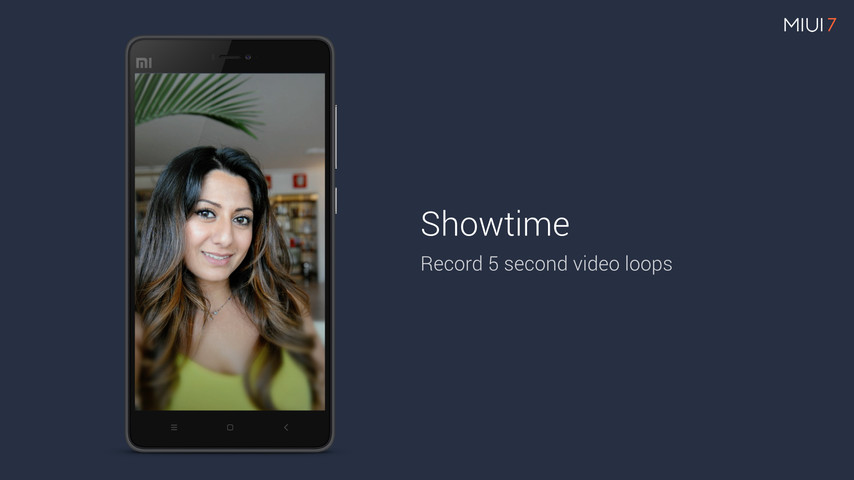 Calls are now even more interactive and fun with Showtime. The feature allows you to record short 'Vine' like video loops on your smartphone and set that as a contact card that can be shared with your friends.
6. MUSE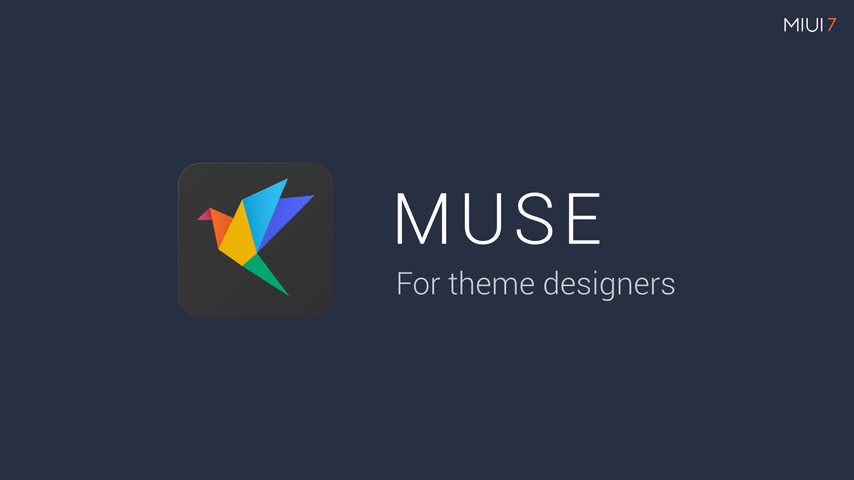 MUSE is a new feature that allows even regular users to create themes that have nice animations and dynamic content without needing to have complex coding. The new theme designer also allows users to run games on the lockscreen if they want to however we aren't sure about the impact on the phone's battery life when doing so.
7. OTP Copy and Paste
MIUI 7 is smart enough to recognise OTP passwords and lets you easily copy and paste it rather than having to memorise it or refer to it multiple times.
8. DND Mode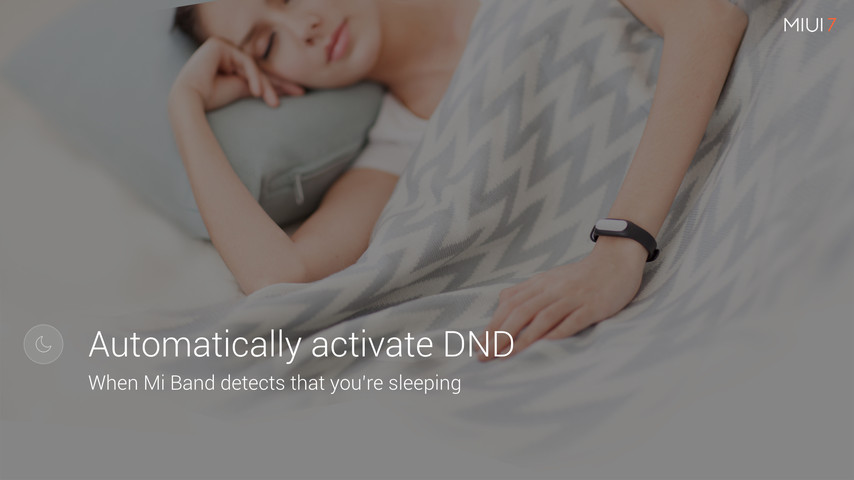 A new DND (Do Not Disturb) mode for the Mi Band allows the phone to detect when you're asleep and accordingly mutes notifications and vibrations. However any alarms that you have set will still go off to make sure you don't miss out on anything important
.
9. XXL Text
No, MIUI 7 doesn't come pre-loaded with 'Magic Mike XXL'. What it means is that users can adjust the text on their phones to a much bigger size that is easier and to read and reduces strain on the reader's eyes.
10. Child Mode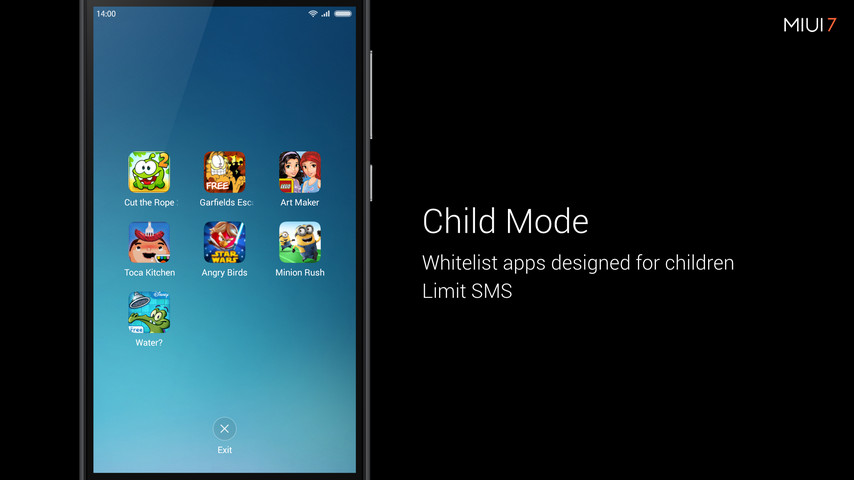 This allows parents to restrict their child's access to information such as texts or emails but still allows them to use the phone and grants them access to apps that you choose in the settings.
Highlights of MIUI 7
4 different system themes, Rose, Pink Blush, Ocean Breeze, High Life, in addition to the default one
MUSE Theme creation tool lets designers create themes without any programming
XXL Text size that adjusts conversation layouts, line breaks to provide greater readability
Mute specific notifications separately
Identify a OTP (one time password) from SMS to easily copy and paste it
Optimized system response time by loading data and app animation in parallel. About 30% faster compared to MIUI 6
Improved battery life by up to 25% compared to MIUI 6 and 10% better battery life for daily use by individually optimizing CPU scheduling mechanism and strict background power management for popular apps
Interactive Visual Response (IVR) in India for banking, booking air tickets and more from 50 Indian partners.
New HD wallpapers, with 10 pre-set available on Daily Lock screen rotation (Only for India)
Baby album groups baby photos in your camera roll conveniently in once place, so you can browse and share pictures easily
Child Mode limits access to personal information like emails and messages, so that children can access applications only you give access to
For Mi Band users, it switches your phone to Do Not Disturb (DND) mode automatically when it detects that you're asleep.
Showtime can record a short video loop on your phone and exchange contact card with friends. (Rolling out in coming months.)
Supports 10 Indian languages – Hindi, Bengali, Tamil, Telugu, Kannada, Malayalam, Marathi, Gujarati, Assamese and Punjabi
Data Saver powered by Opera Max compresses browser and in-app media saving up to 50% of data usage. (Coming in September)

The MIUI 7 will adopt the same Android OS that is already present in the Xiaomi smartphone. So, for the Mi 4i that is running on MIUI 6 based on Android 5.0 (Lollipop), the MIUI 7 will also be based on Lollipop, for other smartphones that are running on MIUI 6 based on Android 4.4 (KikKat), the new MIUI 7 will be based on KitKat.
The MIUI 7 developer beta ROM will be available for testers for Redmi 1s, Redmi 2, Mi 4i, Mi 3, Mi 4, Redmi Note 3G and Redmi Note 4G starting from August 24th. Interested users can apply through
this thread
It will be released to public after it's more stable.