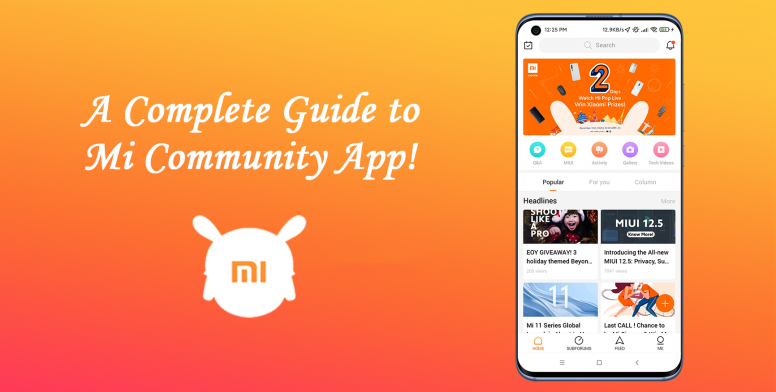 Hello Mi Fans!

Mi Community is our official community forum, the ultimate playground for our Mi Fans to hang out together. It's where all your questions or doubts about our Xiaomi products will get answered and where you can get the latest news and happenings about Xiaomi. More importantly, it is the perfect place to interact with other hardcore Mi Fans like you! With Mi Community, you will be able to join events, share your reviews, photos and meet new people with your same interests, but most importantly, have fun!!!

Today we are here with a complete walkthrough of our Mi Community app. Let's start from the homepage! After launching the app, in the homepage there are 4 tabs- Home, Subforums, Feed and Me. Let's take on them one by one!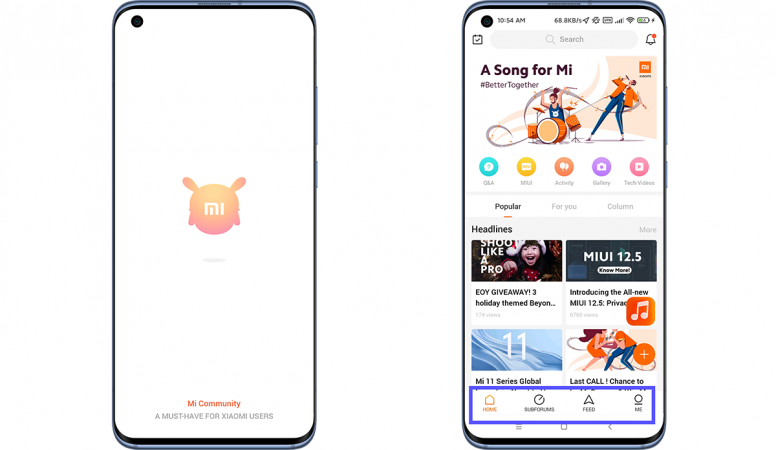 Home: At the top of the Home tab, you would find the featured threads. Usually the most important threads including contests, announcements by the official team, all are featured here. Scroll horizontally to go through them. Next comes 5 different sections.



A) Q & A: You can get answers to all your questions here. The first tab shows the trending question i.e the ones which are getting a lot of attention from other users. Then you would see newest questions i.e the latest ones. Do you have any questions to ask? Let's see how to post it. See the green question icon in the bottom right corner. Click on it. Next choose a particular category where your question fits. From the drop down menu you can pick anyone from Feedback, Beta Team or Mi Video. Please provide detailed description and images so that other people could understand you better. Now you would find an Image and Video icon at the bottom. With the Image icon you can insert images in your query while the video icon lets you add YouTube video link related to your query. Another interesting thing is, you can invite other users to join this discussion. See at the bottom there is People icon. Click on it and add anyone you want.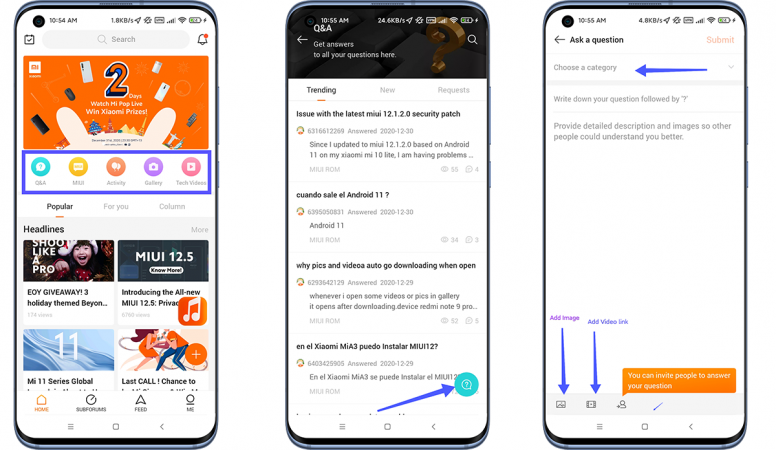 B) MIUI and C) Acitivity: MIUI tab is quite self explanatory and is dedicated to MIUI General, Feedback, MIUI Tools, Beta Team, Porting Tam and Tips & Tricks. Anything related to MIUI you can find over here. Either you can pick a particular category or just scroll vertically to go through all the posts one by one. Activity is for all the Mi Community official events. Online activities includes the online events, mainly the contests organized by Mi Community team. Offline events mainly consists of Fan meet ups or other fan events. Stay tuned. Exciting events are coming your way!



D) Gallery and E) Tech Videos: Gallery for all the photo lovers over here! Sometimes, a perfect picture is all you need to brighten up your day! You can upload your images here that abide by the rules of Mi Community. Please go through Photography section rules before you start posting. The Contest section deals with all the Mi Community Photo contests. the Photo Corner section would take you to the Photography Subforum. Interested in viewing what others are sharing? Keep scrolling!



Tech Videos is basically the collection of Tech, tutorials, Unboxing, Review and other videos. Choose your preferred subject on the top and enjoy!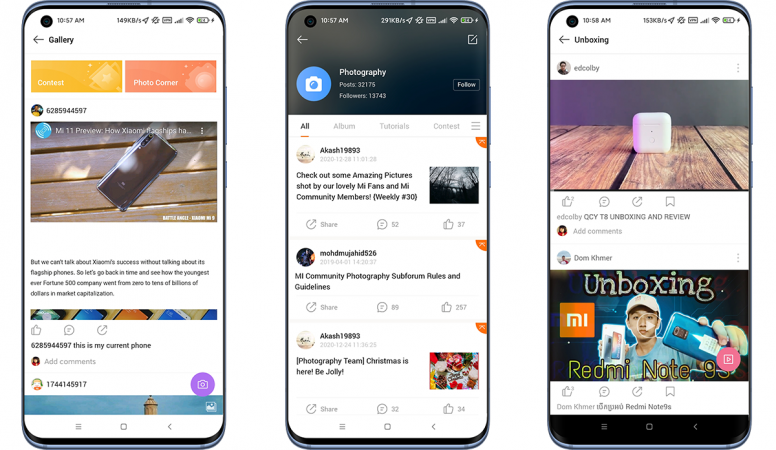 Popular, For You & Column
The Popular Section first shows the featured threads under Headlines. Click on More to explore all the threads. There you will see a Hot Section, this is where you will be given daily feature of the most interesting threads of that particular day. Yes, it will be updated everyday.

Scrolling down further will bring you to our Forum section. This is a compilation of the threads from MIUI updates, Tips & tutorials, Resources, Device articles, news, beautiful photos and so on. If you are not looking for anything in particular, this is the perfect section for you. Just scroll through the APP and do not miss out anything.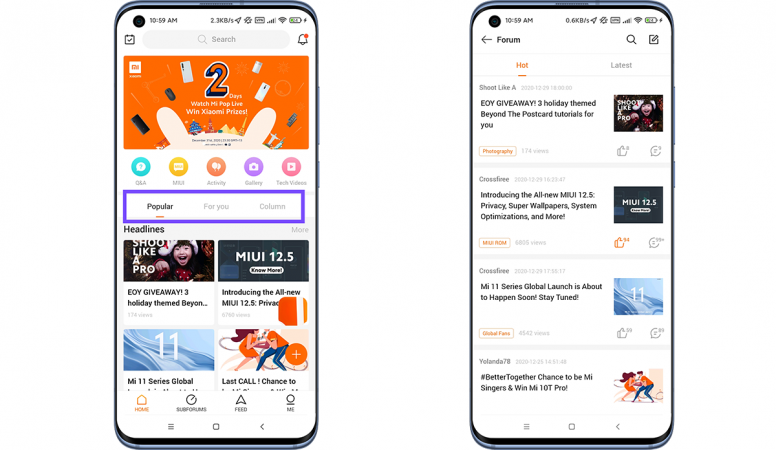 For You sections shows you threads from all the subforums you are following. For example, you wanna have a look on Tips & Tutorial threads or Mi 9 subforum threads whenever there comes any new posts. How would you do that?
Customize the homepage by selecting your required SFs. Next time you would visit community, you would find all threads from these sections in the 'For You' tab. This basically helps you to have a look on your required threads more precisely and on a time saving way.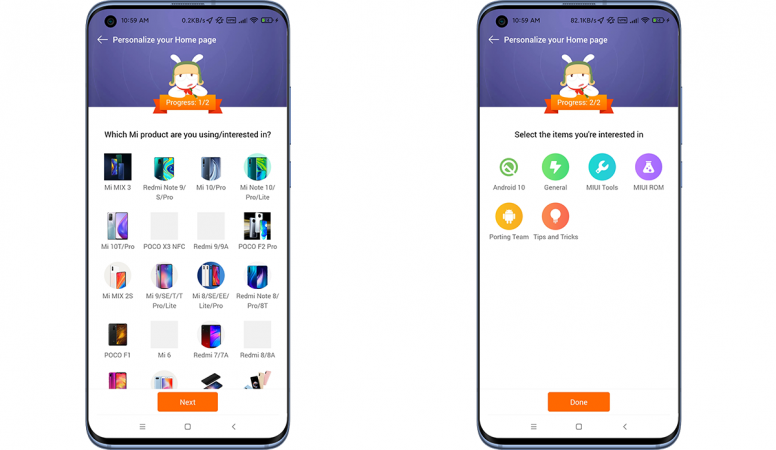 Column: Column is a hub for all our passionate writers to express themselves through their diversified contents. Content is a large part of your everyday life. And Mi Community offers our Mi fans with contents from different sectors of technology along with updates and information about Xiaomi. Our aim is to create an environment for our Mi fans where they can have access to all important topics and relevant stuffs in one place. We promise, our column writers will infuse their writing with passion and get our Mi fans inspired and fascinated with the contents. We have different columns like- Xiaomi Weekly, Mi Creative Workshop, Mi Explorer, MIUI Tips & Tricks and more!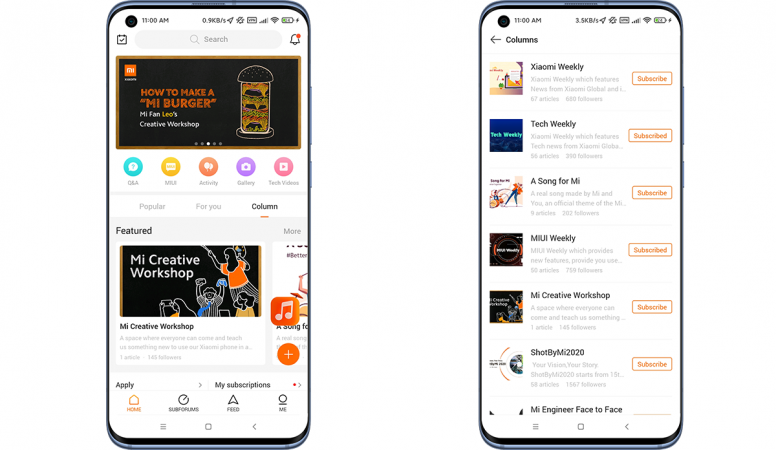 How to Create a Thread from App?


Next we come to one of the most important topic: How to create a thread from app? See the '+' icon at the bottom? Click on it. Here you would get to

Create a Thread
Upload photos (to gallery section)
Upload videos ( Tech Video section)
Ask a question (already discussed above)
Share a thought

Create a thread:
Select the category where you want to post the thread (Tech, Chat, MIUI general etc.)
Put the title and contents of your thread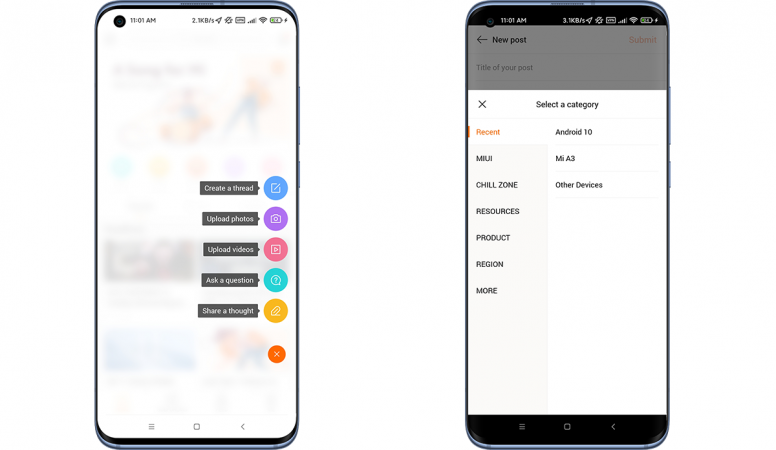 Sometimes we want create a poll on our threads. how to do that? Well, there are few options just at the bottom of your thread. Let's explore them.

A) Poll: Click on the graph icon to add poll to your thread. You can add up to 5 options.
B) Image: Click on the Image icon to add relevant images to your thread.
C) Video: Click on the Video icon to add the YouTube video links
D) Text Color: Want to change color of the text or highlight something, click on the 'A' icon to pick your preferred color
E) Bold: Last option allows you to use bold text style on your thread.
F) Tag : You can tag anyone on your post by clicking on this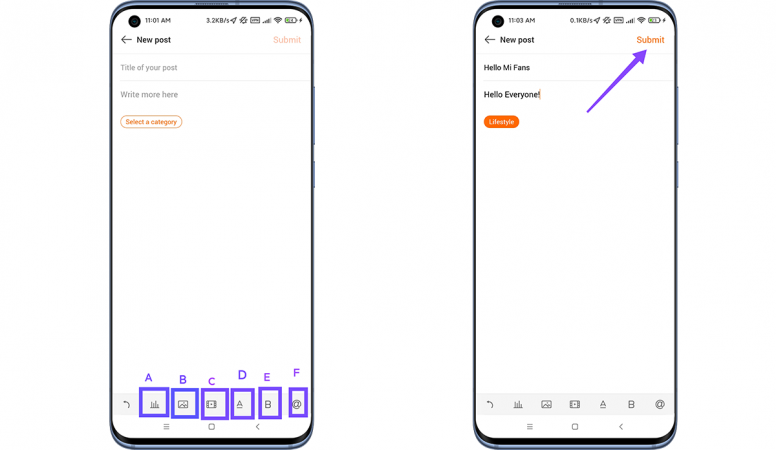 When you think, all are done perfectly, click on submit to post your thread.


Subforums: The next tab of Mi Community app is Subforums. All the subforums available in our community are listed here under different categorizations - MIUI, Chill Zone, Resources, Product, Region and More. Be it keeping in touch with tech news, reading reviews and comparisons of the latest products and MIUI tips and tricks to see how you can maximise your Mi devices to its greatest potential - everything is here! All you have to do is to pick up your preferred subforum from the list.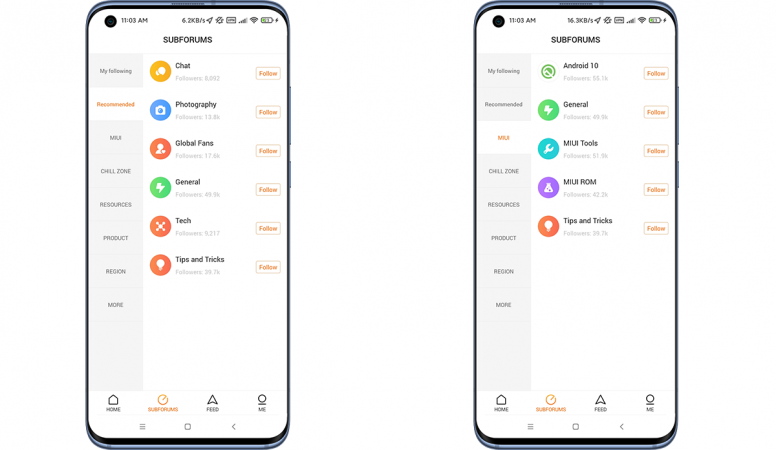 Feed: The third tab is really interesting. Have you followed anyone in Community? If not, you can follow your favorite person now. In case you wanna stay updated to any one's threads and their shared contents, follow them. Whenever they would share something it would appear in this Feed under "Following" section. In the Thoughts section, you can post your views in general i.e without choosing any particular category or type. Share something new that comes to your mind with our users worldwide. But please make sure it abide by the rules of Mi Community Content Policy.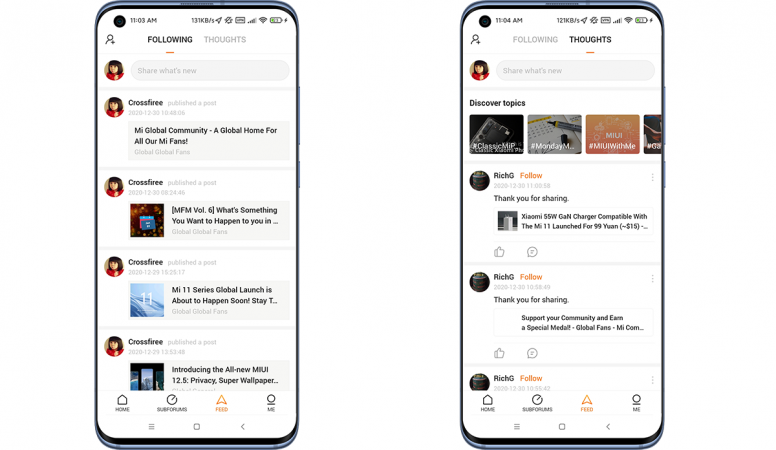 Me: This tab is for your account information on Community. You can check your earned community points and medals here. Other than that you can access all your Posts, Replies, Questions, Favorites from here.

How to change Profile photo from Mi Community app?


In the Me tab, click on your profile icon. You would find the statement - View and edit your profile.
Click on the 'Pen' icon at the top left. There you can change your profile photo
When all done, click on Save.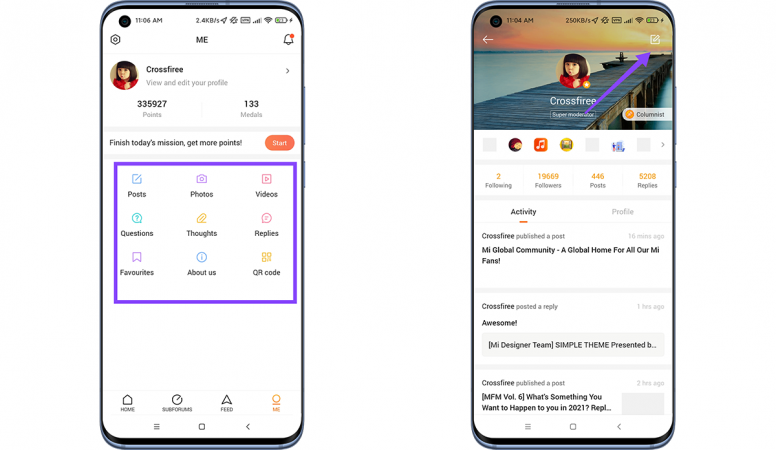 Daily Mission: Other than Check ins there are daily missions to earn points.

Create a thread - 4 points
Favorite a post - 2 points
Reply to a post - 2 points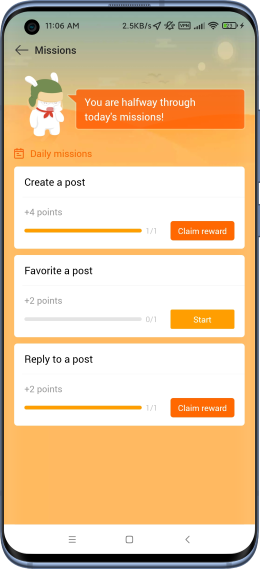 Settings: There is a 'settings' icon at the top left corner of the "Me" tab. Click on it in case you wanna have a look at the settings of the app. What are the things we can do from here? One of the best thing is that you can switch to Dark Theme if you wish!


Push notifications - You can choose for which you wanna have push notifications. You can have it for Messages, New followers, New replies, New likes etc.
Rate, Share & feedback: You can rate Mi Community app in the play store from here. Share the app with your friends & family and provide us feedback for improvements. For feedback, we would encourage our users to provide relevant screenshot of the issues/queries.

3. Change region: We have Mi Community dedicated to Mi fans from different regions. Pick yours from the drop down list. You would find the "Other Country" section at the bottom.
4. Language: The last option lets you change the language and pick your suitable one. Choose from the list provided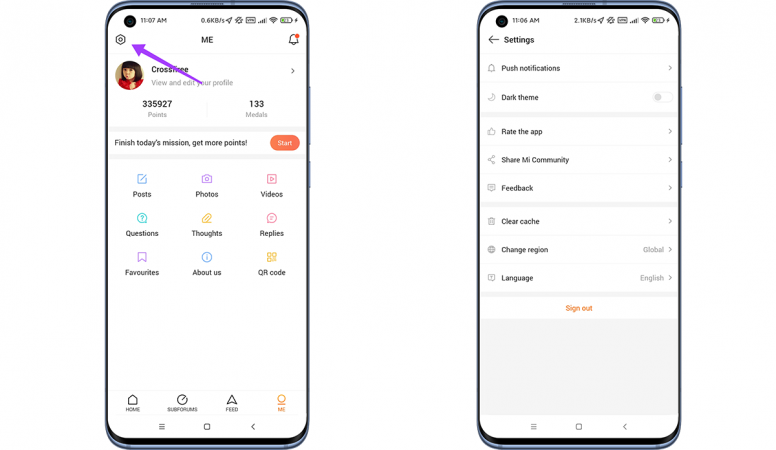 How to Check Notifications from Community App?
Click on the "Bell' icon at the top right corner. Here you would find all the private messages and notifications including the system notifications. For your convenience all notifications are grouped under different categories like Official, Likes, Reply etc.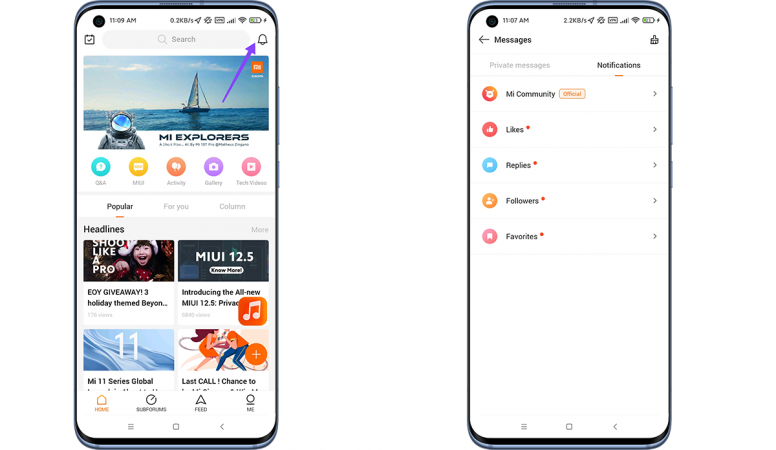 How to Send Private Messages From App?
Go to the user's profile to whom you wanna send the message.
At the bottom you would find the option - Send a message. Click on it
Start the chat. There are emojis to make your conversation cute!
You can also add images to your conversation. Clear the chat history or block anyone from sending you messages.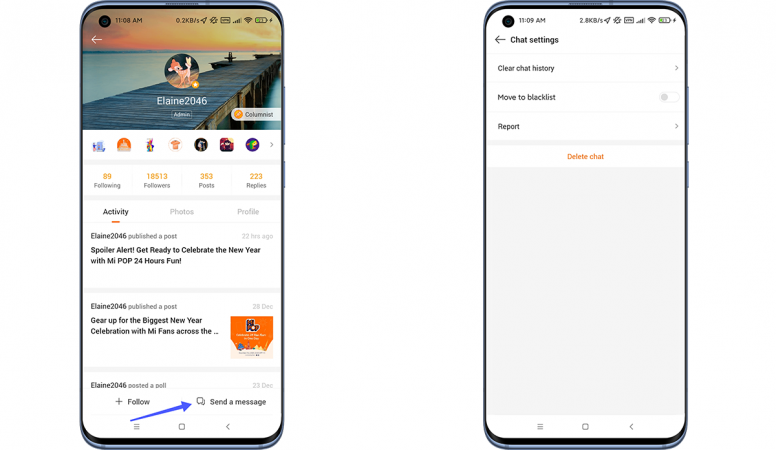 How to Check-in From App?
Click on the 'Calendar' icon at the top left corner of the home page. Your check in is done!
You can see the number of days you checked in from here
You can also set reminder to check in. If you enable it, you would be reminded to check in every day.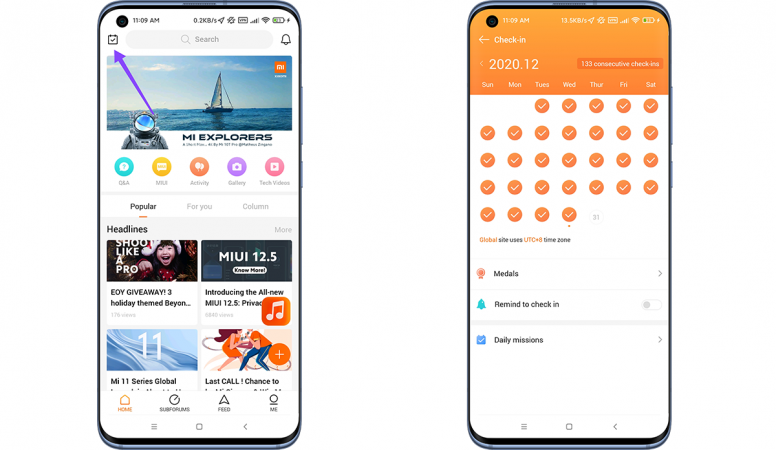 Thats all for today! Hopefully it would be helpful and would give our users a clear view of the Mi Community app and it's features. If you have any questions or feedback do share with us in the comments below! :)




Rate