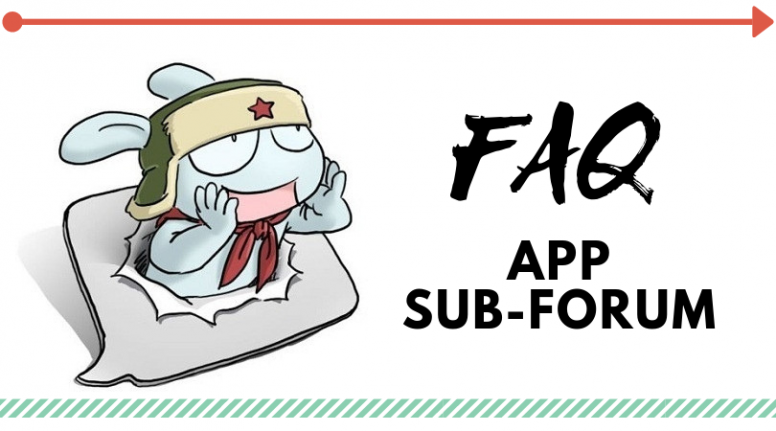 Hello all, We are here trying to answer some of the frequently asked questions for the App sub-forum.
And if you have more question which is not answered here, feel free to comment below. We will try our best to answer your question.
First and foremost, if you are new to MIUI forum or App sub-forum then you should first visit the below thread to have a good understanding in creating an App thread.
And please also to check the rules
here
Frequently Asked Questions:
Q.1 Can i share an app that i want to recommend?
A.1 Of course you can, we encourage everyone to share any interesting or new app in the market but do note that you need to label them correctly and select the correct "Type" for the app too. You will usually find this under the Information area in Playstore of the app when you are unsure of. Only app from Google Playstore and Mi App Store are allow on this forum.
Q.2 Why do my thread got deleted?
A.1 Usually the admin/mod will only delete/remove/merge a thread if there is a repetition. Unless you are sharing different info, maybe a review of an shared before app then it shall be maintain. So make sure that you do a search before sharing any app that you want.
Q.3 Can I share few apps in one thread?
A.3 It is not recommended to share few apps in one thread. It is always encourage to create different thread for each app that you want to share as there are many basic information to include in order to make a good app thread. You can refer to the 2 links mentioned above on how to create a decent app share or app review.
Q.4 How to download an app's apk to my PC so that I can upload as attachment here?
A.5 There are few methods to do this but the one that i always do is by downloading the apk via this
website
, then upload to your thread. (Derica thread in A.4 covers that too)
Q.5 Can we post Modded or Pirated Apps or software's on forum?
A.6 MIUI Forum respects copyright of every developer and we are strictly against posting Modded or Pirated software's on MIUI Forum, if we come accross any such postings it will be deleted. Refer to this
thread
.
Note: If you have any others question related to the App sub-forum please do comment below and we shall try our best to answer them.
Rate