Hi peeps,

Welcome to the Global Community. Hope you are all doing well!

There is a General Rulebook applicable to whole community, but this rules and guideline is add-on for operating this perticular section. Please go through this thread to understand the rules properly.

Update: 05.01.2022


---
MIUI General: Introduction
The MIUI General section is a Xiaomi Community section for MIUI users who wish to help each other out and share their tips, tricks and ideas related to MIUI, Xiaomi and its products and services and android. If you need assistance or need to ask something regarding to the forum rules and guidelines, feel free to ask an administrator or a moderator for help.

Search BEFORE you post
The internet is a huge place and it is more than likely that the answer you are searching for is already out there. Please consider searching before posting your questions or your thread may be merged.

Information regarding copyright materials
Please respect copyright laws and respect them by not posting anything that conflicts with copyright subjects as you may be held responsible. This includes content using free licenses from Creative Commons and GNU.

Disclaimer
This forum is not owned by you, which means the administrators attain the right to close your account, delete your posts or do whatsoever they desire in this forum.
You are responsible for your posts and behaviour.
After commiting three or more violations in this community, you may get BANNED for at least a week depending on how harsh the violation is.

---
Thread and Reply Standards

Post with a clear title, thread type and subject
You're most likely to receive a helpful answer to your question and support you needed from the community if you use a brief title and subject title that describes your problem efficiently and effectively.

Provide adequate credit and mention sources
If you share something, give adequate credit to the original author or developer and mention your sources as well as respect the sharing licenses the original author or developer may have used.

Make your issue clear
Post as clearly and briefly as if the reader doesn't know what you are talking about.


---
What you can post/do?

Android mods and tweaks
You may share your android modifications and tweaks so others may benefit from your changes.

Help and support requests
You may request the community for assistance and support regarding close to anything regarding MIUI, Xiaomi and its products and services and android. Please act appropriately and thank any kind people who help.

Tips and tricks
You may share your MIUI/similar tips and tricks, however excessive sharing is not allowed.

Feature requests
You may share and spread your ideas to help make MIUI better, please keep your ideas realistic and preferably create a poll or debate.

Other Xiaomi, MIUI, and Android topics
You may post other posts related to MIUI, Xiaomi and its products and services and android. Please post bugs in the bugs section, customisation in the resources section, news in the news section, roms in the porting team section, unrelated posts in the off-topic section and so on.


---
What you cannot post/do?

Excessive debating
The Xiaomi Community encourages sharing opinions, polls and debates, however excessive arguing and debating on someone's opinion usually leads to verbal insults and a ton load of drama that the kind, volunteer moderators on this forum should not have to put up with. If your argument leads to that, a moderator may take appropriate action, this includes permanent account bans.

Racism, discrimination, threats or personal attacks of any kind
This is a friendly community and discrimination or threats of any kind are definitely not welcome or tolerated. Abusing this rule will lead to account ban and is the equvilant to three violations.

Spamming
Spamming may lead to account ban or other appropriate actions. Advertising is considered as spam.

If you have a question, please do not repeatedly create threads for that specific question. If your question doesn't get answered by a community member, this usually means that nobody knows the answer.
If you need to edit your post, please use the edit button provided at the bottom of your posts instead of re-posting again.


Advertising
Do not post any links to any third-party resellers of Xiaomi products or any other products, irrelevant links to any thread, social media profiles, videos, website etc. Violation of this rule will lead to immediate account termination.

Language
English is this forum's main form of communication, please use English where possible. Google Translate and alternatives are always an option if necessary. If you really need to post in another language, please provide English translation for it as well, otherwise your post may be deleted. Else you may for your country/region under Xiaomi Community.

Politics and religion
Discussions on politics and religion that may hurt other people is not allowed, this section of the forum is for discussion on MIUI, Xiaomi and its products and services and android only.

Publication of private information
You may not publish private information about other people, especially without their consent. Privacy is an important right that Xiaomi deeply respects.

Aggressive behaviour
Aggressive behaviour will not be tollerated in this forum. People on this community contribute their time and effort to assist you, please act respectfully.

Warez
You may not post warez, gaming roms, CD-keys, cracks, passwords, torrents and/or serial numbers in this forum.

Impersonation
Impersonating is an illegal form of social abuse that is not welcome in this community. Impersonating can lead to permanent account termination.

Announcements/Contests
You must not post announcement of about MIUI rom changelogs/updates/schedule, offers,contests etc. That should only be posted by admins, community team and moderators.

Important notes
Please note that violation of any rules mentioned may suspend your account, reason for deleting threads or ban will be notified in your profile, if you have any arguments please post a complaint.


---
Frequently Asked Questions

1. How do I edit threads/posts?
If you need to edit your thread or post, please use the edit button provided at the bottom of your posts.

2. How do I close threads?
You may edit your thread's title and add [SOLVED] to notify moderators and administrators to lock it.

3. What if a moderator abuses his/her privileges?
If you believe a moderator is abusing his or her privileges, please contact an administrator.


---
MIUI General Team [Global Comm]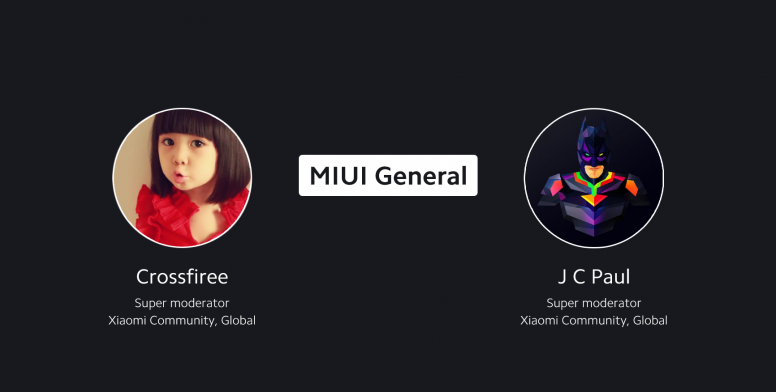 NB: This thread will be updated whenever it needs changes.



Please feel free to contact any of the administrators or moderators if you have any questions or problems or to report something



Rate