Hey Mi Fans,
How are you guys doing?
I hope that you guys are doing absolutely well and enjoying out! so without further ado, let's get to the topic for today's discussion. Today lets discuss Android P, newest Android OS.

Android P: Google launched its latest and upcoming Android version, the Android P, for Developer Preview and with Google I/O 2018. It has expanded to many devices including the Mi MIX 2S from the Xiaomi. The name of this version is still unkown. What do you think about the name?

So, here are few important and wonderful features from Android P


Gesture navigation: Just like the introduction of gestures in IOS, many OEMs started the same gestures navigation like one available in MIX 2. Google is looking forward to a more powerful gesture navigation which allows the user to control gestures and replacing tripple buttons with HOME and BACK button only. Various gesture styles are being implied to make navigation easier and making access to screen better.

Notch Support: With the introduction of the notch in iPhone X, many manufacturers are using notch following the notch trend. Android P brings an inbuilt support to notch and adjusts notification shade so that nothing important is missed.

Shifting Time from Right to Left:If you are a stock android User, you might be aware that the time is displayed on the right side but to implement notch designs, the clock has been shifted to left.

App Actions: To make the work look easier, Google is implementing a new technique in which a shortcut section will be made as to facilitate which action you will perform next. for example: which app will you need next. it will be based on user experience data.

Smart Replies: Google is introducing Smart Replies which allows users to smartly reply messages from notification shade just like reply suggestions of Gmail. this will help you save time by just selecting a pre drawn replies based on AI.

Slices: Android P will be having App Slices feature which allows users to get some information about the app from the google search. it is similar to what google search did for some web pages.

Adaptive Battery: Saving Battery is always a priority. Without Battery, a smartphone is of almost no Use. Google is going to implement a new technique to save battery and focus on providing battery only to important apps and thus saving battery drainage using AI.

Adaptive Brightness:Switching between Brightness Slider is going easier with new Adaptive Brightness which lowers brightness to avoid strain and increases the same when you are in bright sunlight. it allows to smartly switch between lights and helps get better eyesight using AI.

Digital WellBeing: A need for hour feature is finally coming to Android. This feature allows your device to notify you about your usage patterns and even nudge you when you have restricted your access to few apps for more than a particular time. This feature will be helping out with addiction removal.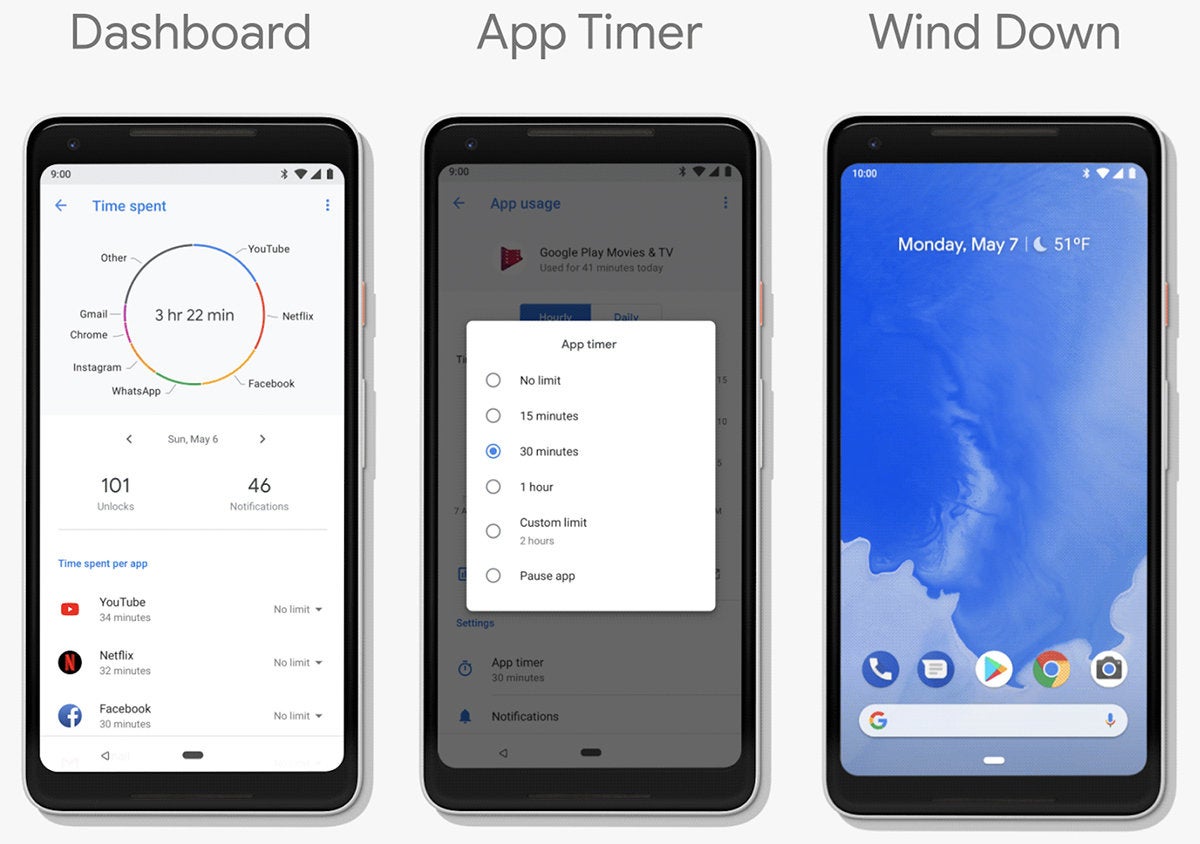 Enhanced Privacy: Google is focusing on user privacy with a new technique of user protection which denies access to particular things to apps which are running in the background. So that no app can collect your data from background.

Do Comment Below Your Favourite Feature!
Do Let Us Know What Do Feel About This Android Update?