Vice President Xiaomi hints that the new Redmi flagship will be enough for everyone!
He also proposes to choose his name from four variants. The most likely variants of the commercial name are Redmi K20 and X20

Vice President Xiaomi and head of the Redmi brand Lu Weibing continues to open the veil of secrecy over the new brand flagship - the Redmi 855. Today it is the production volume of the Redmi 855 and its name.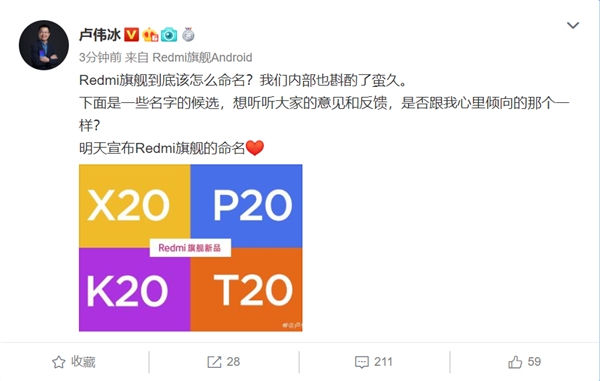 First, one of Weibo's users asked Liu Weibing what would be done to make a smartphone with a reserve of one million devices, hinting at the situation with the Mi-9. The top manager replied briefly: "You know". He did not confirm the volume of production, but hinted that the stock would be sufficient for the smartphone to be enough for everyone.

As to the name, in another message in Weibo published a picture of four squares, in each - the possible designation of the new flagship. One of them is real, social network users have to guess which one.
Previously, X20 and K20 variants have already been lit on the Web, most likely, some of them are a commercial name for the model. It's time to vote and exchange views, tomorrow the top manager will declare the real name of the model.

It should be noted that users have been ambivalent about all the options: it is unclear where those names came from. Why 20 in the title? And what does the first letter mean? None of the names represented is consistent with the historical name Redmil, and it is very worried by users.

Source